This page of the SkyBlueTeal website includes photos of  Teals cars in the 1980s, the early days of Tealing when the trail was still being blazed.  Many of the photos have kindly  been provided by Lindsay A Crichton of Leuchars, Fife (above with Bluebottle) who many Tealers remember, and  further  images  have been sent by David Wilson, friend of Lindsay, Teal builder in 1985 and owner for 21 years of  red Type 35 OSC 789P, and wearer of the most magnificent moustache as seen below… thank you both, Lindsay and David.
The pioneer and creator of Teal Cars in the early 1980s is , of course, Ian Foster.  The story of how the first Teal was designed on the back of beer mats in the Pack Horse Inn at  Affetside, Bury, Lancashire   has been told many times around Teal campfires.  This is how Ian Foster told it himself, on his own hand-written  poster advertising the very first Teal, then called a  'Worsley' :
( Maggie Foster)
Tony Rogers, friend and collaborator in funding (£330 each from Tony Rogers, engineer Alan Hunter and Ian Foster) and building the first twelve Worsleys tells the story of the early days in the Teal Newsletter, the magazine for Teal Owners' Club members, February 2006 edition. Tony suggested the name Worsley, as the Tudor courthouse in Worsley, Manchester was to be used as a suitably local backdrop for a brochure, and all went ahead with a Granada TV launch.  Suddenly Ian rang and said he had remembered from his days with Daimler that a Worsley was Brummie slang for a 'Friday car' .  By the time Tony Rogers' car had been finished, the official name had become Teal. 
Early Days:  Peter Farrell, Bob Jones, Ian Foster
Three versions of  the origin of the name Teal have been given. The first is that Trafford Brake Services  ( Ian Foster's  company, where the first 12 Teal chassis made by Alan Hunter's engineering works appeared one day stacked up against the doorway)   easily converted to Trafford Engineering Automotive Limited (TEAL), and Maggie Foster supports this origin;  Tony Rogers wrote in Teal Spiel  that TEAL stood for Trafford Engineering Automobiles Limited.  And  former Tealer Mike Alderson   has contacted Sky Blue Teal (see FORUM page of this website)  to say that when he was collaborating with Ian Foster in the 1984-1986 period  publicizing Teals on TV and at the 1985 NEC, he suggested the name TEAL based on a variation of his own company name  in Hampshire Thistledown Automotive Engineering Ltd, and that  Ian agreed, and TEAL  brochures and badges were then designed and  produced (he has the original drawings), and contemporary magazine articles used this Thistledown origin.
 Trafford Brake Services, Ian Foster's business.
Ian and Maggie Foster's Teal Type 35 HKA 940N
Ian Foster 'washing his hair' using the soda siphon  top attached to the radiator cap of  Lindsay Crichton's Bluebottle (see next photo)
Dave Wilson with a glass of wine in hand sitting beside Lindsay Crichton's Bluebottle
 (note soda siphon cap.  Lindsay's car is registered JSU534 here, formerly WLE385S)
Dave Wilson built his Teal Type 35 four-seater himself,  He also had a spectacular moustache, as the following cartoon of Dave and his late wife Maureen illustrates…
Cartoon of Dave and Maureen Wilson by Lindsay Crichton
Lindsay Crichton's 'Bluebottle' before becoming JSU534 and the fitting of the Soda Siphon
Young Colin Andrews enjoys watching Roger Butchard hamming it up on the Brillo Pad Special – so called because Roger enjoyed polishing it with WD40 and Brillo pads,  much to the ribald amusement of fellow  Tealers.  Beyond, Bob Lewis looks pensive.
Pat Elwell keeps an eye on Lindsay Crichton's  Soda Siphon.  John and Pat Elwell founded the Teal Owners' Club in 1988, initiated the Teal Spiel Newsletter and were the driving force behind the development of TOC and TOC events in the 1980s and 1990s, supported by Ben Trumble, Mike and Dot Birch, Cliff and Janet Sedman, Bob Lewis, Lindsay Crichton,   George Rainsford, Colin  Andrews and Glen and Maggie Ibbotson among many others; John has sadly now passed away, and  Pat is our  Chairman of the TOC
John Elwell, founder of the Teal Owners' Club in 1988, and of Teal Spiel, the club Newsletter
John (right) enjoys a little snack in Germany with fellow-Tealer 'Compo' . 
John and Pat Elwell's Teal Type 35, now driven by daughter and son-in-law Suzi and Dave Rigby
Ben Trumble (left), John Elwell, sexylegs Bob Mills and navigator Sid on the trip to the German Old-Timers Club at Tittisee.  Bob still drives the same Teal today (2013). 
Dave Wilson carries out his ablutions by the early 4-seater Teal Tourer  OSC789P which he built himself.
Ian and Maggie Foster's well-loved HKA Teal Type 35 and Lindsay Crichton's WLE before becoming  JSU534. (Confused?  The re-registering of cars with more authentic number plates is common throughout the Teal world.  Most cars started with their donor vehicle's registation number, before gaining a more period number plate  ). 
 But it doesn't change the splendid nature of the machine itself.
Ian Foster's own Teal (HKA) rebodied in aluminium by Bob Jones 
(photo: Bob Jones)
In March 1986 after about 30 GRP Teals had been built by Ian Foster and his team, the company was sold to Bob Jones; in October 1986 Bob Jones completed the first new aluminium-bodied Teal, and some  owners of GRP cars returned to have them  re-modelled with the new aluminium bodies.  By the late 80s and early 90s, Tealers were frequently  taking their cars abroad to France, Germany, Switzerland and Spain, often with Cliff and Jan Sedman,  Ben Trumble, Colin Andrews or Glen Ibbotson  in the lead, acting as ambassadors for Britain  ( I know, I know).
Who can put names to this bunch of likely lads?  Most of them still own Teals and are active in the current Teal world, a tribute to the enduring appeal of the Teal… (photo: George Rainsford)
A strict code of dress and rules of decorum were adhered to nearly all the time (photo George Rainsford)
Ben Trumble and Ian Hutchinson racing down the old Grand Prix straight at the Rheims circuit    (photo Ben Trumble)
Lindsay Chrichton, Bluebottle and a wax jacket er …. full of character.
Thanks, Lindsay for these splendid photos and cartoons which help to fill out our Teal history.
David Wilson's 4 seater has some unusual features…
 …including the Teal badge and fitting
David Wilson is a Fife man, and his Teal looks stylish  against a well-known Scottish landmark….
David Wilson  (passenger) on his first time in a Teal at Knockhill race track, as Ian Foster driving his own Teal saw how fast he could go round.  It was plenty fast enough for David.  But he still built one….
Ian Foster's birthday at the Lakeside Pier in the Lake District on the weekend of 4/5 July 1998 – the Teal gathering organised by John Elwell at which the Teals paraded past Ian and Maggie's house, and Maggie bought back Ian's original Teal for the occasion
Since these heady days more than 20 years ago now, Lindsay Crichton has grown up considerably; no longer the wild, devil-may-care lifestyle for him.  As the years passed he decided to settle for a comfy family car, modest and reliable, something to potter down to the post office or garden centre in: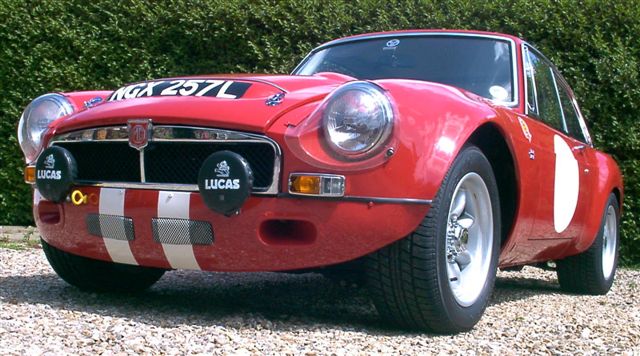 Lindsay's MGB GT  disguised as a works MGC GTS Sebring. 
Which proves that Tealers never really grow up.  Good.
David Wilson sold his Teal three years ago (2006) after 21 years , and as you would expect from a man of mature years, he designed and built  rather  more appropriate transport:
 which David calls The Valkrie!
The Teal spirit is alive and well north of the Border.