In early June 2009  eight Teals, two Replicars,  a TR4A, a TR8, an Austin Healey 3000, a TVR and an Alfa Romeo set out to explore the Lake District,  Cumbria, Northumberland and the borders of Scotland around Jedburgh and Moffat.  In the Lakes we were welcomed and guided by Maggie Foster, widow of Ian Foster, the  founder of Teal cars, and their sons Guy and Mark Foster driving their Cobra;  in Cumbria, North Yorkshire, Northumberland and  the Borders of Scotland  Neil  Ramsay and daughter Annabel led the way, having prepared a splendid route through magnificent country  with interesting stopping points.  Then in Phase II many Tealers pushed on to Killin, Oban and the Isle of Mull guided by Neil and wife Vicki.  The full story will be told in TealSpiel magazine for members of the Teal Owners' Club;  these photos give just a small  flavour of the first half of the trip , which your correspondent enjoyed tremendously.  The tour was, unusually, completed without rain…  bc.
On Sunday 31st May a group of us joined up at Keith Lidgerwood's home near Chester, were fed royally by Eva, seen off by Mike Astill and Geoff Turner in their Teals, and set out up the M6 for Newby Bridge by Windermere.
We were greeted at her cottage by Maggie Foster,and her sons Guy and Mark,  with a bottle of wine and a warm welcome, and withdrew to the pub next door (The Crown) for a first happy meal together. (above:  Maggie, Keith and one of his  Replicars ) 
 Monday June the First brought us a terrific tour of Windermere, the Kirkstone  Pass, Keswick, Borrowdale, Buttermere, Grasmere and Coniston ….(above: Ron and Sheila Stamp beside their handsome Teal four-seater tourer, Keith Lidgerwood and John Chalmers beside their Replicars and Brian Crook with his Teal two-seater.)
In the lakes:  Neil Ramsay's red Vital Spark, Keith Lidgerwood's Replicar and Bob Mills' fine Teal Tourer ('the longest Teal in the world')
Guy and Mark Foster's Cobra guided Neil and Annabel's Teal (Vital Spark) and a dozen other fine machines around the delightful lakeland landscape
Iain Ramsay, Neil's son, joined us  with  his beautiful Austin Healey 3000   and was Teal Tour photographer with Dave Hamilton (Triumph TR4A)and Steve Andrews ('Trev') in his TVR.  Brian Crook's Teal Type 35 stands before magnificent lakeland scenery. 
Keith enjoys his full breakfast (egg, sausage, tomato, mushrooms)  snack while admiring Dot and Phil Massey's handsome Teal Type 35 two-seater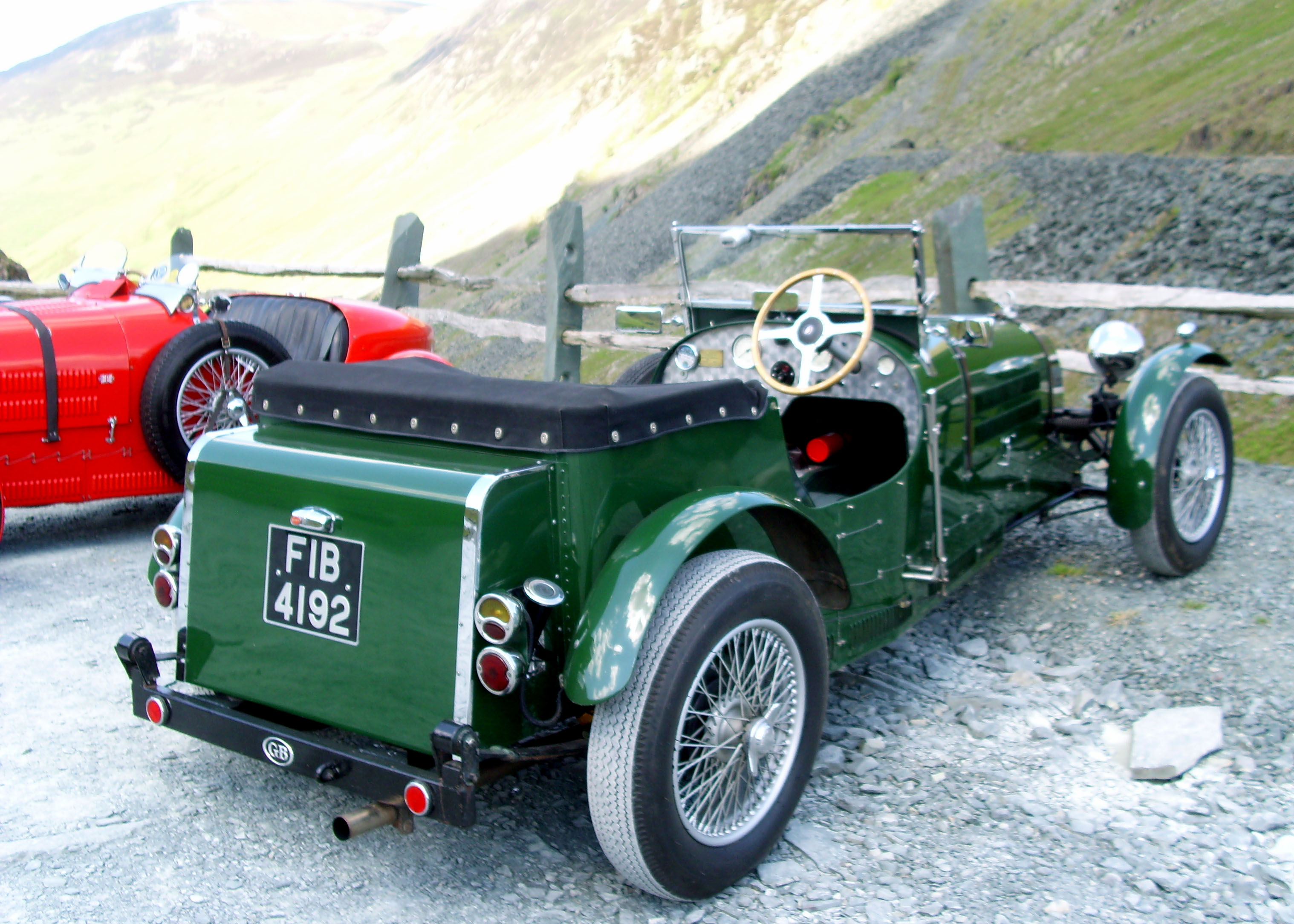 The most attractive Bentley-green Teal four-seat tourer of Carola and Roger Frank contrasts colour well with  'Vital Spark', painted in Porsche Guards Red
Stuart Whitworth joined us for a happy farewell dinner in the lakes to tell us that he had sold his delightful old 2.6 litre Teal (above) to a German enthusiast, who plans to rebuild it, and that Stuart is commissioning a new chassis,  and building with suspension,  motor, bodywork and ancilliaries a completely new car – a project about which he will keep us informed.
(Latest News, 17th June 2009 :  Stu rang to say that Cliff Sedman had found him a Marlin rolling chassis and bodywork which Stu has now bought, and intends to re-body with a boat tail – he is excited about this new project….).
 Bright and early next morning, Tuesday 2nd June, we assembled outside The Crown for Maggie to see us off and Neil to brief us about the importance of looking after the fellow (or girl) behind you as our convoy headed off through Cumbria, North Yorkshire and Northumberland, en route for the Scottish borders and Jedburgh, our next overnight stop.
You should be able to spot eight cars here as we wind our way cross-country following Neil and Annabel's red Teal T35.  Keith and John are in the cream Replicar ( VW-based Bugatti replica.) The wind was in our hair, the sun warm on our backs, we were in good company in fine cars,  and all was well with the world…
We were very well received by Paul and Pam at our pitstop at  the most welcoming and attractive Old Dairy Farm,  three miles west of Hawes in  Upper Wendsleydale.  They were shooting some professional publicity  for the restaurant, and were keen to include us in the photos – we  agreed happily, and moved on refreshed,  dodging horse-drawn gypsy caravans heading for The Appleby Horse fair later that week.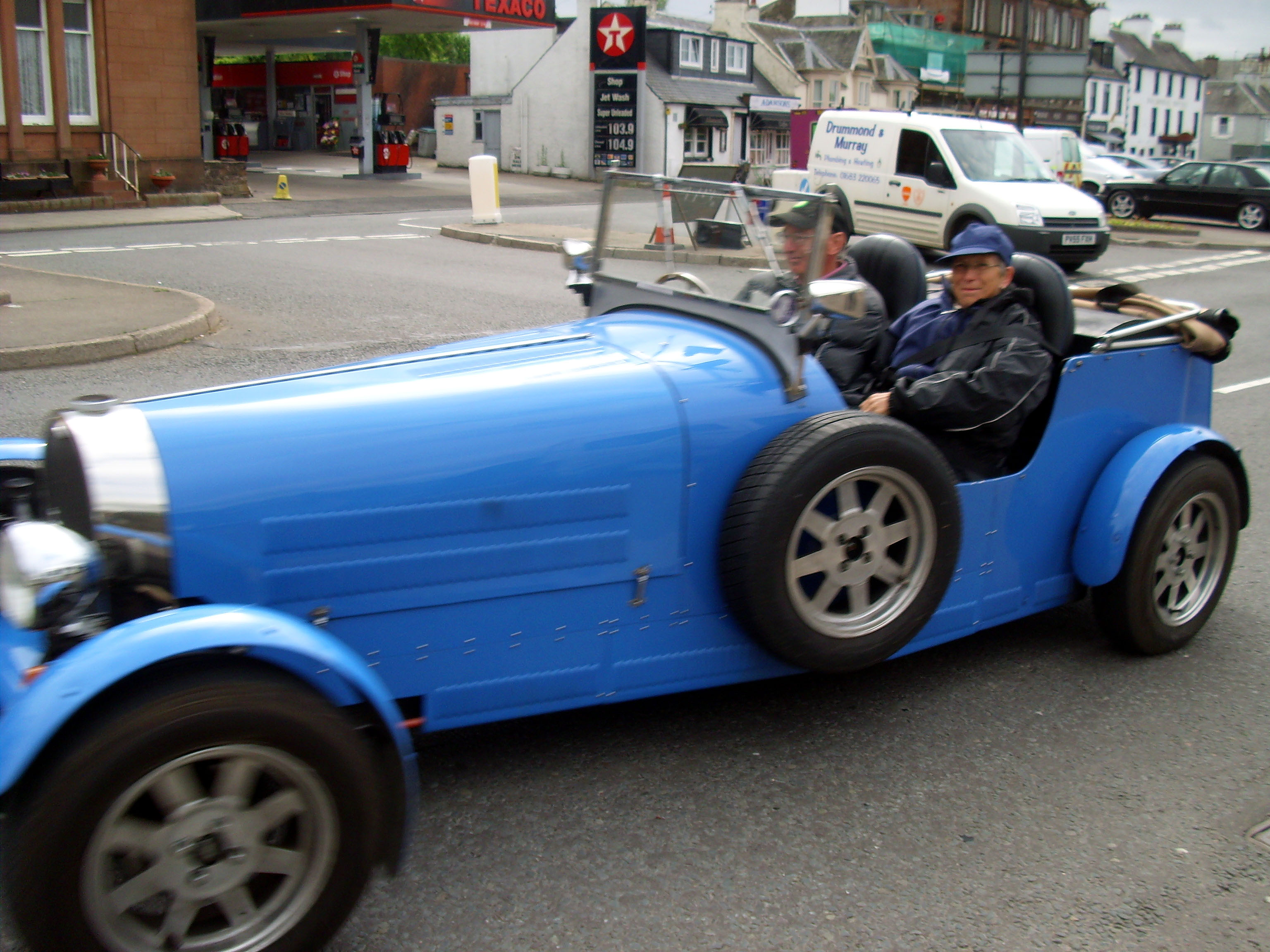 At lunchtime at the Red Well Inn in Middleton  we met up with those consummate Tealers Rupert and Jean Quested (whose chips I 'borrowed' – thank you Jean. Oh, and thank you also Carola Frank –  excellent texture and  flavour ), before heading on into the hills past Keilder for a tea stop at Falstone Old School House.
Classics at Falstone: Ron and Sheila Stamp's 4-seater Teal, Brian Crook's 2-seater, Chris and Yvonne Kemp's TR8, Roger and Carola  Frank's Teal 4-seater, Dave Hamilton's TR4A and Iain Ramsay's Austin Healey 3000 . 
There followed an exhilarating 20-mile drive through the hills at some speed, then past Bonchester Bridge and into Jedburgh for our night stop.
Forming up next morning (Wed 3rd June) in the car park of Edinburgh Woolens, John Chalmers  noticed that Teals appeared to be going for bargain prices….
We were heading for a Buddhist temple in the Scottish hills, and Keith and John were enjoying their day out in the Replicar  until…..
…we came to a halt due to roadworks in the high remote hills, and Keith dazed off.  But ….
Chris and Yvonne Kemp were alert and excellent company, and their left-hand drive Triumph TR8, which took part in the Spider Run and in which they have covered much of Europe, proved to be an excellent long-range tourer.  Colin and Irene, good-humoured Tealers  both,  used their Alfa Romeo as a last minute stand-in for the pretty Puddle Jumper when over-heating problems necessitated a quick reshuffle. 
 Meanwhile Carola and Roger Frank were enjoying themselves in their stylish Teal four-seater Tourer…
We soon reached the Samye Ling temple, a beautiful and peaceful location in the hills.   
 Many delighful temple buildings and statues surround the Samye Ling Buddhist Temple – highly recommended as a place of tranquillity and relaxation.
Time to leave the Temple:  Neil Ramsay leads the way towards Moffat unerringly, followed by …..
Enthusiastic and experienced Tealers Dot and Phil Massey,  just back from their trip to the Keil Canal, followed by…..
Brian Crook, wrapped up warm,  and the Alecocks beyond.
The Glen Cafe for lunch, at St Mary's Loch.   At back right Lavinia and Ian Alecock  are preparing to pour the tea…..
and kindly offered me a cup while I examined their ingenious boot rack, designed and built by Ian Alecock
Well-travelled and knowledgeable Tealer Ian Alecock with his lovely Type 35 , fitted with Bugatti elephant mascot on the radiator cap. 
Then we were off through the Tweedsmuir hills  and the Talla pass  in glorious sunlit weather , winding our way out of the hills on good roads past the source of the Tweed and into Moffat for an unexpected bonus:  to meet a colleague of Neil Ramsay's, the splendid Dr Hamish Macleod, Teal owner, who greeted all 20 of  us warmly with a cold beer, and showed us his magnificent car collection.
Tealers cluster around the fine Teal Type 35 of Dr Hamish Macleod (green T-shirt, centre) . The Teal keeps company with Jaguar D-type, Jaguar  E-Type, Bentley, Rolls Royce, Alvis and Mercedes – and a splendid Spitfire (below) 
Hamish  flew a Spitfire  and this replica Spitfire Mark 9 with 4-bladed propellor  in his front garden in a quiet close in Moffat  is painted in squadron markings .
Three Teal experts discuss Hamish's Type 35
(Colin Andrews, Phil Massey and Keith Lidgerwood enjoy Hamish's warm hospitality  –  and cold beer)
So the first part of the Teal Scottish Wander (Lakes and Borders) was drawing to an end, and we 20 all ate dinner together at Claudio's in Moffat (recommended).  There were speeches, hugs and a song, and the main party of Tealers pressed on next morning (Thursday 4th June) to Killin, Oban and the Isle of Mull.
We all want to thank Neil, Vicky, Annabel, and Iain  Ramsay for the interesting and varied routes they chose for us up into the wild, lonely  and rugged hills  and down through  gentle lowland valleys beside chuckling streams and  brooding lakes, and also for  the wonderful variety of  pit stops they selected.  The research and detailed written instructions were exemplary, and their relaxed sense of humour knitted our group happily together.  We send our sincere thanks to the Ramsay family for the trouble that they took to make this Teal Lakes and Borders Tour 2009 such a great success…
Neil and Annabel Ramsay
While other Tealers  went on to Killin, Oban and Mull for  the second part of the tour – Highlands and Islands – I turned south east for the Yorkshire Air Museum at the former RAF Bomber Command airfield of Elvington near York, and next day on to  the Shuttleworth Trust airfield near Biggleswade for World War 1 biplanes, many of them still flying.
But that's another story.
For more  pictures of the tour  see the 'Teals in Action'  page of the website   Happy Touring – aren't Teals  fun?!