Following the success of the 2007 Spider Run, in which 34 cars took part, a summer 2008 Teal Triangle Run was planned by Colin Andrews and Glen Ibbotson.  The run would start at the Midlands RAF Museum at RAF Cosford, and take in Shropshire, Wales, Cheshire, the Pennines and North Yorkshire.  This photo essay is based on your webmaster's dodgy memory of these events, so keep a pinch of salt to hand.  Please  read on…
RAF Cosford proved to be the ideal lunchtime rendez-vous on Sunday 29th June 2008, as Teals (and a couple of Replicars) starting arriving from all over the country; there was lots of parking space among the external display aircraft (see, for instance, Colin, Brian and Rupert/Jean's Teals beside the Britannia above),  a terrific free [ always attractive to Tealers ]  aircraft museum, a good café, and lots of room to sit and  plan the week ahead.
One Tealer noticed that  hanging in  the roof of the Museum was RAF Canberra Photo Reconnaissance Mark 9 XH 171, an aircraft which appears in his flying log book many times from his  days serving with No 39 Squadron.  And there was also  a Tiger Moth, which must surely have figured in Colin's logbook, unless it was introduced some years  after Colin's  airborne service to the nation.  Museum pieces? Tealers?  Surely not.
The plan was to spend that night at The Bull at Chelmarsh,  a dozen miles south of  Cosford  near Brignorth, a  welcoming  pub/hotel to which Tealers have returned since  for our Christmas lunch.   And more Teals turned up there for the Triangle Run, filling the car park in the evening sunlight  nicely…
Ron and Sheila's, Glen and Maggie's and Keith's attractive cars at The Bull, Chelmarsh .  Keith was accompanied for the rally by co-driver/ heart surgeon John Chalmers.
Day 2, Monday  30th June, the Tealers spent either high on Wenlock Edge, where A E Housman dreamed of Blue Remembered Hills, or on the Severn Valley Steam Railway, or exploring the delights of historic Shrewsbury…and that evening Keith Lidgerwood entertained us with ceaseless amusing repartee as he did for the next seven days – in between shifting prodigious amounts of food. 
Next morning , Day 3 Tuesday the 1st July 2008, Glen and Maggie lead the Tealers  west in loose formation round Shrewsbury, motoring   into mid-Wales, initially for a fuel stop (below), then  a T&P halt at a slate museum/café ( further below), through Welshpool,   past the impressive Lake Vrynwy dam to come down cross country to the splendid small steam railway at shimmering  Lake Bala/ Llyn Tegid  ( even further below…)
At the fuel stop we were able for the first time to admire Frank Jones 's fine new wheels on Grasshopper: 
Frank guards the Teals /  poses at the slate museum cafe 
Ron and Sheila reverse into position as Colin and Irené arrive at Lake Bala 
Colin guides Puddle Jumper  past Ron and Sheila's Hirondelle while Irene enjoys the sun and the wind   in her hair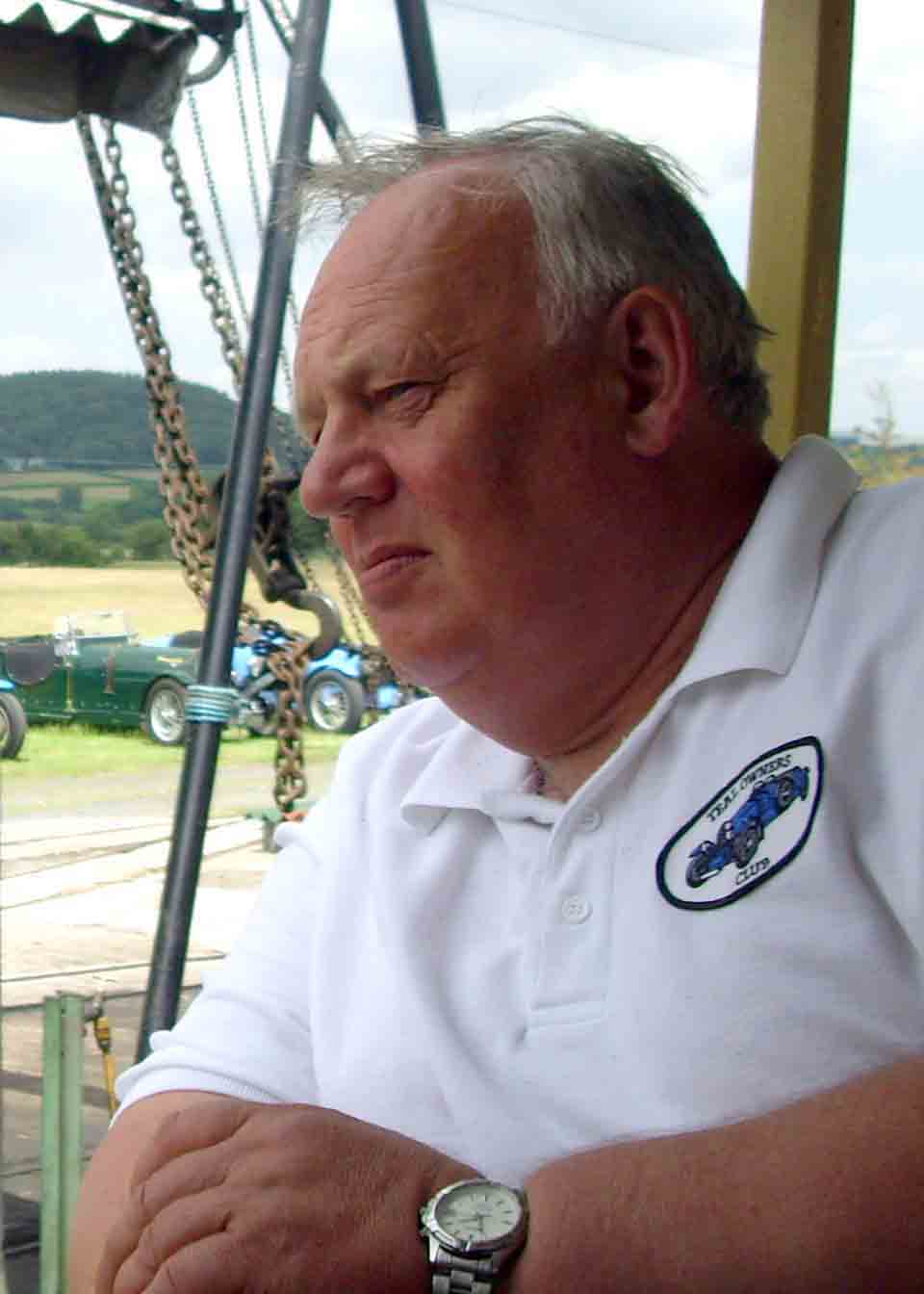 Andy Dutton  thoughtfully  on the rails – Teals beyond
Keith Lidgerwood gives a friendly  Aussie greeting to  the driver of the Llanuwchllyn express
Ron and Sheila take a last look at Hirondelle and Brigitte as we steam away… 
As we re-mounted our Teals after the steam train  I photographed two rather special Tealers, chatting as we prepared to depart westwards: Frank and Ron, senior, well-loved and  respected Tealers: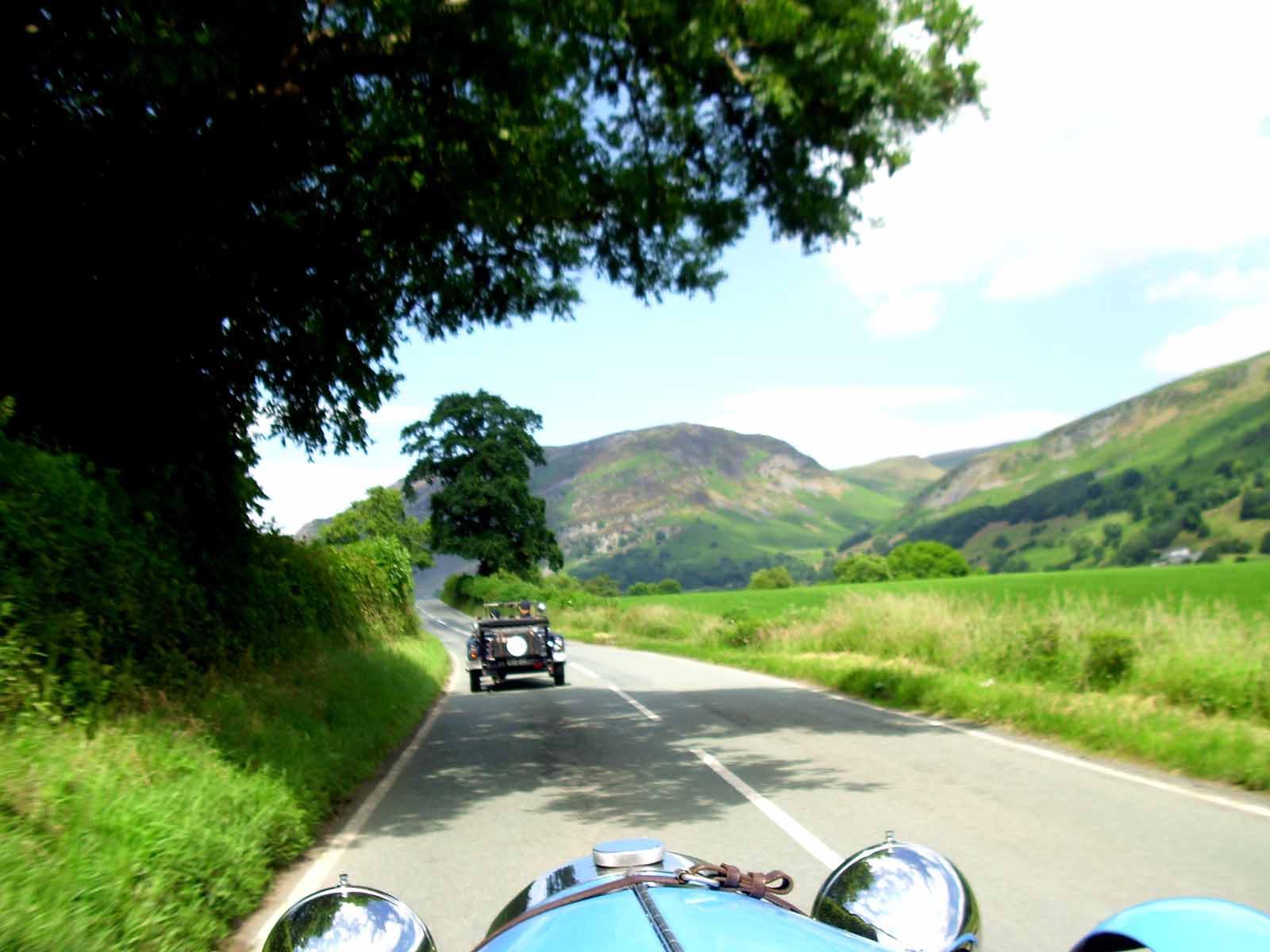 Brian
enjoys one of the best views in Britain –
Captain Sensible's
backside over Brigitte's bonnet.
The road took us further west now, through glorious countryside,  then a sharp blast up the Welsh mountains, dodging sheep and fallen boulders to bring us together to Caernarvon overlooking the Menai Straights, and a happy dinner  while the Welsh rain fell outside in considerable quantities  and Stuart Whitworth joined our happy band.
Stu's Splendid Teal. "More like a Bugatti than most Bugattis"
Day 4, 2nd July 2008,  at Caernarvon the day dawned clear after overnight rain, with an impressive range of Teals, and we lined up in formation to climb the hills past Snowdon to the Lamberis Pass, then stopped for a magnificent lunch in a valley lodge (Country Cooks), before winding our way happily down to Chester, our objective for the night,where festivities were to be held (it was Ron's 80th birthday).
 And make it we did, to the fine Alton Lodge Hotel, providing an even more impressive line up, and  classic photos for the Teal albums.  Stuart Whitworth's Teal (foreground) , more like a Bugatti than most Bugattis,  added to the look, as did Stuart himself – a genuine original.
The dinner at the Alton Lodge was a splendid affair with about 25 Tealers present; Dot and Phil had joined the merry rally, Ron and Sheila's sons turned up' out of the blue' to celebrate with Sheila and his  fellow  Tealers Ron's 80th birthday; a stirring speech was made by Colin (Club Sec.) recording the outstanding  achievements of Ron over many years, and when Colin sat down some thought that it was all over;   but then in ragged order a dozen tipsy  Tealers stood up in turn and told scurrilous stories about Ron, each one more hilarious than the next (we'd drunk a bit by then), each one   outrageous, and very few of them included even a grain of truth. The evening waxed rollicking, a cake appeared, champagne was drunk, a song was heard, and everyone retired to bed  thoroughly happy with  Teal bonhomie and comradeship.  Thanks go to Colin for pre-arranging the visit by the boys, the tall stories and the cake and champagne  – a great do all round.
Day 5  of the Triangle Run 2008 (Thursday 3rd July 2008) dawned bright and sunny in Chester, and led by the irrepressable  Keith Lidgerwood (we tried, believe me),  native of Australia and Chester who was on hand with John Chalmers  to guide us out of the city through gentle  meadows and woodland  en route to the great Radio Telescope at nearby Jodrell Bank, where we parked up in line and enjoyed a happy  90 minutes  with a 3D film, coffee  and space exploration.  By 1130 we had to leave to keep to our schedule, but Stuart (foreground below) could not be found and had last been seen chatting up one of the attractive female guides.  So we started up and departed for the Pennines via a visit to deep-pit coal mine.  Unfortunately when Stu came out he was upset to find all the other Tealers had left without him, and his Teal wouldn't start.  But with a little help from the emergency services he was on the road again an hour later…
Tealers in the Pennines led by Glen and Maggie Ibbotson on the Triangle Run  on 3rd July 2008 – this classic Teal photo thanks to Martin Quested, Rupert and Jean's son, who captured us on film en route, and joined us for a Derbyshire  pub lunch at the Navigation Canal Inn (with well dressing).  Rain threatened, but only fell briefly (below).  Is that a Replicar rear end next to Brigitte?  Yes!
Our destination that evening was lovely Holmfirth, Last of The Summer Wine country , to which Glen and Maggie guided us to unerringly, past the Black Hill and Holme Moss,  despite closed country roads in the high Pennines, and the need for a dozen Teals to do seven point turns on a lane not much wider than a Teal.  Fortunately we've had a  lot of practice.
We stayed at the Old Bridge Hotel in the centre of Holmfirth, where Tealers are seen arriving (below) to much local interest (it was us or Norah Batty); your correspondent was lucky to be allocated the room with the floral balcony top left, where glass in hand he could survey some of  the assembled Teals.  Later he took a photo of this Teal line-up (further below) with Colin, Frank and Ron's fine  machines to the fore (Puddle Jumper, Grasshopper and Hirondelle).
Day 6 of the Triangle Run (Friday 4th July 2008) and Glen led us  expertly through the semi built-up areas of south-west Yorkshire to the coal mining museum at Overton, where no more descents were allowed that day as they were fully booked.  Keith said he'd really have loved to go down, and we agreed we'd also have liked him to go. All this was water of an Aussie's back – he's been insulted by better people than us, he claimed.
Then came  a short but exhilarating 30-mile blast up the A1 led by Sterling Ibbotson egged on by the charming Maggie, who wanted her lunch, with multiple glorious Teals, and Harry and Carole's smoky Replicar,  at speed looking for food (I recall June was also  particular pleased to find a pub open, with sandwiches – the first one we had stopped at being disappointingly  closed… all that fresh air makes Tealers hungry) . We all arrived at the pub with rosy cheeks and a sparkle in our eyes and enjoyed a happy garden picnic .
Our aim now was to bypass York to the south-east on the good ring road, then break north-east past Malton and Pickering across the North Yorkshire Moors for our ultimate destination on the Triangle  Run: Robin Hood's Bay  (below) on the coast south of Whitby – traditional Teal summer stamping grounds.  And make it we did, dispersing to our various B and Bs before meeting at the Fylingdales Inn for supper and tall stories, followed by a devilish car quiz devised by Dot and Phil (how many bolts are there in a Mini? To the nearest 10..) and won by swots Rupert and Jean (yet again).
Pretty Robin Hood's Bay – Journey's End  (nearly)
Day 7 – Saturday 5th July 2008, and the weather looked – er – variable.  Nevertheless Sheila mounted up side saddle (below) , the Searle's had arrived to visit us with their very special silver 6C/2600 Teal Type 35 B, as had possible future Tealers Sue and Howard, who jumped into spare Teal seats with alacrity (little did they – or we – know what was coming ).  Glen had a cunning plan to entertain us for the day (he usually does), including a morning motor up the coast to check out the sights of Whitby, then a left turn inland for beautiful Eskdale and the country lanes across the moors to Glaisdale and Ainthorpe, with  lunch at the café of an attractive country garden centre with ample grass parking.
All went well  to Whitby, and entering the Moors was a delight.  As we arrived at the lunch stop and parked up a few raindrops started falling, but we thought nothing of it, and entered the snug café, where steaming mugs of coffee, quiche and chocolate cake were consumed between merry chatter. 
After half an hour or so the drumming on the roof caused a Tealer or two to note that the rain was getting harder, and those with hoods went out to erect them rapidly (mainly Ron, Glen and Rupert).  'We'll wait it out', the rest of the dozen Teal drivers said, 'It's sure to slacken off soon.' 
Only it didn't. The rain got harder and harder, pelting down in a noisy tumult.  After waiting nearly an hour with no respite, a determined but undignified slipping, sliding scramble was made by the Tealers across the grass towards the very wet cars; Colin entertainingly slid his wet-weather gear on (below), watched furtively by jealous soggy  Tealers;  and the rest of us sadly  removed our tonneaus,  placed dampening towels on the  seats and started up.
It was every man for himself, skidding across the sodden grass, wheels spinning on the gravel drive, and a blind, head-down rush up the lanes, following through completely-misted goggles the vague, blurring backside of Captain Sensible disappearing through the gusting squalls.  For the wind was now howling horizontally at some speed. 
Those of you who know the road through Briggswath and Sneaton to Robin Hood's Bay, our refuge, will know that here there are one-in -three hills of great verticality,  interspersed with treacherous bends and narrow  chicanes, down which a dozen Teals now hurled themselves willy-nilly, drivers blinded by the deluge, brakes totally ineffective, hearts pounding, passengers with white knuckles, visibility nil and arrival uncertain.  That most of us emerged to tell the tale is a minor miracle, and drying off (steaming) took the rest of the afternoon while B and B landladies clucked in front of the fire and shook their heads sadly at the folly of these young men and women.
Did I say young?  Well, we felt young and heroic surviving this dangerous adventure, and it says much for the courage of Sue and Howard that soon afterwards they purchased a fine red Teal Type 35 two-seater ( Toad ) which they enjoy to this day. 
 Colin's wet-weather gear from LIDL   –  the envy of many damp Tealers
That evening in the Victoria  Hotel the stories were tall, the relief palpable, the meal good and the bar busy. Pat Elwell applauded the survivors, Sue and Howard were declared true Tealers, and  we all reckoned  that The Triangle Run 2008 had been a great adventure, thanked Colin and Glen, and promised to do something similar in 2009  (which we did – see Webpage 2009 Lakes and Borders –  with many going on to Mull under Neil Ramsay's guidance ) 
Day 8 – 6th July 2008.  For me this was going-home day .  The rain was still falling in buckets, I was wearing everything waterproof  I could find (it was many miles to Wiltshire from N. Yorkshire), and my last glimpse as I waved goodbye was a damp Glen gazing happily  out across  the grey North Sea over the familiar Bay of Robin Hood. 
Grit your teeth, head down and go for it through blurred windscreen, southwards, ever southwards,  through the battering wind and rain. Someone said that raindrops feel like bullets at 60 mph; they are correct.  But five  hours later, as the lights of home glowed ahead out of the (by now) drizzle, one had an overwhelming sense of achievement, something familiar to every Tealer: despite the odds and hazards, we did it.  And a couple of damp pats on the boat-tail as one stripped off heavily-sodden clothes  in the garage seemed absolutely appropriate. Well done, Brigitte. Till next time.
B.C.                                                                                                             August 2014
With thanks to 30  good Tealing companions: Rupert/Jean,  Colin/Irené,  Ron/Sheila,  Frank, Dot/Phil,  Andy/June,  Suzi/Dave,  Pat,  Howard/Carole,  Howard/Sue,  The Searles,  Keith/John,  Glen/Maggie,  Neil/Pam,  Peter/Maureen Fenn,  Brian, Stuart for a happy week of adventures.