Bob Jones has sent the website some excellent photos of the Type 35B at Grimsditch Hall, the home of Teal Cars for the years 1992-1998, and of the beautiful little Type 52, the only exact replica Bugatti built by Teal Cars. Twelve of these Type 52s were built by Bob Jones.


Teal T35 chassis handbuilt by Bob Jones at Viaduct Road, Broadheath




T35 boat-tail owned by Bob's wife's uncle – lovely early T35 4-seater in the foreground, owned by Tony Davis.




Fine 4-seater with hood up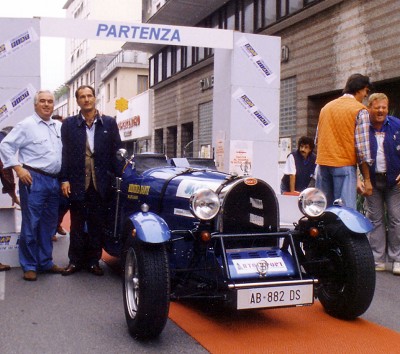 Ready for the Off – 25Sep 94 – T35 with Italian Owner at Pordenone





Teal Type 35B – Grimsditch Hall – narrow radiator shell option





Type 35B with Mike Astill's Type 35 beyond




Type 35B at Grimsditch Hall




Type 35B lefthander. In the twelve years Bob was building Teals (1986-1998) he only made three or four left-hand drive Teals. Nearly all original pre-war Bugattis, even those made for the French and Italian market, are right-hand drive.




Type 35B – A fine View

The Teal Type 52 is the only exact copy of a Bugatti made by Teal, and it replicates the Bugatti Type 52 designed in the 1930s for Roland Bugatti. Twelve of these Teal Type 52s were made by Bob Jones




Type 52 production!




A little beauty




Delivering a Type 52 on Bob Jones' Cortina…




Eight Teals at Brooklands




Leeds – Ben Trumble bought two T35s and a T59 from Bob Jones, and also became a manufacturer of Teals – see the site page 'Thrilling Teals by Ben Trumble' further down the website – good stuff!




Paddy O'Brien, Bob Jones' friend, neighbour and Teal demonstrator

FOOTNOTE- A bit of History… the next two photos go together – in 1965 Bob Jones (right) and 'Big Jeff' Turner(at mike)played in the rock band The Principles (here at Sale Town Hall, nr Manchester). Jeff emigrated to South Africa, then Australia, came back, saw Bob's Teals at Stoneleigh, and placed an order (see second photo). Bob and Jeff have been able to renew and maintain their friendship down the years…




'The Principles'




Geoff Turner's beautiful Teal Type 35 powered by a 2.5 litre Triumph straight six. Note the special wings.