TEALS OF THE WEEK Nos 141-160
https://www.carandclassic.co.uk/car/C1036959 
TEAL OF THE WEEK No 141 
Was For Sale in 2001 – Where Now? 
 *XEN742M in the Summer 2001 Teal Newsletter; where are you now?
***
TEAL OF THE WEEK – No 142 
 For Sale in Feb 03 – where now?
 NLU 926 P Polished Aluminium  Feb03 Teal Spiel. David Ward has spotted that this is in fact Teal Of the Week No 57 – but where are you now, silver beauty?
***
 TEAL OF THE WEEK No 143
 Where are you now?
 VTJ 734 M,  Ex Barry Duncan, Oxbridge blues (but not Neil's Phoenix), whose hands are guiding you now?
*** 
 TEAL OF THE WEEK No 144
For Sale in August 2000 – where now?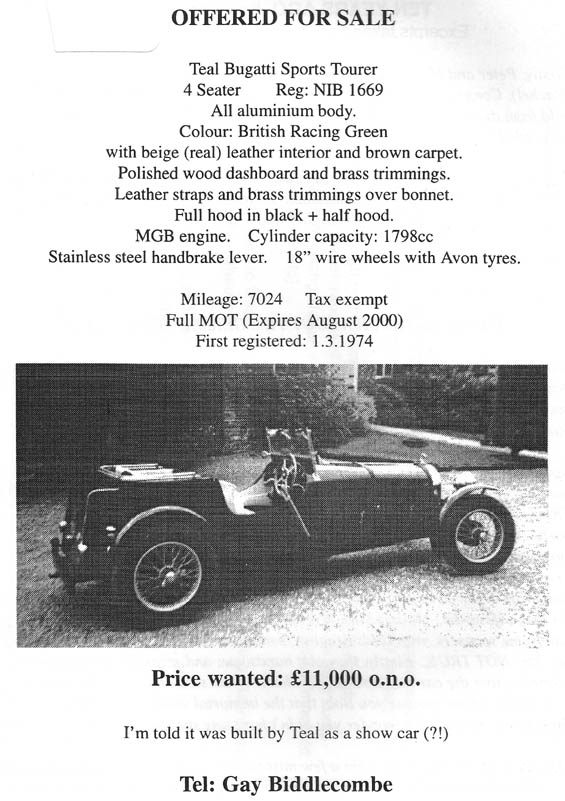 This fine Teal Tourer was for sale in August 2000 edition of Teal spiel. Where is she now?
**** 
 TEAL OF THE WEEK No 145
 Where are you now?
 March 2004 Teal Spiel – who bought Grant's four seater, and where is it now?
*** 
 TEAL OF THE WEEK No 146
March 2004, Richard Songer's pride and joy – where now? 
*** 
TEAL OF THE WEEK No 147 
 Was for sale in 2006 – where now?
 I fine, clean early Teal Type 35 in red – she used to live in Halifax 'till Feb 2006, but where is she now?
*** 
TEAL OF THE WEEK NO 148 
 Refuelling on a 1990s France -Spain run is lovely BMJ728L.  Is she now in Britain?
*** 
TEAL OF THE WEEK No 149 
Was for sale in 2006 – where is she now? 
Have you seen a Teal Type 35B with a Jaguar 3,400cc engine and a brass steering wheel?  It used to be based near Swindon until August 2006.   If  you know, please tell us  roughly  where it is now. Thanks.
***
 TOW 150
ANOTHER TEAL RE-DISCOVERED
New Teal of the Week No 150 
Re-discovered in Somerset this month (August 2016) is this early Teal Type 35, fibreglass but with a steel bonnet; unusually for an early car it is  complete with a Triumph 6-cylinder 2000 cc motor, and is for sale at £10,000….
 If you'd like to discuss buying  RTT626 W, our new Teal of the Week No 150,  call  evenings or weekends on  07856 055226 .
Thanks to The Teal Owners' Club Website at www.tealownersclub.org for the info, Colin
 ***
TEAL  RE-DISCOVERED  IN  GERMANY 
now for sale,  and designated Teal of The Week No 151
Tealer Wolfgang Knupfer sends us news of a re-discovered Teal  now for sale in Germany :
Wolfgang warns that she is not at the current time street legal in Germany
 The asking price is 45,000 Euros. Here is the link to cut and paste:
Update: Sep 18 for sale in Germany for 30,000 Euros. This  car is almost certainly also  TOW No 74 
 http://suchen.mobile.de/fahrzeuge/details.html?id=232446820&isSearchRequest=
true&scopeId=C&damageUnrepaired=NO_DAMAGE_UNREPAIRED&makeModelVariant1.makeI
d=4350&pageNumber=1
 Does anyone recognise Teal PUG 306 P ?  Would be grateful for any reply on the Discussion Forum on this website – thanks.  (Yes – see TOW No 74)
Thank you, splendid Tealer Wolfgang for this information. This Teal has now   been designated  Teal of The Week No 151.
******
 TEAL OF THE WEEK NO 152
There's a lovely-looking car for sale on the Car and Classics website.  http://www.carandclassic.co.uk/car/C833028 
It has the appearance of a beautiful Bugatti Type 35:
What a lovely Bugatti – and a snip at £112,000 – but hang on a minute. A left hand drive Bugatti? Do such things exist? Surely they were all right hand drive? And doesn't that suspension look very like a Teal 35B or Teal Type 59's? And that tail looks very Teal-like. And the mudguards. And the turned dashboard. And that's not an external gearlever on the left, is it – it's a handbrake, surely? Could this be the one missing left-hand drive Teal made by Bob Jones and Bob Lewis, with aluminium bodywork by Mike Hall ?
As it happens, we have three photos of that most rare LHD Teal at the works at Grimsditch Hall in the mid 1980s. Here she is, with Mike Astill's Type 35 in blue beyond:
They certainly look similar. LHDrive, one raised driver wind-protector to left, narrow radiator, same mudguards and suspension, same tail…. Hmm.
So possibly a Teal chassis with Teal body and Bugatti additions? Nice wheels and brakes. You decide.
Thanks Adli, David and Andy for info. She's a beauty anyway you look at her. I think we can put her in the register as Teal of the Week No 152.
***
WHAT'S THIS?  EXCITING DISCOVERY  –
TEAL OF THE WEEK No 153
Tealers will recall that about the first eight Teals made by Ian Foster in 1983/early 1984 were called Worsleys (see page 2 of this website for details).  An early  Teal has recently been re-discovered with the above plaque attached to its dashboard.   This chassis-number 10002 appears to be that of the second Teal (or Worsley) ever built – and as such the earliest Teal known to the Club.  More info and photos to come.  Exciting times!
Here we are: 
Not bad for Teal/Worsley No 2 from 1983, is she?  Looks like she's been well looked after ; she's Teal of the Week No 153.
***
TEAL OF THE WEEK No.154 
NEW TEAL OF THE WEEK (No 154)
A Teal Type 35 four-seater appeared on Ebay this week (7/8/17) which hasn't been seen in Teal circles for about 10 years. She's registered TIL 1930, is dark blue, with an 1800cc engine and she has less than 28,000 miles on the clock.  See September 2019 update below…
She has a rather lovely and unusual dashboard for a Teal, with a switch marked aerial (!).  She also is fitted with an elephant Bugatti radiator mascot.
We understand that this Teal was originally bought in uncompleted kit form by Cliff Sedman, completed by him and then sold on many years ago, and that considerable cosmetic improvements have subsequently been carried out…There's no doubt Teal of the week No 154 is  a beauty; but not cheap.   Nor should she be. 
Update: September 2019: this lovely Teal has been purchasedfrom Total Head Turners  by Richard C .  Richard is enjoying his beautiful Teal while investigating its earlier history, which may have involved ownership by Cliff, former distinguished Teal Owners' Club chairman.
 ****
TEAL OF THE WEEK No 155 
HELP, PLEASE
Do you know this Teal? Tealer David Ward has a copy of a 1990 magazine called YOUR CLASSICS in which it is featured, but neither he nor I are familiar with this Teal. Some early Teal Club members may recall seeing it, perhaps, and may remember who the owner was, and where it went to….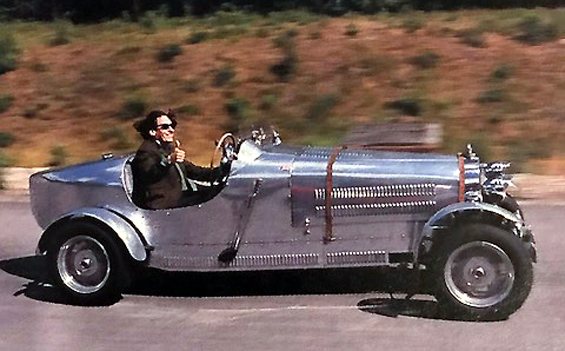 Do you know that registration number CKH 850T? It isn't registered anymore, but is she now under a new plate? And what's that mascot on the dummy radiator filler in picture one? Do you recognise those unusual hooded headlights? Could she be on the Continent? Has David discovered a new Teal of the Week for our records?
Any answers would be much appreciated on the Teal Discussion Forum page of this website, or direct to brncrook@aol.com. Thanks, Tealers.
THIS TEAL HAS NOW BEEN DESIGNATED AS
TEAL OF THE WEEK No 155
More Teals to come…. 
 TOW 156 to Come
 ******************************
        'NEW' TEAL DISCOVERED – IN SPAIN
(TOW157)
The owner of this attractive 1800cc Teal in Spain contacted the Facebook page of the Teal Owners' Club to say it was for sale, and could be transported to the buyer's home country at cost. He didn't say how much he was asking, but left contact details. The Sky Blue Teal website was not aware of this Teal before, and it has been designated Teal of the Week (TOW) No. 157, to follow new TOW156  above 'discovered' last week. They're out there!
This is TOW 157 
************************************************************** 
TEAL OF THE WEEK 158 – JUNE 2019 – FOR SALE AT
TOTAL HEAD TURNERS  – Approx £37,500 
 AMO 29
***** 
 TEAL OF THE WEEK 159
David Brown, pilot of a fine Teal Type 59, is in contact with Erol, owner of this other lovely Teal Type 59, resident in Gloucestershire. I am not sure I have ever seen this car before – have you?
It's registered EIL519. Do you know any details of its history? One of only thirteen Teal Type 59s built, with 4.2 litre Jaguar engine, it is an important part of Teal history. Please email brncrook@aol.com if you know more. Thanks.  Now TEAL OF THE WEEK 159.
***** 
TEAL OF THE WEEK No 160 – Reg 67 GVX 
 67 GVX  Teal Four-seater Tourer for sale on 20 Feb 2020 via Facebook/Teal Owners Club. In store for 5 years, ex Total Head Turners. £35,000