This page of the website covers Teals that have previously featured on Page 1 as Teal of the Week from Teal No 61 to Teal No 80
More Teals will be added as they are transferred from Page 1 of the website….
Terry and Sheena Birch's elegant Teal Type 35, powered  by   a 4C/1800 with twin SUs.  This Teal couple raise funds for the RNLI  at shows by asking those who admire their fine dark blue Teal: "Would you like to have your photograph taken in this lovely car?"   And at a pound a time over £300 has already been raised by the Birch family for the Lifeboats; this seems a good idea for the rest of us…thanks for the photo,  Terry.  She's a beauty.  

See also Teal of the Week No 120 – we believe this may be the same car.  Thank you Andy.
TEAL OF THE WEEK No 62
Alan Dunn's smart Teal photographed  in December 2008  –  the Type 35 boattail looks as new, and  unusually seems to be   fitted with chrome wire wheels and …
an   immaculate MG  4C/1800cc  motor with twin SUs, and …
a finely-fitted  cockpit and a Teal dashboard with elegant instrumentation.
TEAL OF THE WEEK – No. 63
Hans van Dijk in the Netherlands owns one of the finest-looking Teals in the Club. It is powered by a 6C/2500 Triumph engine, is black and now with black wire wheels, looks totally period  and is  beautifully finished…
Hans fettling the dark beauty: don't those headlights look magnificent? The badges are unfamiliar to British eyes, but look interesting…
Hans bought this fine Teal in 2011, and has enjoyed an excellent summer motoring , and on 20th October aims to meet up with Tealer Aaldert from Amsterdam (actually two-Teals Aaldert – Type 35 and Type 43) for an Autumn  Teal tour of Nord Holland.   Meanwhile…
Hans is planning ahead for generations of Tealing  to come – here's his grandson trying the cockpit for size…. to see lots more detailed photos of this Teal, before the black wire wheels, please go to the 'A Dutch Teal – and Work of Art'  page of the website.
photos: Hans van Dijk – thanks
Post script – did you wonder where that bridge was in photo 1, the black and white one?  I did – Hans tells me it's the Golden Gate  – clever stuff, Photoshop….
Peter Farrell,
seen here with his wife
Carol,
worked closely with Bob Jones between 1986 and 1998 as a cornerstone of Teal Cars, building steel Teal chassis and shaping the
 aluminium bodywork for Teals at Harrowby Mill, Farnworth, the Atlantic Business Centre, Broadheath, and at Viaduct Road.   This unusual, one-off Teal four-seater  was build in about 1989
 for Peter by Bob Jones and Peter himself,  partly as an experiment to see if this design of Teal would be strong enough to support two proper full-length doors, a rarity in the Teal world…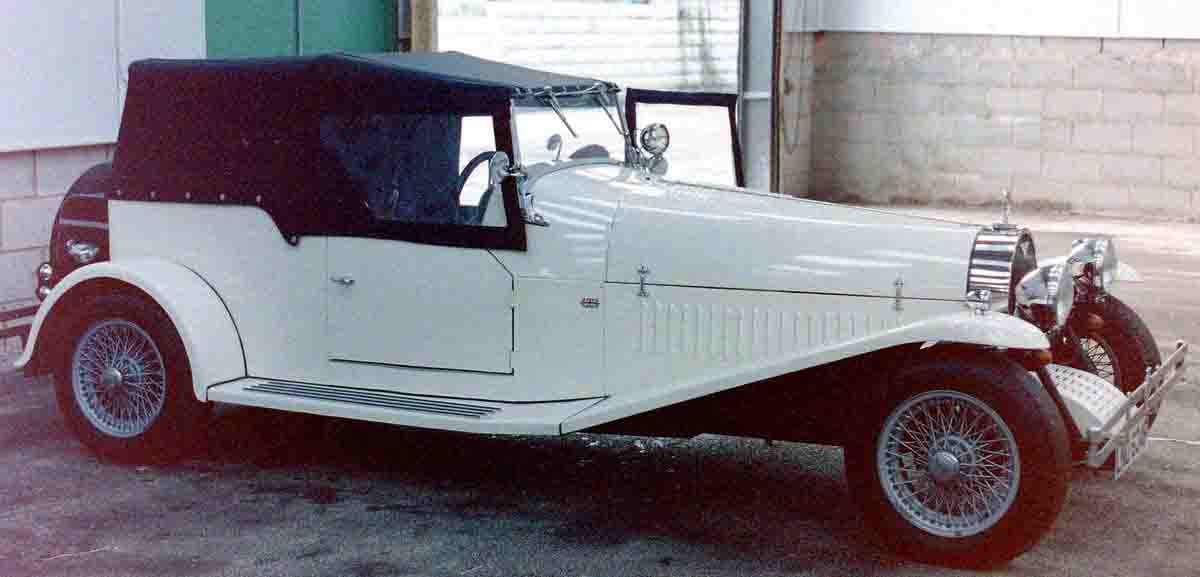 The car has a striking appearance, with a substantial  hood to cover the 4-seater, full length running boards with treads, and  a high-sliced bonnet – but might perhaps have looked more imposing  in a deep red, blue or green  instead of white (personal opinion!) .  Bob and Peter's conclusion was that this was not a Teal for production, and it remained an interesting one-off, with no Teal Type number assigned.  Incidentally, Peter's wife Carol created Teal wiring looms, and worked in the office and posting out Teal spares, and Peter's brother Ken  built Teal body parts, floors and bulkheads for Bob .  Should you wish to know more about the early history of Teal Cars, there's lots of info and photos from Bob Jones at Page 4 of this website: Teal  History – Harrowby Mill.   Also see below for updates on this unique Teal's story…
 UPDATE 1– 5 DECEMBER 2015/31 March 2016: this unusual Teal has been   in Belgium with  owner Mr van Audenaerde for many years….
UPDATE2 
Excellent News!  June 2016. This unique Teal has been purchased in Belgium by Tealers David and Janice (already Type 59 owners), and will be returned to England after 27 years in Belgium to undergo some updating and return to our British roads – bravo! 
UPDATE 3: April 2018 
This unique Teal has now been sold to Total Head Turners of Essex, who have painted it blue…. and fitted the larger 18 inch wire wheels; and here's the result, for sale by Total Head Turners of Essex in June 2018 at about £59,000:
UPDATE 4: January 2019 This fine one-off Teal has now been purchased from Total Head Turners and is happily residing in the Cotswolds with John D.  Here she is (below) in January 2019; doesn't she look handsome? A true Grand Tourer…

****************************************************** 
 Tommy Gunz is a spritely young fellow from Lincolnshire who has taken to Tealing in his fine pale blue  1800cc Teal Type 35 boat tail, and has recently been seen meeting royalty near Whitby with other Tealers (he's the good-looking young chap in the blue shirt kneeling at Her Majesty's feet ),   and also seen at the Royal Norfolk and Suffolk Yacht Club on the Teal September East Anglia run…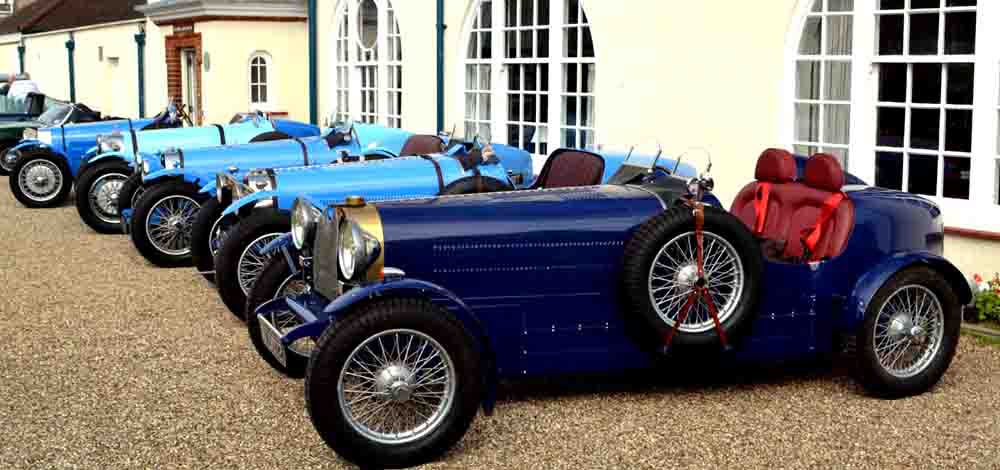 In Southwold, Suffolk, Tommy's is the palest blue of these  Teal Type 35s;  he's changing in the blue-striped  beach hut.  We welcome Tommy most warmly to the Teal Owners' Club (I know, I know, I'm a bit late…) and wish him  happy motoring in his lovely Teal.
TEAL  OF  THE  WEEK  No. 66
A friend who lives in Alsace in eastern France needed some spares for his Fergus Wren  (photo at the bottom of this section), so he crossed the Rhine near Strasbourg to visit a nearby garage in Seelbach, Germany,   which specialises in restoring, servicing and selling older British sports cars.  And there at the back of the garage, marooned among many fine old MGs,  he spotted this dusty blue sports car.  He knew I had a Teal, so decided to investigate further….
It is a rather fine aluminium boat-tail Teal Type 35, of course, powered by a 6-cylinder Triumph engine, wearing Dutch number plates and fitted with a Bugatti steering wheel… the owner of the garage, Herr Júrgen Deusch,  tells me that it not for sale, but is owned by one of his customers.  It was in for servicing.
An attractive cockpit, with rather comfy-looking divided seating – no sliding on the bench here!   Do you recognise this Teal, know who originally owned it and when it left UK?   That Teal badge between the carburettors is rather unusual, isn't it?   This is only one of  many Teals to be found in The Netherlands, Belgium, France and Germany;  more are to come in future Teals of the Week.
The Fergus Wren  is a British Kit Car, predecessor of the Fergus Mosquito (as owned by Keith Lidgerwood). It is a replica of the 750cc Austin 7 Ulster of the 1920s/30s, but powered by a Morris Marina 1300cc motor.   Here is my friend Christian's Wren, bought in UK  at the beginning of this year, rebuilt and since repainted.  Isn't she delightful?
TEAL OF THE WEEK No. 67
Formerly owned by  Mike Wells of Sussex , this rather fine Teal Type 35 four-seat Tourer is currently for sale in Essex  for £34,995…
… the handsome and immaculate tourer is powered by a BL 1800 cc gold seal engine, and is well equipped with instruments and weather protection  ; more photos may be viewed at 
where incidentally Keith Lidgerwood's Teal Type 35 two-seater No 1, Le Mistral, may also be viewed on this Total HeadTurners website, where it is also for sale for £29,995.
***
TEAL OF THE WEEK – No  68
This is an unusual-looking Teal, in that the chassis and front cross members  of this quite early (1987) blue Type 35 two-seater are painted red, not a look you see every day in the Teal world… 
…but this Teal has a distinguished history, having taken part in an early Teal Owners' Club run to Reims, to Southern France and into Spain in  1994;  she is one of the first Teals to be fitted with the Triumph 6-cylinder 2500 cc engine with 4-speed gearbox and overdrive on 3rd and 4th, rides on the 15-inch 8-spoke alloy wheels, and is equipped with black leather seating.   Here she is in France in 1994  (one from far end) at the old Reims circuit:
Hard to see?  You're right – here's a close up:
and again  outside the old Bugatti factory at Molsheim (left hand end) :
[The unusual and stylish car in the foreground is a high-quality GRP kit replica on a Sherpa chassis,  built for Kit Wallis, which joined the Teal Continental trip – rather like a Bugatti Type 55, perhaps?  R

ather

love

ly….   Glen Ibbotson, who led the 1994 France and Spain adventure (as he has so many successful Teal runs at home and abroad – thanks, Glen) comments that it is a pity that this Type 55 kit didn't go into full production, as it had all  the makings of a lovely replica…]
Teal of the Week no 68, the subject of this piece, was owned initially by a Londoner, then by Derek Ormston of Folkestone, and was put up for sale in November 2006 for £7500
 Do you know where she is located

now?
( With many thank, as always,  to  Andy Dutton,  to Colin Andrews who was on that Continental run in Puddle Jumper,  to George Rainsford who took the photos nearly  twenty years ago, and to Glen Ibbotson, who led the 1994 Teal  trip…a quartet  of distinguished Tealers, who are all still driving Teals in 2013)
 ***
TEAL OF THE WEEK – No 69
Bill van Leemputten is a long-standing Tealer with a delightful-looking classic Teal Type 35 boat tail…
This is a seriously good-looking Teal, worthy to be shown to the general public for their appreciation and education.  And in case there are technical questions to be answered, that's Bill in the hat at back right….
Only a few weeks ago in September Bill was in action on the Teal East Anglia Run based in Lowestoft.  Here the Teals are in Southwold, with Bill's in the foreground.   Did you notice in the top and bottom photo a serious-looking red  horn, half-hidden behind Bill's number plate, which looks as if it could administer quite a few decibels to unwise idlers.   Your Teal's  a beauty, Bill.
TEAL OF THE WEEK – No. 70
Bob Barrett's handsome Teal Type 35  poses beside the river in late afternoon summer sunlight….
I like this  dashboard; it has a quiet and elegant simplicity, understated and therefore richer than any (like mine) which are over-crowded with instruments and badges… and of course the magical Bugatti steering wheel sets off  the stylish image;  lovely.
The profile is classic; any knowledgable person passing would nod,   and mutter quietly to themselves sotto voce  'Bugatti  thirty five,  about 1927;  in good nick'  . They'd be wrong of course, you and I know that, but I think we can forgive them, looking at these delightful classic lines…
***
Teal Of The Week – No 71
Our Tealer colleague Aaldert Postma from The Netherlands owns two fine Teals –  a lovely   Teal Type 35 boat-tail shown here,  which over the past two years he has had rebodied, changed to left hand drive, rebuilt , repainted and rewheeled (see below) ; and a 'new' Teal Type 43, which will feature as Teal of the Week in the near future.  Here's the beautiful dark blue Type 35:
Most of the structural work was beautifully created by Mike Hall in Evesham, and then detailed finishing, painting and wheels were completed  in The Netherlands.  Here's what Aaldert's Teal looked like a few years ago, before the  work  began:
What an excellent  conversion from this early grp Teal  to an aluminium beauty,  as well as the many other unseen changes created.  Congratulations Aaldert and Mike for putting a very fine Teal back on the road; we look forward to seeing her on a UK Teal trip,  when Aaldert  is ready (and has time – Aaldert retired once, but he's now  bought the company back!)
 .
TEAL OF THE WEEK – No 72
Chris Poolton  is a long-standing and distinguished member of the Teal Owners' Club, having built his magnificent Teal four-seater tourer nearly 25 years ago (that's her on the left in  pole position at Stoneleigh, with an impressive double-row of Teals in support).   Chris and his wife Jean also edited, typed and printed  our lovely Teal Spiel magazine for many years, indeed it was thanks to them  (and Captain Sensible)  that Teal Spiel  was kept going on a regular basis through some thin times for magazine articles,  and maintained  firmly on the right track.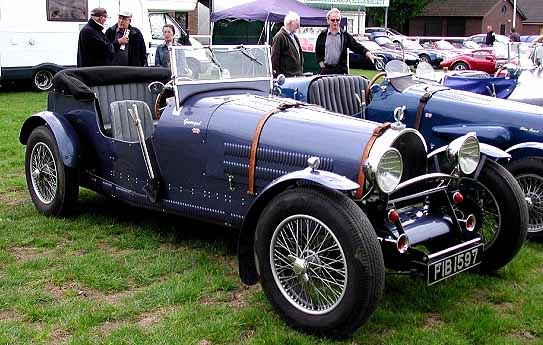 Chris explains how his Tourer came to be it's fine and subtle shade of steel blue/grey, which looks so distinguished on this Tourer: "the Teal was always meant to be a completely 'green' project, which is why I threw away the donor MGB engine and fitted an electric motor instead; then came the decision on colour – obviously I had chosen British Racing Green, but Jean wanted electric blue. We compromised; because I'm colour blind and chose the colour at the sprayer's – we ended up with British Racing Purple!'
 "When the car was finished, trimmed and on the road it was the only truly electric Teal.  But then I found the lead wasn't long enough to travel far from the socket – I even tried a curly lead.  It was now summer and we were looking forward to our holiday with the car on the Continent, and then some bright spark  completely ruined things by telling me that  the mains voltage in France was only 110V anyway."
So Chris's delightful Teal Type 35 four-seater tourer now runs with an 1800TC engine.  This bit is true.
Thanks,  Chris and Jean,  for keeping our Teal Spiel magazine  going through thick and thin – and also for the splendid style of your elegant Teal tourer  – she's a beauty.
TEAL OF THE WEEK No 73
Long-standing Teal Owners' Club member Gary Day of Glamorgan's   fine-looking early Teal Type 35 ;  the drop steering arms in the manner of Bugatti  are particularly unusual and attractive, as is the personalised  registration plate…. 
***
 TEAL OF THE WEEK No 74
Built by Trevor Gay.  MGB 1800 Engine. Bought by Norman Phillips in Surrey in  1996.  Sold  Jan 2014.
Comment: Now (Sep 18) for Sale in Germany for 30,000 Euros. This Teal is almost certainly the same car as TOW 151
***
TEAL OF THE WEEK  No. 75
At Henley last September 2012 Tim  joined  Colin and Irené Andrews' Teal Oxfordshire Ramble (six Teals) with  his newly acquired Teal Type 35 boat tail shown here above and below…
… and further below being inspected  by a panel of Teal experts….  Tim himself is  central  in the leather jacket…
…following the Oxfordshire run,  Tim's Teal enjoyed a successful  suspension/steering reassessment at  David Ward's garage in Egham,  and  we hope Tim will  be able to join future Teal runs in his handsome Type 35.
***
TEAL OF THE WEEK NO 76
David Wilson and his wife Maureen from Fife were early and dedicated Tealers, David having started building his red 4-seater Oscar in 1985, and being involved in many Teal events for the next 21 years in Denmark and UK, including the famous  Ian Foster Birthday Bash at Lakeside on 4th/5th  July 1998 (photo below).  This was perhaps the biggest ever gathering of Teals in one place; David Wilson's Oscar is right in the centre, the red four-seater with a boot rack.
David's  B-series engine shown below  was bored out to 1998cc, and a high lift cam, special distributor and electronic ignition fitted, so she went rather well at home and abroad ….  
Here's Oscar at a famous local landmark, and below is the neatly-instrumented cockpit.  
David  was well known throughout the Teal club for his splendid moustache,  which features in several photos and cartoons on this website's page 9:  'Teals in the 80s- New Images', the photos being provided jointly by Dave and his friend and Teal colleague Lindsay Crighton, another Teal pioneer of 'Bluebottle' fame, which is also shown on Page 9…
In 2006,  after  David's 21 years of Tealing, a London dealer came up to Scotland to buy Oscar, and then  sold it on to its current British owner….

 

 

TEAL OF THE WEEK No  76 (AGAIN) *
David Thomas from Wadebridge, Cornwall bought this Teal Type 35 four-seater in 2007; for the next three years he made improvements, including stripping down to chassis level, rewiring and respraying, fitting a new petrol tank, boring out the engine from 1800 to 2000cc, fitting electronic ignition and also  a high-lift camshaft. Sadly in August 2010 David had to sell his handsome Teal since he was no longer physically  able to drive it…
 This good-looking Teal Type 35 is now owned by Teal Owners' Club member Gordon White… a classic Teal with rich history (see below).
*FOOTNOTE:  This Teal had originally been put on the website as  Teal Of The Week No 109; but as I 
 considered it  furthe,  the car looked somewhat familiar.  It is, I believe Teal of the Week No 76 (David Wilson's OSC 789P "Oscar"), rebuilt, renumbered, rewheeled, sprayed blue rather than red  and  looking good.  The key was the engine:  here's Oscar's – compare with above).
***
TEAL OF THE WEEK  No. 77
Note 1.

 We were in touch with the owner of this lovely Teal  (Andrew Halls) about three years ago, when I think I remember it was for sale.  If you are the current owner, do please let us know – this is a very lovely looking aluminium-bodied Teal Type 35 boat tail, and you must be  the envy of many Tealers and other classic car enthusiasts, at home and abroad….
 Thank you.
Note 2 .   Andrew Halls has been in touch (January 2016) via the SkyBlueTeal Discussion Forum .  He sold this car to Germany, and it is the same Teal as TOW No 82, looking totally different.   The car appears to have been sold again, and is also Andrew believes TOW No 132!   I will keep the numbers as they are to avoid confusion (mine!). Thank you, Andrew – she's a delightful beauty.
***
Teal of The Week – No 78
This early Teal has been owned by three current Tealers:  Neil Bridges, who discovered her  in a garage in Wales in 2011, John King who took her to France with Wendy in 2012, and current new owners Michael and Mary Colley… each of these owners carried out major improvements to make this a fast and desirable early Teal.
 Neil Bridges enjoying her at Welshpool…
 …and Neil at Bewdley with fellow Tealers including Aaldert,  Phil and Keith; and higher above Aaldert, Colin, Glen, Pam and Dot….
Wendy and John King then took SUY to France and Spain, and happily home after many adventures…
and new owner Michael is now with Mike Hall fitting a brass radiator surround and aluminium bonnet before putting her back on the road this spring.  This attractive and sporty Teal has given much pleasure to many Tealers.
 TEAL OF THE WEEK – TOW No 79
(A  MYSTERY)
This fine-looking Teal was spotted at the September 2012 Circuit des Remparts,  Angouleme,  by Rupert, Jean and other  touring Tealers.   The driver was not in attendance (it's not that chap behind in Rupert's photo), but the Teal Type 35  boat-tail  was widely admired, and possibly mistaken for a Bugatti, of which there were many in attendance…. here's another shot (below).  Is that a French number plate, and if the owner is browsing this website, do please get in touch – you have a very  fine-looking  Teal – admirable!   Thank you.
TEAL OF THE WEEK No. 80
Many Tealers will have read in Teal Spiel or on this website  of Richard Ashton of Lowestoft  and his construction over  recent  years of a new Teal  Type 35 boattail.   The modified chassis was from Norman Durban and took account of the SVA regulations re steeering and dashboard profile.    The bodywork  consisted  initially only of the last Dicky Dawes boat tail, an engine-turned bulkhead and a dashboard with the regulation bevelled lower edge; the rest of the body was built by Mike Hall , a master of the  wheeling machine.  Richard and an experienced  friend then started  to constuct the Teal  to address the many needs of SVA/IVA – a considerable challenge.This has involved  engineering skills, a good eye, sound judgement, infinite  patience and not least the flexibility to adjust designs to meet all the requirements of safety necessary to register a new car nowadays; that Richard has overcome all difficulties to produce the beautiful dark blue Teal VV 5072 (above and below) is a tribute to his determination, skill  and persistence.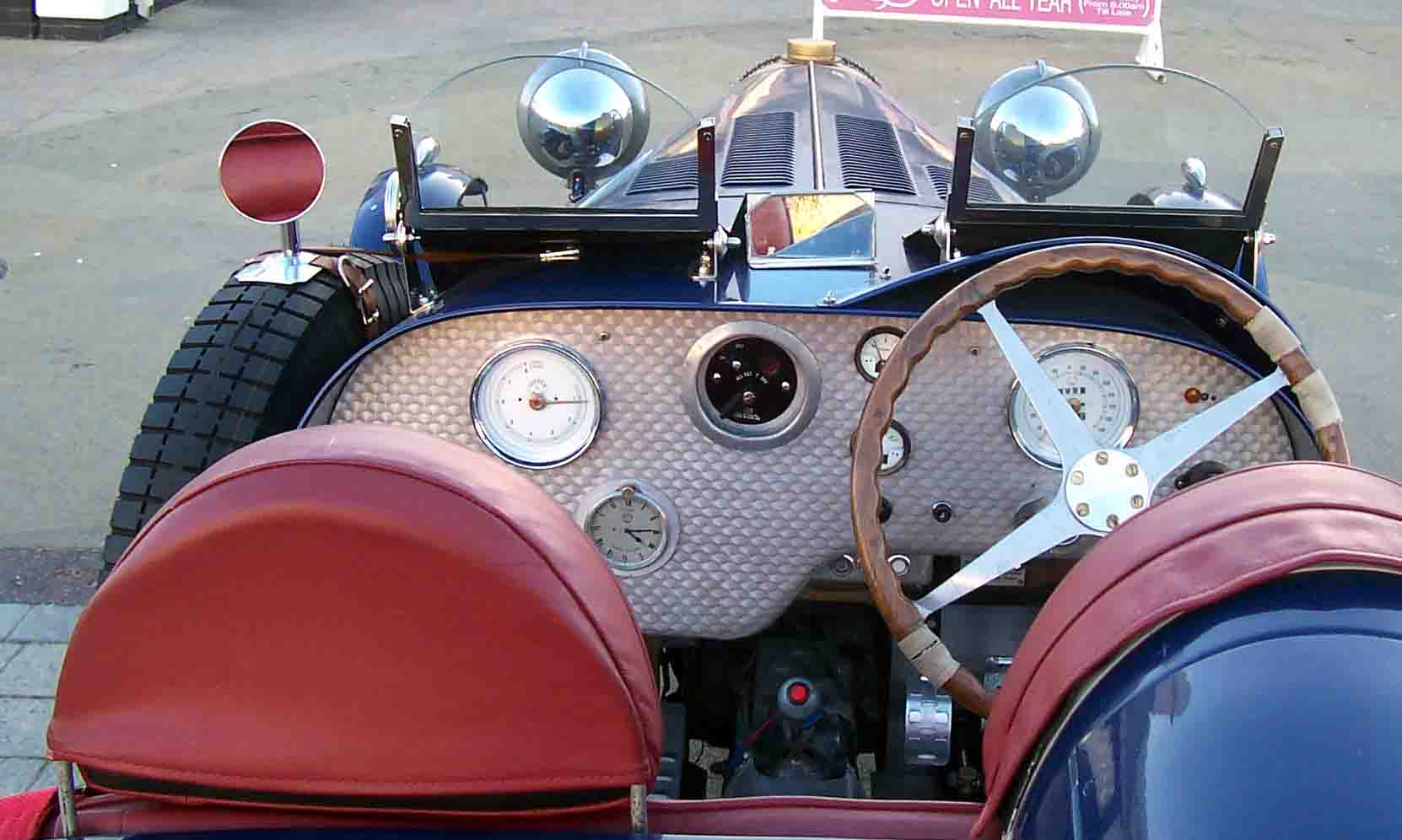 Happily this lovely Teal passed all tests and was launched onto the Suffolk roads this Summer. Richard then led a group of delighted Tealers round the East Anglian Ramble from  Lowestoft Royal Norfolk and Suffolk Yacht Club  to Southwold this September…
Congratulations on creating this beautiful Teal, Richard, which is a credit to you and to our Club.
*** 
More Teals to come….on the next Teal of The Week 81-100 page – hope you're enjoying this great variety of individual, attractive sporting cars…