These cars have been Teals of the week, following on from the pages with Teals of the Week 1-20 and 21-40.  I limit each page to 20 Teals so that no one page becomes too large,  and therefore  slow to download … I hope you enjoy these Teals…
TEAL OF THE WEEK – No 41
This elegant Teal Type 35 four-seater has been owned by Tony Cook near Wantage, by Neil Bridges in Yorkshire  and by Danilo Beltrami in Belgium.  The stylish Bob Jones-designed bodywork, neat hood and cream leather seats lift this 1.8 litre Teal  into a rather special quality  catergory.   But is she still in Belgium?  Can you help?   Here are some more photos…
Update: Tony Cook writes in October 2017 about how he came to build this lovely Teal: 
I bought the bare rolling chassis from Mr Quayle in Sutton Coldfield, he also had a navy 2 seater teal that was a finished car. At the time I was living near Wantage in Oxfordshire but I really cannot remember the dates of the car build but guess it was in the late 1980's early 1990's?
I finished the rolling chassis and trailered it up to Bob Jones when he was working from a viaduct workshop in Altringham, he fitted the body, painted it and also the hood. The car was trimmed professionally by a company in Witney, Oxfordshire and I finished the car whilst living in East Challow near Wantage, so it was well travelled before being finished.
ANOTHER UPDATE:   It seems likely that this lovely Teal ( called 'Myrtle' by Neil  when in his ownership ) has been sold to a Classic Car collector also in Belgium, who has  looked after it in a sealed air bubble  as part of his collection of fine cars.  Let's hope she's  taken on the roads sometimes too – where all classics were built to be… 
TEAL OF THE WEEK – No 42
APRIL
When Bob Jones decided to sell Teal Cars in 1996, it was Norman Durban who purchased  the company name, together with the right to build Teal Type 35s; this is Norman's personal Teal, known as April after the registration  plate RPA1L. Norman had been a long-time Teal enthusiast, and took his Teal April on many a cross-Europe sporting rally, such as the Liege-Rome-Liege, participating with his son with some success.  Hence he became known as 'Stormin' Norman' to the rally enthusiasts.
April was fitted with a 6-cylinder, triple SU Triumph 2500cc engine which gave her good pulling power; the front suspension was given a cleaner, simpler line, and it was hoped Teals such as April would continue to be built and sold…
Publicity was excellent, but a combination  of problems for Norman Durban about this time, not least the introduction of  more rigorous safety requirements under the Individual Vehical Assessment,   meant that few Teals were built beyond 1998, when Bob Jones  completed building the Teals for which he had taken orders.
In November 2011, Norman agreed to a Keith Lidgerwood-led initiative, and sold the right to build Teal Type 35 cars, and the bucks to build them, to the Teal Owners' Club.   April is still a lovely and powerful Teal…
Andrew, the owner of this fine all-weather Teal Type 35 boat-tail,  is a photographer, a pilot and a classic car enthusiast.  The Teal is powered by a 4C/1700 'O'series engine with overhead camshaft and sufficient power to provide a healthy sporting performance…
Andrew's wife Jane also enjoys their Teal, and is seen here at speed in the Chilterns checking out the handling… at Andrew and Jane's wedding their Teal provide a useful focus for the couple-  and for  photographers: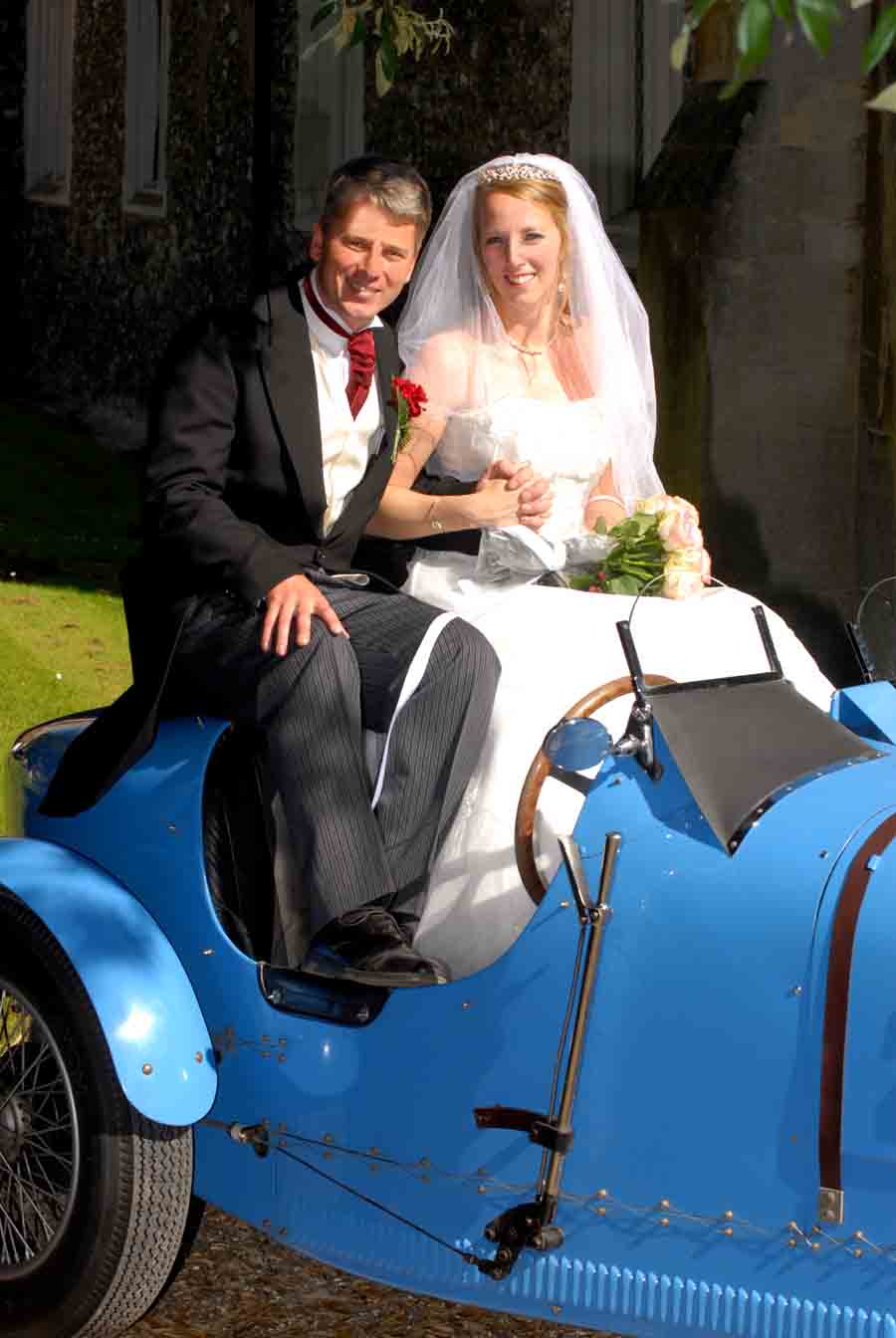 Of course, after parking the Teal, Andrew needs suitable groundcrew to swing the prop of his Piper Cub at White Waltham…  Contact!
Tealing and flying, a perfect combination – with two not dis-similar cockpits. 
TEAL OF THE WEEK – No 44
Brian's Teal  was nicknamed 'Violet'  by some  irreverent Tealers, because in some lights it appears a purply-blue colour, but in grey conditions it definitely looks black.   You're with me so far?  The split-screen, which  gives the authentic look of a 1930s tourer, is pleasing when it rains, and…
…is easily removable  to provide a more sporty, wind-in-your-hair appearance –  and reality …  
Violet is like most Teals, and enjoys a run out to meet fellow Tealers;  below she is pictured at rest during  Colin and Irene Andrews'  enjoyable Oxfordshire Ramble of September 2012, she was at the Ludlow Castle honeydays in May 2013,  hoped to take part in the Teal North Kent exploration   in July 2013, and joined the splendid Spider Run of June 2014, leading ten other Teals on  Leg 7 from Stroud to Exeter and rejoicing with them on our happy arrival at Land's End  … for a 70-second video shot by Tealer Neil 'Phoenix' Bridgesof Violet and ten other lovely Teals click on this link:  http://youtu.be/S1rkBw3HE68
Wishing all Tealers a happy summer 2013 out and about…..
Violet at St Michael's Mount, June 2014, with Bob, Glen and Brian: 
 Violet has now emigrated (July 2014) to County Tipperary, where she begins a new life… and here she is winning prizes in Eire in Summer 2015 with new owner Tony Morrissey:
TEAL OF THE WEEK – No 45
In the summer of 2009 Tealers gathered at Keith's in Chester, pushed north to the Lakes for a few days with Maggie Foster and her sons, then across to north Yorkshire and Northumberland, crossed the border at Jedburgh for a night's stay and pressed on to Moffat where we were greeted warmly by Dr Hamish Mcleod and his Teal…. 
and a marvellous collection of fine cars including Jaguars, Bentley, Alvis and many others – and a full-sized replica Spitfire on the front lawn… Hamish was a warm and convivial host, showing us the cars and providing something cool to drink after our long drive… the full story is on this website under the Lakes and Borders title.  We fifteen Tealers  greatly enjoyed our day, Hamish's Teal,  and the happy atmosphere at Moffat.
 TEAL  FOR  SALE – MAY 2020 – SILVERSTONE AUCTIONS 
                      TEAL OF THE WEEK No 45
For Sale at Silverstone Auctions – MGB Engine. Part of a collection, not used for some time. Some brake problems, Estimate £12,000-£15,000. See details on their website with lots more photos. Needs re-commissioning. Nice-looking car. Ex Dr Hamish McLeod – TOW No 4
( Thanks, David and Tony )
TEAL  OF THE WEEK  –  Number 46
Sue and Howard's Yorkshire-based Teal, affectionately known as Toad, is a cracker.  Purchased from the south coast some five years ago, Sue in particular has worked tirelessly to bring Toad  to a high standard of mechanical performance and attractiveness.  Sue and Howard had a dramatic introduction to Tealing in a major storm and drenching downpour while trial Tealing at Robin Hood's Bay about six years ago, when a dozen of us nearly got drowned (it seemed) in a relentless, sustained deluge  while negotiating steep rural lanes in zero visibility with minimal braking.  Strength of character showed, however,  because soon afterwards Toad was purchased….
Sue and Howard have  taken  part in several  local rallies and competitions, and their hard work has been rewarded with  a number of  prizes for this good-looking Teal Type 35 boat tail…
Footnote: distinguished Tealer Neil Bridges reminds me that this fine Type 35 was once the Teal of notable  TOC Club member, Teal tourer, comedian and Emmerdale star Bobby Knutt, who took a full and active part in many Teal activities  in the 1990s… thanks, Neil.
***
The Teal Type 59
T
he Teal  Type 59 was designed by Bob Jones in 1989 and manufactured  by him, Bob Lewis and their small  team over the next eight years.   Thirteen Teal Type 59s were made in all.  Production photos  of the Type 59 are shown on Page 7  of this website, and six  Type 59s have already featured as  Teals of the Week  (No 39,40,47 ,48,49,50 and   now No 51).
The 4.2 litre Jaguar XJ6-powered Teal Type  59 is low, small, fast and beautiful ( 47 inches high  x 31 inches cockpit width x 59 inches width overall x 160 inches length overall x 17 cwt x 210 bhp). 
 You judge the beauty from the coming photos. 
The Type 59 has a steel chassis, welded-in firewall, floor, seat support and backrest; has a Bugatti-style double alloy bulkead circle-polished scuttle with counter-sunk copper rivets; coil over shock front suspension with Ford upright;  and cycle wings.
Owners of Teal Type 59s are of course most  proud of them, but sometimes naturally a little wary about giving out ownership/location details because of the high value of these cars.   In the following Teals of The Week we will therefore be discrete about these details unless requested otherwise
.
Happily this lovely Teal Type 59 is in Britain, is owned by Teal Owners' Club members David and Janice, and took part in the Teal trip to Old Warden's Shuttleworth  aircraft Collection in October 2015 – see the Teal News 11 page for lots more photos.
TEAL OF THE WEEK – No. 48
The mudguards,  the carburettor breathers and the blue wire wheels  are all rather unusual on this elegant  Teal Type 59…
The story continues to South Africa…
Is this  Teal of the Week No 48 with different plates?
UPDATE – JIM COPE WRITES FROM SOUTH AFRICA
on the SkyBlueTeal Discussion Forum:
"The Type 59 Reg JX 59 as shown on the John Brown advert is alive and well in South Africa,the number plates was changed at some time in her life to YUW 414. I imported her from Cambridge in 2014. And yes it the same car as Teal of the week No 48. When I got her her wheels were painted blue and now they are back to silver.The engine had to be rebuilt due to many over heatings we belive and the hot climate here put paid to the motor.With a freshly rebuilt engine and improved cooling systems and many minor cosmetic changes she is once again on the road.
If anyone is interested I have plenty of pictures.
On a different note, by accident I met with a another Type 59 replica but not Teal, also ally body and Jag engine but with the external steering arm and horizontal beam from axle and springs."
Very many thanks for the update, Jim . And yes, any photos you can spare to brncrook@aol.com would be most welcome.
and here she is, from Jim in South Africa, April 2016:
What a stunning beauty! Do you like the leather bag on the side?
When I see this image I think: what a terrific designer Bob Jones was, and I'm glad that Teals have deservedly become so widely-known and respected.
When I see the first image I think: what a terrific designer Bob Jones was, and I'm glad that Teals have deservedly become so widely-known and respected.
****
Teal of the Week – No 49
This very special Teal Type 59 is probably one of the finest built; it is certainly immaculately finished, with attractive detailing.   It is probably seen decorated with some Scottish mud on occasion, which would make it  a perfect Teal! 
Unusual positioning for a pair of SUs…..how does that work?  The Teal is supercharged.
One of the finest  Teal Type 59s .
Teal of the Week – No 50
(A landmark, Teal No 50 – we started the first TOW  on 21 Oct 2012 – 50 Teals in 40 weeks…)
This lovely Teal Type 59 was owned by a distinguished  former Teal Owners Club Secretary.  It has since passed through the hands of Total Head Turners, and may now be in France….
If you are touring, the limited storage space in the Teal Type 59 makes the luggage rack a practical addition.

A lean and purposeful-looking Teal Type 59.
***
TEAL OF THE WEEK   –  No 51 
This lovely Teal Type 59 has been seen for sale at IPO Cars
Current ownership is unknown – is it you?
Or was she yours?
With thanks to IPO Cars for the photos of this delightful Teal Type 59
This is an unusual Teal Type 59, which has been brought up to spec by a current Tealer.  A skilled engineer, the Tealer has found an unusual solution for the twin SU/bonnet bulge problem, and a clean line for the exhaust side.  These photos are a few years old now, when   Cliff drove westwards to present the owner with one of our major TOC trophies…
TEAL OF THE WEEK No. 53 – THE GPB 59
When Bob Jones sold Teal Cars in 1996, he sold the right to built and sell Type 35s to Norman Durban (since purchased by the Teal Owners' Club), and the right to build and sell Type 59s to Ted Riley, founder of GPB cars, then at  Morridge Side Farm, Bradnop, Staffordshire.
Ted Riley's Teal/GPB 59 (some say this stood for Grand Prix Bugatti) is a totally lovely car fitted with  triple SUs to fuel its Jaguar motor.  The GPB 59 was finished to the finest point of detail, as these pictures show 
It is probable that very few GPB 59s were sold.  The car was so beautifully-detailed that it became very expensive to produce, limiting sales.  Ted Riley has moved to Aberdeenshire and is no longer making cars.   But what a beauty the GPB 59 is!   Since it was clearly based on the Teal Type 59 with chassis, bodywork, suspension and ancilliaries provided  by Bob Jones, this lovely car has been classified as Teal Of The Week No 53 after discussion with the TOC Committee Secretary.
Footnote:  here she is now in Scotland at the Kildrummy summer classic rally and car show 2013: 
… and in 2015 at the same show with Ted Riley at the wheel (same lovely car, differing number plate):
*** 
This 1988 Teal is currently up for sale (August 2013 ) 
(NB New Owner is John Williams of Kent – congratulations and a warm welcome to the Teal Owners' Club, John.  September 2013.)
 Her owner Karen has taken her to the Le Mans 24 hours and to Le Touquet twice.  She has an 1800cc engine and  all-aluminium bodywork,  and has only had two owners in the past 25 years….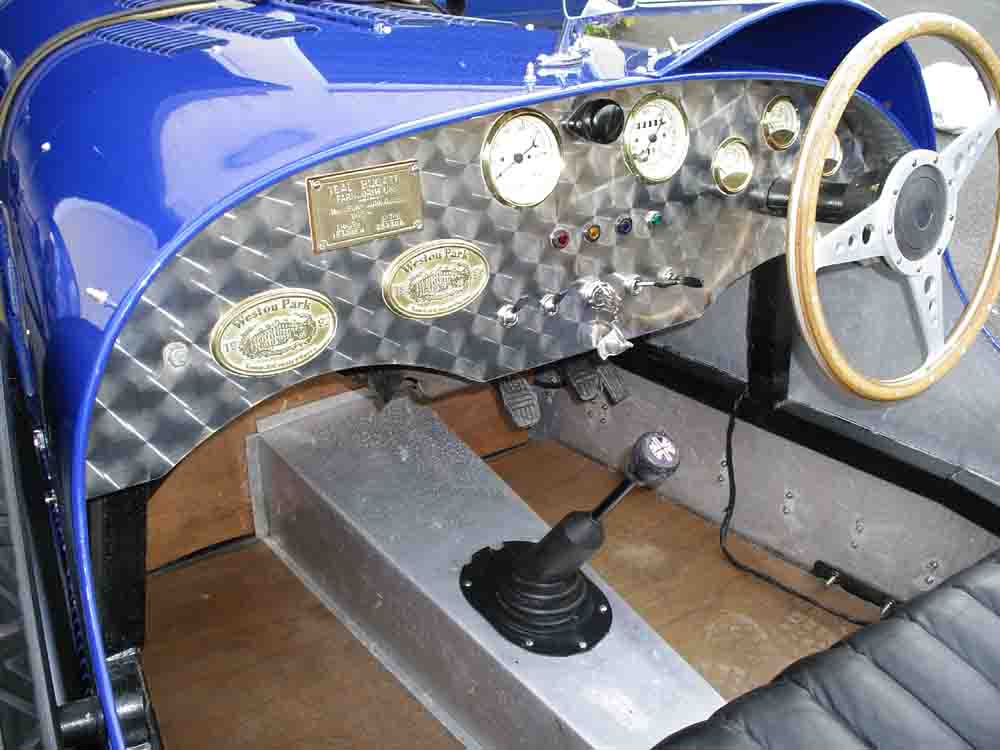 She's a pretty car, and Karen will be informing her new owner about the pleasures of the
TEAL OWNERS' CLUB….which John Williams of Kent has joined – welcome John, September 2013)
TEAL OF THE WEEK – No. 55
Bryan McGregor's Teal Type 35 boat-tail glows in the evening sunlight…
Bryan's unusual Teal badge
Bryan likes to motor with the tonneau fitted and driver's side rolled back but in place; his rear lighting arrangements keep the pure line of the boat tail unmolested…
Teal Of The Week No 56
Patrick Burns'  splendid Teal Type 35 with the  enthusiuastic lady mayoress of Aberystwyth during the eight-legged Teal Spider run, with Pat advising her on the finer points of Teal engineering and etiquette…
Pat's neat and powerful 6C/2500 Triumph motor
The cockpit of Pat's Welsh-based Teal is adequately supplied with instrumentation:
and this fine Teal is not short of a light or two when required….
She's a real beauty, Pat…
***
TEAL OF THE WEEK – No. 57
In 1995 Keith Lidgerwood built a Teal Type 35B with the lowered chassis and Ford Granada suspension in his workshop with advice from Bob Jones.  This beautiful Teal was subsequently  enjoyed by the new owner  in North Yorkshire for the next 16 years…
This most desirable of all Teals (In my opinion; comments welcome!), the Teal  Type 35B two-seater boat tail, is well instrumented and powered by a Triumph 6C/2500 cc  motor…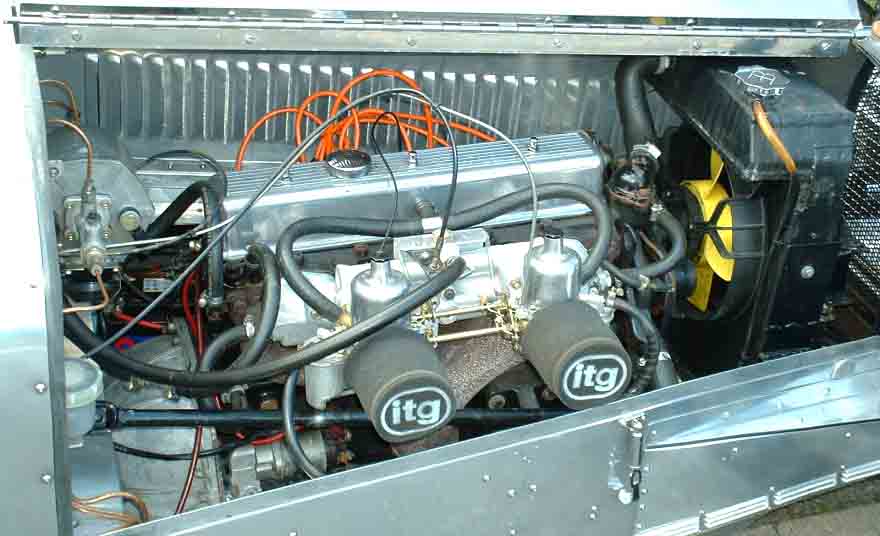 This lovely Teal is, I feel, a legacy of which Keith Lidgerwood can  be proud…
***
TEAL OF THE WEEK  – NO 58
Ben Trumble was a central figure in Teal  events for more than 20 years, owning two Type 35s and a Type 59, and covering large distances across Europe to Germany, Austria, Switzerland,  Italy, France and Spain.  Ben's Teal story began in 1986 when he built his first GRP Teal (Dizzy I), which he soon had converted to an all aluminium body by Bob Jones, before setting out for his first Continental tour in 1988. The next year he set up Northern Classic Sports Cars in Leeds, became an agent for Bob Jones, and built many Teals with his small team of three.  He was then tempted by the beautiful Teal Type 59, and thoroughly enjoyed it, but found space limited for his extensive Continental touring, so he then built his Teal Type 35 Dizzy II (above), which he entered in the Beaujolais Nouveau run of 1991, visiting the old GP circuit of Reims on the way down (below), and used this Teal to tour Europe extensively for the next 16 years.
Ben moved to France as a  restorer  of fine french houses, and bought himself a replica Supermarine Spitfire aircraft.  His Teal  Dizzy II became less used, and in 2007 when an expensive new propellor was required, Dizzy II had to go – sold happily back to UK to a lawyer in Surrey.  This brief summary   does little justice to Ben Trumble's   eventful and adventurous time with Teals, so please go to the page of this website titled   'Thrilling Teals by Ben Trumble'   for a fuller version written in Ben's own vivid words, with more photos.
 ENW 215 K on the front cover of a 1998 Teal Newsletter; where is she now? The Answer came within hours from David: she is the ex-Ben Trumble Dizzy, currently in Egham – wizard!  Thanks to the Teal Detective…Numberplates vary in the Teal World, with re-registration freqent…
***
TEAL OF THE WEEK – No. 59
Jez Hermer has been a long-term Tealer, loving the excitement of these cars, and back in 2005 running  the first real Teal website, which first attracted me to these special machines.  He  gave much   useful advice, and in Summer  2006 I almost bought his car (above), but Jez was called away to armed service in a hostile part of the world, so the deal fell through and I bought a different Teal (TOW No.43), not this one equipped with an unusual and  powerful Lancia/Fiat 2.0 litre motor…
Jez lives on the south coast and is also a boating enthusiast; he once told me that he enjoyed going out in company with other Teals and hunting down a pint in  Dorset, but that his garage was  getting  rather full of the boys' toys which we all  enjoy –  and very recently  this fine Teal was sold for a substantial sum – does anyone know where it is located now?
Comment, 1 Dec 2015:  Yes, we do – she's up for auction at Baron's on 15th December 2015, guide price £37,000  – £45,000….wow.
Comment 2:  This aluminium-bodied Teal Type 35 boat-tail has been sold twice since 2015 (as I write it is October 2018)  but appears to remain in the Southampton-Poole-New Forest – Bournemouth area.  I nearly bought her from Jez for £10,500 in 2005, but he was hauled off to faraway parts mid-deal.  It's latest price from a dealer is around £39,000, and she now looks like this:
*******************
THE TEAL ATLANTIC 
TEAL OF THE WEEK – No. 60
The ' Atlantic Type 57 Coupé ' was commissioned by Ted Riley and built by Bob Jones with aluminium  bodywork by Dicky Dawes.  This unique car, with bodywork showing clear echoes of the Bugatti Type 57, is fitted with vintage Marshal headlights and a six-cylinder  2500cc Triumph engine with a 4-speed box and overdrive on third and fourth.  The body is dark green; it is fitted  with cream leather upholstery with dark green piping,  a dark green carpet and 'art deco' style dashboard and steering wheel.
The Atlantic Type 57  (with Teal origins) was put up for sale in April 2008 by Ted Riley as new and unused with new MOT and tax exempt.  Offers over £15,000 were invited.  This unusual Teal Atlantic in the Grand Tourer tradition was recently offered for £22,500.  It is certainly  a striking design, and it would be interesting to hear how she handles from someone who has driven her.
 more Teals of the Week to come… on the next page: Teals of the Week 61-80