This page of the SkyBlueTeal website details those fine Teal cars Numbers 21-40 which have recently featured as TEAL OF THE WEEK on Page 1 of this website.
TEAL OF THE WEEK – No. 21
David Ward's purposeful and powerful Teal Type 35 two-seater boat tail is fitted with a supercharged six-cylinder Triumph 1600 cc engine, and  the Teal  been totally rebuilt from chassis up by David over the past 18 months.  David is a skilled engineer and the owner of the garage used by many Tealers for the successful  testing, maintenance and MOTs of their various Teals.  A keen Teal enthusiast for several years (and several Teals), David's car is seen here above  on the 2012 Sussex and Hampshire run based on Petersfield, and below at his garage with Tealers  Colin, Brian, Tony, Andy and David Ward himself (right).
David has also driven other Teals, and here on the 2010 Sussex run demonstrates with Sharon and daughter that the Teal is by no means only a two-seater…  David's Teal is fitted with an unusual remote external gear selector (below), and linking levers to the gearbox (photo further below)
David and his lovely Teal (which also sounds terrific!)  are frequent visitors to Brooklands, often in company with Tealer Angelo de Souza, including the  1st January  2013 gathering of  Classics.   Below David checks out Angelo's Teal at Wards MOT and Service Centre – 'your sympathetic and Teal-friendly garage' on 01784 439 160 or
www.wardsmotandservicecentre.com
   highly recommended by many Tealers.
David Ward's friend and colleague, Tealer Angelo de Souza's Teal features as  next week's Teal of the Week.  Below:  David's Teal(left) and Angelo's at Ward's Garage.
David Ward, Sharon  and DNA have also enhanced many recent  Teal rallies such as the 2012 Hampshire and  Sussex Stroll, the 2013 Kent Ramble, The 2014 East Anglia Rally, the 2014 Bugatti Vie en Bleu at Prescott Hill Climb, the  2014 Teals to Tulips rally of Holland  and the splendid Spider Run 2 to Land's End in Summer 2014.  On several of these trips David's technical expertise has been called on to help Tealers with electrical or  mechanical problems, and he has always come up trumps, very  much appreciated by his fellow Tealers.  Thanks, David
***
TEAL OF THE WEEK – No. 22
Angelo de Souza has been a Teal enthusiast for many years, and his sparkling and sporting  Teal Type 35 boat tail (4C/1800 with twin SUs, tuned large-bore exhaust, sounds terrific) is well known at motor sport venues in the south-east, particularly Brooklands, which is a club and rendezvous for Angelo, for  fellow enthusiast, son and photographer Antonio and for other Tealers such as David, Sharon,  Cliff, Andy, Jean and Rupert.
Antonio  has caught many of these Brooklands occasions on camera, and David Ward has also recorded splendid photos of their Teals, and of Angelo enjoying his characteristic cigar while acting as an active ambassador for all things Teal.  His enthusiasm is infectious, and the fact that our favourite marque is so widely known among the Brooklands classic car fraternity is in large part due to Tealer Angelo de Souza.
Antonio (left) and Angelo
T
EAL OF THE WEEK – No 23
Andrew Noble from the South of France  with his delightful Teal Type 35 in Angouleme in September 2012, when he met up with the five-Teal expedition to the Circuit des Remparts and onwards to Spain.  At the end of the happy Angouleme get-together, Andrew drove 500km home to near  Cannes in the day – an impressive run.
Andrew has long been a classic car enthusiast, and a skilled engineer  who has designed and built his own replicas of famous early cars. such as this 1908 Issotta-Francini recreation (below) driven from the South of France to Classic Le Mans, much to the enjoyment of the French public…Andrew drove the Red Racer to the  Montlhéry (near Paris) Heritage Festival  in June 2012 to take her for a blast round the banked circuit…
Andrew's sunlit  garage also houses a replica 1920s Bentley (below), and his Teal, formerly owned by Peter Neville (thanks for the photos, Peter), once sported  unusual front end styling  after the a suspension mod was required (also below)
.
Former owner Peter Neville  is seated comfortably in the photo below ….
Current Tealer Andrew Noble  hopes to meet up with us later in the year in Britain (and France), and meanwhile enjoys this view of his Teal cockpit in warm French sunlight…
Andrew says he sometimes freezes in the Alpes Maritime and often roasts in the heat of  Provence, but his Teal is never less than the centre of attention in Southern France – unsurprisingly.
***
TEAL OF THE WEEK – No. 24
Cumbrian Tealers Roger and Carola Frank demonstrate the joy of Tealing on the Lakes and Borders Run in the sun in their fine Teal Type 35 four-seater.  Roger and Carola are respected members of the Teal Owners' Club, and are also keenly involved in local car clubs in the North-West of England with fellow Tealers Ian and Lavinia.
Roger and Carola are also keen fund raisers for charity, at home and abroad.  Their enthusiasm is infectious, and the Franks and their handsome Bentley-green Teal are always a welcome sight, certain  to enliven  any show or rally…
***
Teal Of The Week  –  No. 25
Phil Badder's magnificent and unique Teal Type 44 stands out as one of the finest Teals ever designed by Bob Jones.    Phil says that this Teal has been the most pleasurable car to own and have stewardship of,  both beautiful and well mannered, and a delight to drive.
She brings pleasure to all who meet or greet her, says Phil about his Teal Type 44, which has been out in the snow all day on one of Phil's expeditions from Kent to Warminster, Wiltshire, and back….she's powered by a two-litre Ford engine, and internally is elegantly fitted out with a stylish instrument panel and most comfortable  red leather seating for cross country touring.
Phil Badder's  Teal Type 44 – a most elegant Grand Tourer in the classic tradition.
Phil has had a lifelong dream of owning a vintage Bentley; his Type 44 is therefore up for sale, and Tealers may well  be  interested 
Sold By Phil Badder in 2013
Comment: 
From 2013 to 2015 this beautiful Teal Type 44 Tourer was owned by Jane Asher and Alan, who run a wedding car business in the Reading area . The car came up for sale in June 2015.
This fine Teal Type 44, unique and stylish, is now owned (2018) by Jan and Cliff, former Chairman of the Teal Owners' Club. No better home may be imagined. She sits alongside the Teal Type 35 boat-tail which Jan and Cliff also own.
***
TEAL OF THE WEEK – No. 26
This delightful Teal, widely acknowledged as  one of the finest Teal Type 35s ever built, was created by Phillip Searle over several years up to 2007.  Phillip, a skilled engineer, developed Bob Jones' design, and  used only the finest-quality parts in his Teal; he was painstaking and unhurried  in his approach in order  that each detail should be correct and of the highest quality.  This beautiful  and powerful (6C/2500) Teal  became one of the final  Teals to be built.
Phillip's unique Teal was built on the latest, lowered  Teal Type 35B chassis, with  Granada front suspension and steering.   This  delightful sporting motor  car was briefly owned in 2009 by John Williams, in whose time these photos were taken (thank you), and then became the proud property of  A. Halabi, who has been driving this Teal in central London for the past three years, which must have  turned quite a few heads…
Below: Phillip and Jennifer Searle say farewell to their unique and lovely Teal Type 35B.
TEAL OF THE WEEK – No. 27
This is a rather unusual situation for a Teal: outside a cafe/restaurant in the main entertainments area on board  a cruise ship….
Several Tealers who love cruisin' have noticed this rather attractive Type 35 on board "The Navigator of The Seas" in the main concourse. A  Teal badge  is displayed low down at the front.  Do any Tealers recognize this attractive car? (PS: Andy and Colin both believe the maritime Teal was previously  owned by Jack Hilton.)
The Teal bears a classic Teal numberplate with Ettore Bugatti's initials, and has fine lines (and brake covers, rather like Andy Dutton's and Jeff Turner's ) .  Let's hope one day soon she will be released from playing the role of The Flying Dutchman, endlessly wandering the seas without a crew, and return happily to the roads of Britain with a stalward Tealer at the helm… The ship belongs to Royal Caribbean Lines if you want to make an offer.
TEAL OF THE WEEK  No 28
While we're on the subject of Teals in unusual places, here's a fine Teal purporting to be a Bugatti Type 35 in the Hollywood film "The Garden of Eden" .
The 'Bugatti' was one of the main stars of the film, shot in sunlit southern France and Spain in 2007. The film was based on the semi-autobiographical novel The Garden of Eden  by Ernest Hemingway, in which a newly-married young author is given a Bugatti Type 35 as a wedding gift by his wealthy and attractive young wife, and they take the car on a hot and steamy honeymoon, where they meet another pretty girl who is attracted to both of them… 
Here's  the Teal "Bugatti"  at  the film premiere,  the pretty firm front mudguard supporting a pretty,  firm rear.  And here (below) is the original Teal which starred in many  sequences of the film, particular a long tracking shot crossing a dry, dusty sunbaked Spanish valley, with an extensive  trail of dust rising behind her  – she looked a pretty convincing Bugatti to me.
Do any Tealers recognise the car o

r the number plate? Note the high rear view mirror and black wire wheels…
TEAL OF THE WEEK – No. 29
Tealer Ernest Neill was one of the very  early  members of the Teal Owners' Club, and built his Teal (Blue Arrow) with son Roger's help.   Ernest has been a keen  supporter of numerous  Teal events, particularly around Uxbridge, but also including the  epic  Spider run, and is now quite a senior member, often driving to events with his son.   The photo of Ernest  below was taken some 20 years ago….
…as well as Ernest at the wheel  on the Brooklands banking, among the Teals  pictured are those  of  Norman Durban (RPAIL sometimes called April), Cliff Sedman, Neil Ramsay, Andy Dutton, Peter Fenn and Mike Birch (Type 59 with luggage rack) and an  unknown with spat-type rear mudguards (anyone know whose?).
Andy Dutton has also sent this picture of Tealers at Brooklands on a different occasion  in 1994, with Ernest at back right.  But how many other Tealers can you spot and name?  And who's the good-looking young chap in the silver Teal front left?
Below:  The Blue Arrow, Ernest's Teal Type 35 parked up on Spider Run 1 (2007):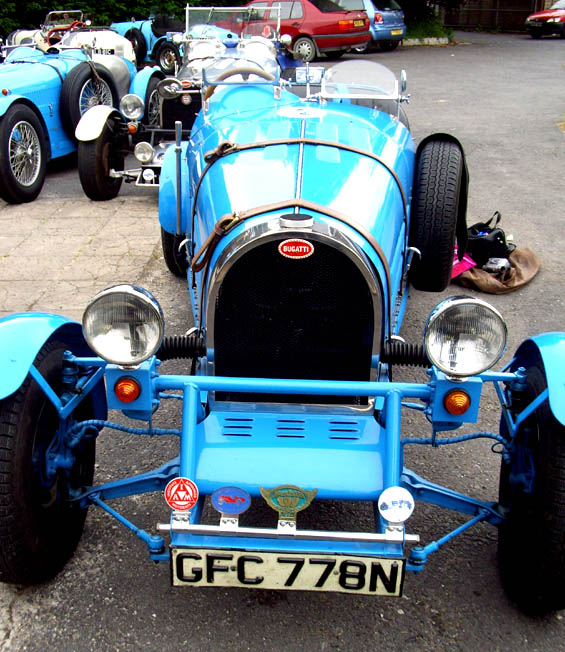 ***
TEAL OF THE WEEK – Number 30
Several years ago Ulrike and Rainer from Bavaria decided that they wanted a Teal Type 35  to complement  Rainer's Michelotti replica Bugatti 35.  Keith Lidgerwood and Bob Mills worked on a Scottish Teal to equip  it to Ulrike's requirements, and  the Type 35 boat-tail was shipped to Munich.  Here we see Ulrike enjoying the May 2011 sunlight  in company with both Type 35s.
Ulrike had been praying for good weather in summer 2012 so that she could enjoy her Teal to the full , and it looks like her  contacts in high places   have  paid off….
…but when things get too hot, a bit of  shade is welcome.  Ulrike and Rainer use their lovely Type 35s on many club rallies in Germany and into Austria, and have an MGB in the family too…
After some discussion, the German authorities have now issued the Teal Type 35 a full historic registration plate, which has greatly pleased Ulrike, as we can see.  Ulrike calls her Teal her Traumauto (dream car). We Tealers can agree with her. Allziet Gute Fahrt – happy motoring, Ulrike and Rainer.
***
TEAL OF THE WEEK – Number 31
For the past five years this fine Teal has been the lure for the Malta Classic Car Museum at Qawra, Malta, an oustandingly-fine  permanent exhibition of lovely classic cars.  The Museum is  built into a specially-designed underground exhibition space, with individual period vignette surroundings for each of the cars displayed  (Alfa,Jaguar,Triumph,Ferrari, MG, etc).  The cars are regularly serviced and driven…
This unusual and impressive aluminium Teal Type 35 is placed in Triq-it-Turisti, Qawra daily as an attractive come-on for visitors to the Museum and cafe( they clearly have some agreement with the local traffic warden).   If you are in Malta, I recommend a visit – Dot and Phil did, and enjoyed it – even finding my MG inside! Theres a warm welcome awaiting you…. (B.C.)
Teal of The Week – Number 32
Ian Foster only built one GRP Teal four seater, and this unique Teal is pictured here with Maggie, Ian's lovely wife, at the wheel; indeed the car was reserved for Maggie's use by Ian.  Note the unusual and attractive mudguards…
…and comfy-looking  bucket seats.  This is an attractive and historic Teal, made by Ian in 1985,  and Maggie would love to know where it is now; if you know, please email us.
This Teal was later transferred to Bob Jones, who of course created aluminium-bodied Teals.  Here Bob Lewis's dad sits in the Teal.  Was it rebodied in aluminium by Bob Jones, then sold?   Can anyone help?  Wherever it is, it's a pretty lovely early Teal.
                       photos: Bob Lewis and Maggie Foster – thank you
***
TEAL OF THE WEEK   –  Number 33
Bob Lewis was an early and key member of the team that with Bob Jones created the all-aluminium Teals in the 1980s.  Bob Lewis is a skilled engineer who as well as designing and building cars made over 130 handbrakes for most of our Teals.  Here he is seen with his old English white Teal outside the Bugatti pub near the Bugatti Owners' Club  Prescott hillclimb in Gloucestershire…
Things weren't always easy in the sports  car business.  Bob also founded Projects  of Distinction, making elegant replica 1930s delivery vans, which were  widely admired.  Sadly in 1992  Bob had to sell his Teal; but happily, 15 years later in 2007 he was able to buy her  back (she's named Isadora after the famous 1920s dancer), and here the family gather to celebrate her return. Bob has decided to give Isadora a thorough overhaul, including clutch, gearbox and engine. He  may often be seen at Mike Hall's, where Teals are modified, improved and created.  Bob runs Celebration Fireworks, and built  much of the excellent firework extravaganza for the closing ceremony of the Paralympic Games in London  last year…Bob has many historic Teal photos and videos of the early years of Tealing in the 80s and 90s, and is a full member of the Teal Owners' Club.  We salute Bob's major  contribution to the creation and maintenance of our favourite marque…
TEAL OF THE WEEK – No.  34
Dave Williams is the owner of this lovely Teal Type 35 B.  He inherited it from his brother, Tony Williams and wife Margaret;  many Tealers will remember them  leading us on Leg 2 of the Teal Spider Run from Glastonbury through the Mendips, over the Brunel Suspension Bridge at Bristol, and onwards across the River Severn deep  into Wales.   Sadly Tony has now passed on, but Dave, his son Paul and wife Pamela,  and  other son and daughter Chris and Kate all enjoy driving the 35B .  The photo below shows this lovely, long, low  Teal (6C/2500 Triumph) in Bristol the day I first saw and rode in  her in 2006.
The Teal Type 35B uses the same front suspension system as the Teal Type 59, coil over shocks with Granada front uprights and vented discs.  The wheelbase is lengthened slightly from the Type 35, and the radiator shell  is moved back from the front axle line to give a more classic Bugatti-like appearance.  By using floor-mounted pedals, the Type 35B bulkhead has been moved rearwards, to give a longer and more elegant bonnet line.  And finally the driver's seating position has been  lowered
.
Dave Williams is currently concentrating on restoring his early 1950s  MG TF, so in this photo his son Paul with Pamela are enjoying this powerful and attractive Teal Type 35B.  May we all have a happy summer of Tealing  ahead… 
***
TEAL OF THE WEEK No 35
Stuart Whitworth's Teal Type 35 looked more like a Bugatti than many original Bugattis.  This was perhaps because of the well-patinated bodywork and the authentic-looking wheels which gave an air of originality to this Teal.  Stuart is also well patinated and an absolute original.  Stu tells the story that on a visit with his Teal to the marvellous Schlumpf Bugatti Museum in Alsace, he was waved into the 'Bugattis Only' car park, and staff of the museum came out to appraise this original running 1920s Bugatti Type 35.  After admiring many aspects of the Teal, a frown formed  on the forehead of one Bugatti expert.  He murmured to Stu in some confusion:   'I see you've modified the suspension considerably….'
Stuart's unique Teal graced many Teal rallies over the past decade, including the Spider and Triangle runs, and  the 2008  Angouleme and Spain  trip.  Below this  fine Teal is seen at the head of a line of ten Teals in Chester, before we  headed off to Jodrell Bank, the Peak District  and Robin Hood's Bay…
Sadly three years ago Stu's Teal was sold to Germany for restoration and updating , and it's current location is unknown; if any of our Continental friends have spotted it, do please let us know.  Below Stu is seen on the Angouleme run with his girlfriend 'Baguette'….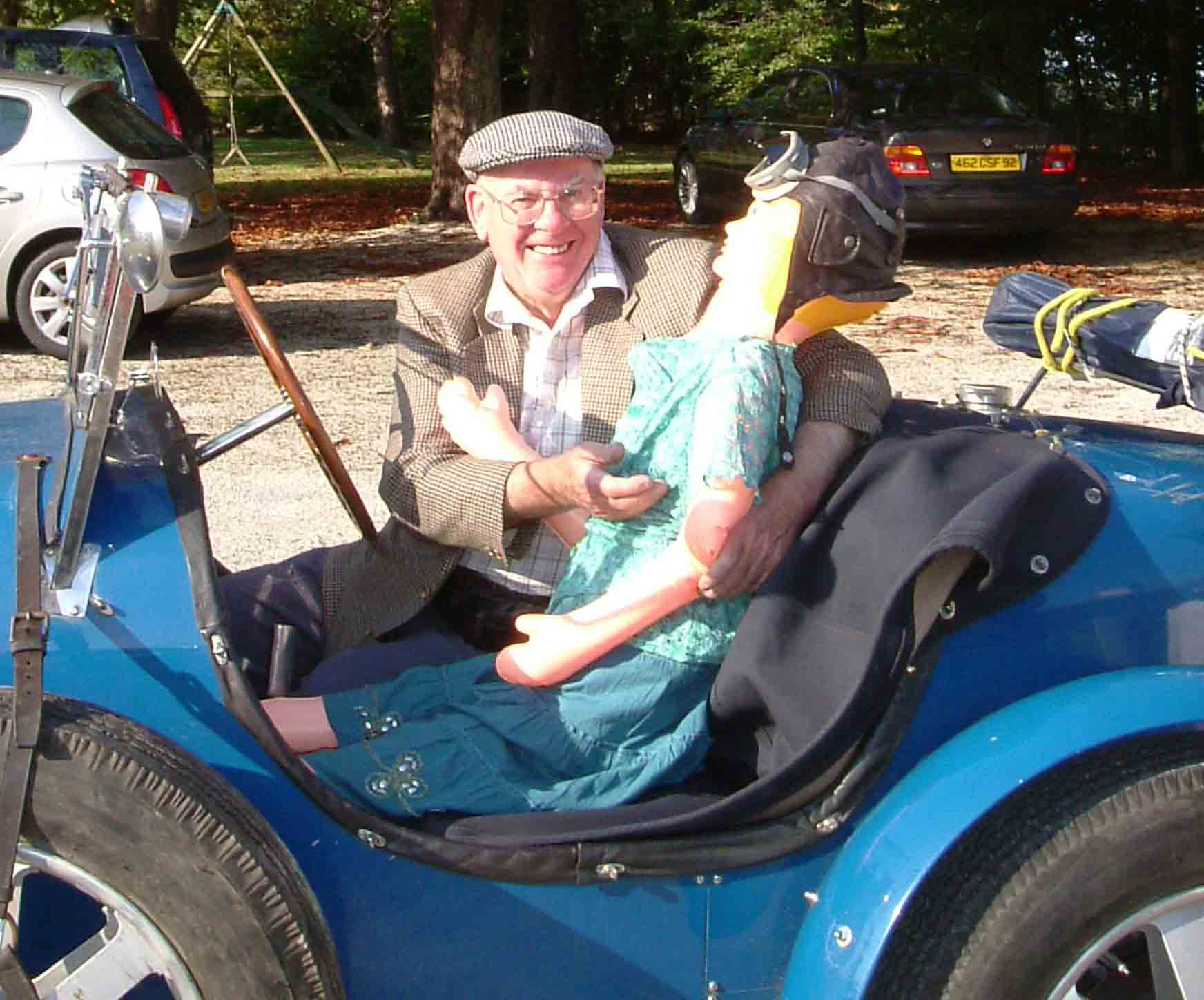 TEALS OF THE WEEK – No 36 and No 37
The  two Teal Type 43s created by Bob Jones are attractive cars, with a classic Teal front end, a high windscreen, a single door on the left hand side, spare wheel carried on the right hand driver's side, four seats, with a  pretty curving rear cockpit edge and a boat tail.  This Teal Type 43 was built for Tony Pope  and is shown at the Atlantic Business Centre in about 1990.   Type 43s are fitted with 95bhp MGB 1800cc/twin SU engines. Note rear hatch access in this and in the last photo.
The second Bob Jones Teal Type 43 seems to have been in the ownership of Wimbledon Tennis Ladies' Champion Maria Bueno and her friend Leslie, shown below: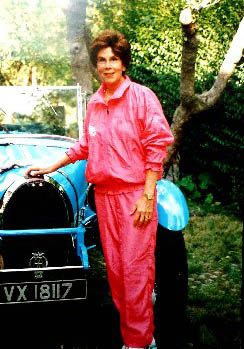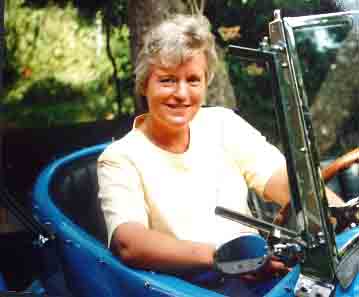 The photos below show a Teal Type 43 being built by Bob Jones and Tony Melia, the louvres for the Type 43 being punched by Tony Melia (the same machine was used for all our Teal  bonnet louvres), and a Type 43 shell on the Teal Stand at a car show – the lovely curved bodywork, attractive mudguards and small nearside door are particularly noticeable in this last photo.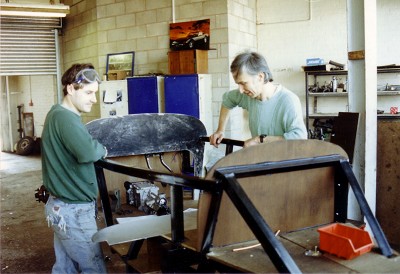 POSTSCRIPT
:   A third Teal Type 43 has recently been created  (2012)  for owner Aaldert Postma by engineer Mike Hall to a somewhat different but  also most elegant design.  This Teal has now  been painted in  The Netherlands and is being refitted with lights, brightwork, etc, and will figure in it's own right as Teal of the Week in the near future.
***
TEAL OF THE WEEK No 38 (and a half)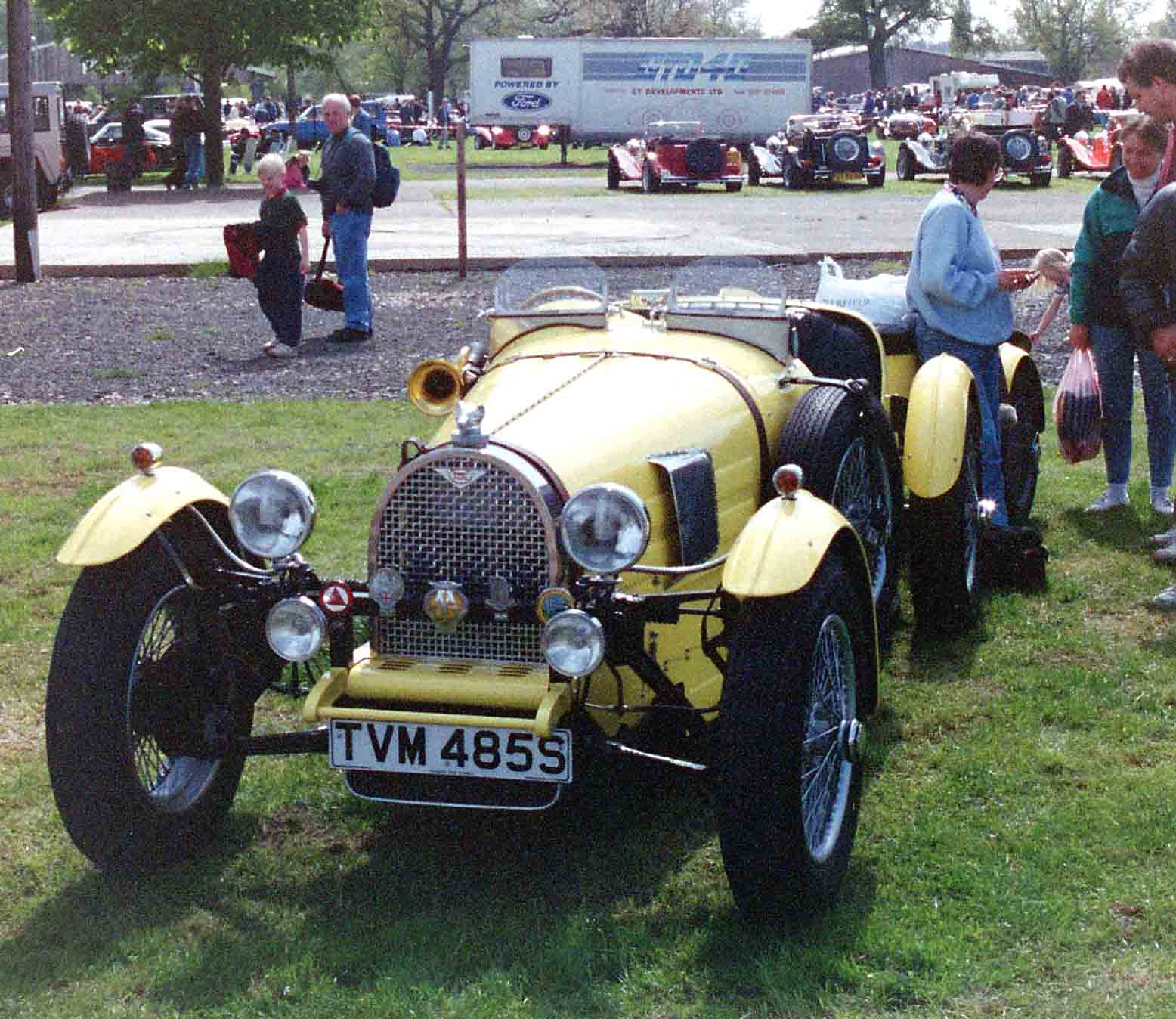 The unusual yellow Teal and Teal trailer belong to Dicky Dawes of Frome, Somerset, one of the key figures in Teal history, who made most of the aluminium boat tails for Bob Jones' (and our) Teals.  The trailer, also formed from a Teal tail is, as far as we know, unique.  And pretty useful on Teal trips for clothes, spares, food, wine and other necessities.
Dicky Dawes was an artist in aluminium, who could form almost any shape required with accuracy and artistry. For instance, although no longer working now,  he created six years ago the attractive and effective cowl intake on the starboard side of Andy Dutton's bonnet for his twin SU carbs.  Have a look next time you're alongside La Tecla….
Does anyone know where this unique yellow  Teal (and trailer) are now?
TEALS OF THE WEEK – No.  39 and No.  40
No.  39
The Teal Type 59, designed by Bob Jones as a homage to the fabled  Bugatti Type 59, is small, very fast and  most  attractive.  In 1994 a Japanese journalist living in Britain, Mr T. Tominari,  bought a Jaguar-powered straight six 4.2 litre Teal Type 59 (delivered to him in Reading from Projects of Distinction  by Bob Lewis, who built this fine sporting car ),  and shipped it back to Japan when he left UK.  Here Mr Tominari  is enjoying this beauty in Britain , and nearly 20 years later (below) here is the same Teal Type 59 spotted outside a smart restaurant  in Tokyo…this year (2015), Bob Lewis met up with Mr Tominari in Tokyo and viewed the Type 59 in its garage there;  full circle.
Musing online about Teals, I suggested that this Teal in Japan must be the furthest one away from its origins in Britain; not so, I was reminded by wise and  knowledgeable Andy Dutton – there's another Teal  farther away, in South Australia, and it's another Teal Type 59, of which only thirteen  were built by Bob Jones and Bob Lewis.   See  Teal of the Week No.  40 below.
No. 40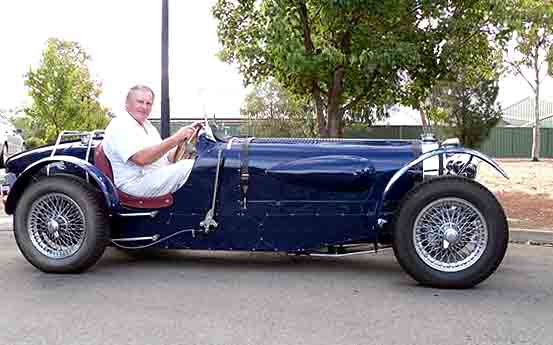 Robin Day owns  a fine winery in South Australia, and is also  the owner of this delightful Teal Type 59;  a man of good taste, clearly.   A couple of years ago Aussie Keith Lidgerwood ( 1 OZ ) visited Robin to taste his fine wines and view his splendid Teal, and took these photos.  Keith drove one of his   1928 Packards down from Melbourne to South Australia, a fair run in a Classic.
Robin Day in his snug and well-instrumented Teal Type 59 cockpit.   This, as far as we know, is the farthest Teal from home, unless anyone in New Zealand knows better….
More Teals of The Week to come…