This page shows Teal Sports and Touring cars which have previously appeared on this website as TEAL OF THE WEEK.  The plan is steadily to  build up week by week  a database of photos of every Teal we can find, in no particular order, to illustrate the range and depth of beauty of these lovely Teal cars, which give so much pleasure to driver and observer alike. 
 TEALS OF THE WEEK
TEAL OF THE WEEK – 1
Dot and Phil Massey's elegant and well-travelled Teal Type 35 two-seater boat tail.  This fine Teal was built by Bob Jones for Dot and Phil in 1992/93, and they have taken it all over the UK, on the Lands End to John O' Groats Spider Run 1 (2007) and the reverse (2014), the Triangle Run, led the Pennines Backbone Run twice, as well as numerous other rallies, and driven in this Teal to Angouleme, The Picos of Northern Spain, the Molsheim former Bugatti Factory and the Schlumpf classic car museum as well as many Pas de Calais and Normandy runs. Dot has been for many years  a  very fine Club Membership Secretary and Treasurer, ably backed throughout by cheerful Phil.  Thank you both.
***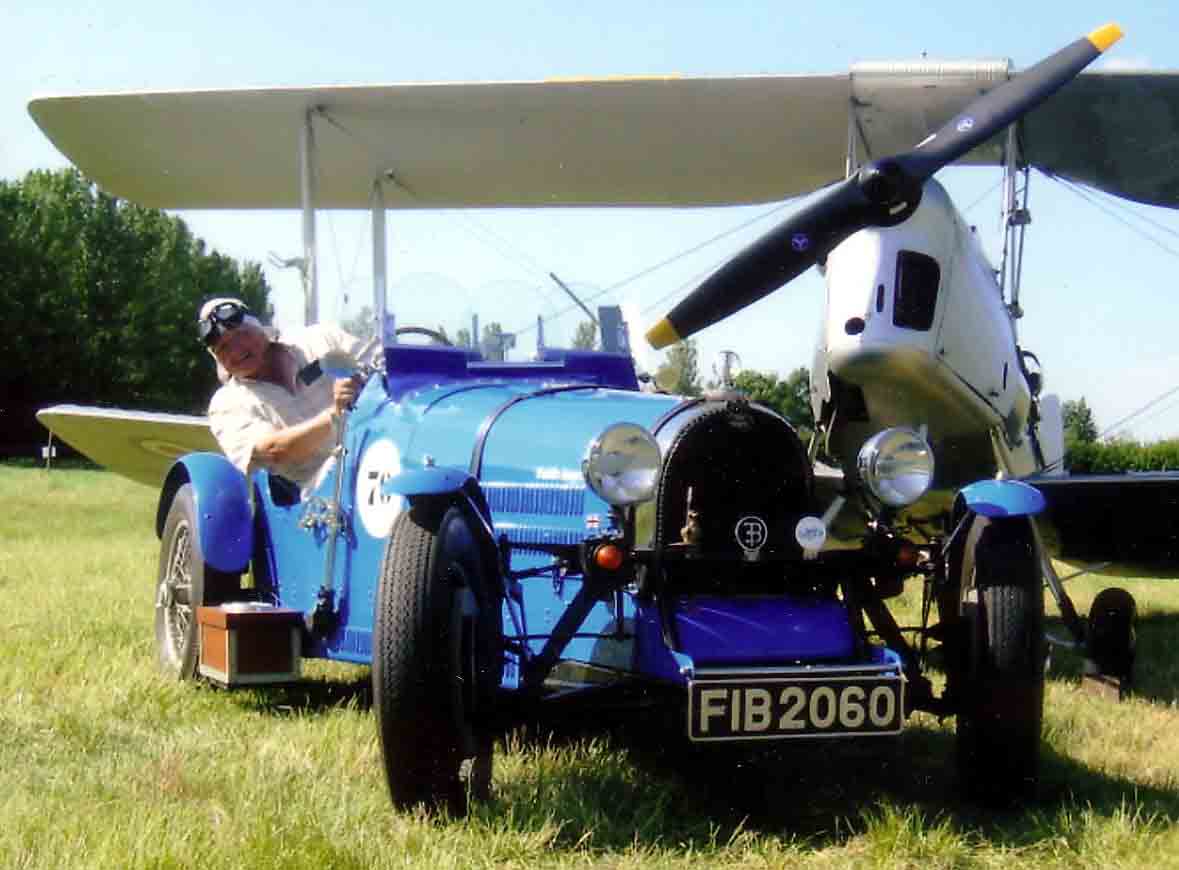 Colin Andrews in his handsome Teal Type 35 two-seater boat tail 'Puddle Jumper'.  Colin and Irené have been central to the Teal story for the past 30 years; here Colin is seen manoevering in front of a Tiger Moth in which he had just flown, the same type of  aeroplane  on which he  learned how to recover a spinning aircraft   when he was  a pilot in the RAF several moons ago…   Colin, former Club Secretary and Chairman, has taken this fine Teal to John O'Groats (2007 – the famous Spider run inspired by Colin) and back again (Spider 2 in 2014), the Triangle Run,  also to France and to Spain, and completed many rallies with Irene all over Britain, including leading the Chilterns Canter in Oxfordshire  and more recently the Bicester Classic Car weekend.
Colin and Irené in Puddle Jumper near Lake Bala on the Teal Triangle Run
***
TEAL OF THE WEEK – 3
Andy Dutton's powerful and beautiful Teal Type 35 two-seater boat-tail 'La Tecla'  at the former Bugatti factory in Molsheim during a Teal run to the factory and to the Schlumpf Museum in eastern France.
Andy built his Teal (Triumph 6C/2500)  in 1994, and modified it since, and has taken it to Le Mans several times,  and with June to Molsheim, Angouleme and the Spanish Picos, as well to numerous British rallies, including the epic Land's End to John O' Groats Spider  Run (2007) and back again (Spider 2 in 2014).  As Club Sectretary Andy helped pull the Club together and set it on the right road, and has been at the heart of Tealing for 25 years…
***
TEAL OF THE WEEK – 4
Suzi and Dave Rigby's 'Blue Beast' Teal Type 35 boat-tail.  Suzi is the vivacious Editor of our Teal magazine
Teal Spiel
, and is  the daughter of John Elwell, founder in 1988  of the Teal Owners' Club (TOC) and also of Pat Elwell our later TOC Chairman.  John and Pat were pioneers in the early Teal world of the 1980s, and the photo below shows John enjoying  Blue Beast some 30 years ago.  It is fitting that Dave and Suzi are now also at the heart of Tealing, taking up the reins for the next generation of Tealers…
***
TEAL OF THE WEEK  –  5
Glen and Maggie's 'Captain Sensible' fine four-seater Teal has led the way (with them) on numerous  Teal runs and adventures, to France, to Germany, to Spain, to Cornwall, to Wales, to Shropshire
to The Peaks, to Yorkshire (often), to the L
akes and to Sco
tland.  This glorious Teal (Glen and Maggie's 
 third) is full of character (like them – below), well patinated (like Glen), and is the source of constant public  awe
and interest every time we stop on a Teal rally, and also when we don't.  Under the pseudonym Captain Sensible Glen writes informed, scurrilous and highly amusing articles for Teal Spiel, revealing  a deep love of the Teal, and the many happy encounters which Teals bring us all both
at home and abroad…See one page from the end of this website for Glen's terrible tales of Tealing – a delight!
photo:martin quested
***
TEAL OF THE WEEK – 6
This happy  image shows our Neil Ramsay in his striking  Teal Type 35 boat tail
'Vital Spark'
taking Pardon Corner at speed at the Bugatti Owners' Club Prescott Hillclimb near Cheltenham.   Neil and Vicky from Scotland have been key members of our Teal Owners' Club, leading many  adventurous Teal rallies from the Cheviots  into the Borders, through the Highlands and onwards on different occasions to John O'Groats,  to Mull and to Harris, as well as supporting the TOC  with their excellent company on  forays southwards to
deepest Shropshire, Sussex, France and Spain.   This must be  one of the best sporting images we have  of a Teal 35  in action.  Thank you, Neil and Vicky. 
TOW No 6 – Please read on for fuller history:
Neil now drives a fine Morgan, and this splendid Teal is now under the happy ownership of Colin and Fiona, and has joined several Teal rallies and made  fine appearances under the Teal flag at  the Teal Prescott Hill Climb gatherings…  
***** 
TEAL OF THE WEEK – NUMBER 6 (AGAIN)
 Ben Trumble has been a major figure in the history of Teal Cars, and many will have admired his cracking Teal Dizzy II, build by him in 1991 and taken to  France, Switzerland, Italy and Spain  – see Teal of the Week No 58.   But what came before Dizzy II ? Why Dizzy,  of course; and here she is, built in 1986, Ben Trumble's first Teal,  an early Bob Jones aluminium Teal Type 35 boat-tail, and most  attractive.
Inside the first Dizzy's neat cockpit…recommended reading for the story of Teal Cars and developments under Bob Jones is Ben Trumble's page on this website at 'Thrilling Teals by Ben Trumble'.
Sharp-eyed Tealer David Ward points out that although I had this fine Teal down as Teal of the Week No 112, it is in fact now re-registered FIB 690, painted Porsche Red and has been  enjoying life in Scotland and beyond with Neil Ramsay for many years – see  our Teal of the Week No 6.  Thanks, David, for re-reading Ben Trumble's happy  memoire on this website, and spotting the link.
***
***
TEALS OF THE

WEEK – 7 and 8
Few people are lucky enough to have  two Teals at the same time, but Rupert and Jean are  the happy couple who own both  'Grasshopper' and 'Dragonfly' :
Grasshopper attracting feline interest in Spain…
The Spider Run 2007 – Land's End to John O'Groats – Cheerful  Rupert reverses Dragonfly  at Aberystwyth
Rupert and Jean have been at the heart of the Teal Owners' Club since Rupert built Dragonfly nearly  30 years ago.  This four-seater Teal actually has a large trunk fitted where the rear seat might be, making Dragonfly a most practical touring car, with room for extra clothes, weather equipment (there's a hood), cheese and wine,etc.  Jean and Rupert have participated in all the major Teal runs, from Cornwall to Wales, The Peaks, Pennines, Yorkshire, the Lakes  to Scotland, both Spider Runs (2007 and 2014) and have led several innovative Teal rallies – including   in 2012  to Angouleme and Spain in their 'new', unique,  delightful and powerful two-seater Teal Grasshopper, also shown below on their  summer's Sussex and Hampshire Wander, researched and happily  led by them…
***
TEAL OF THE WEEK – 9
Bob Mills has rallied and toured his delightful Teal Type 35 four-seater (The Red Baron)  for nearly 30  years since he build the beauty in the early 90s.  Bob was 
one of the early members of the Teal Owners' Club founded by John Elwell, and is an enthusiastic, warm, amusing and skilled member of the Club, building and refurbishing  many Teals together with Keith Lidgerwood  in Cheshire, and guiding technical suggestions and improvements.  Bob calls himself the Bionic Tealer, after much metalwork has been installed in both hips, but he's still well able to swing his leg over … early evidence of Bob's touring adventures with this same Teal are shown in this photo below of Bob and Tealers at the Tittisee Old Timers' Club in Germany in the black and white era, complete with shorts – just.
***
TEALS OF THE WEEK – 10 and 11
Keith Lidgerwood has been an enthusiastic Tealer, building, refurbishing and driving Teals for some 25 years…he is no longer with us (sadly) but is well-remembered in the Teal Club for his energetic support of Teals (and Replicars)…Here is his Le Mistral on the 2010 Pennines Run:
This is Le Mistral as she now is; the Teal, also called HKA for short, was the personal car built in 1984 by Ian Foster, the founder of Teal cars, initially with a GRP body, smaller 14″ alloy wheels and racing screens (see below); but when Bob Jones bought the Teal company and started making all-aluminium bodied Teals, Ian Foster had HKA re-bodied in aluminium by Bob; over the years HKA acquired a windscreen, and Keith  fitted the fine Motor Wheel Services 18″ wire wheels with Blockley tires all round.  She goes like the wind after which she is named…

 
HKA 30 Years Ago….
Keith and Heart Surgeon colleague John Chalmers discovered the beautiful Teal Silver Streak (6C/2500 – below) in Scotland in 2011; she's  skillfully built using top-quality components, with a fine Triumph six-cylinder engine and very low mileage…many Tealers' dream…
Keith also has a couple of US/Dutch VW-engined replica Bugattis (the 'Tupperware Specials').  And he and John owned a most unusual  and rare Fergus Mosquito Replica of the 1935 Aston Martin Ulster,  a significant and beautiful car shown below with Keith  at the wheel…
   ****
TEAL OF THE WEEK – No 12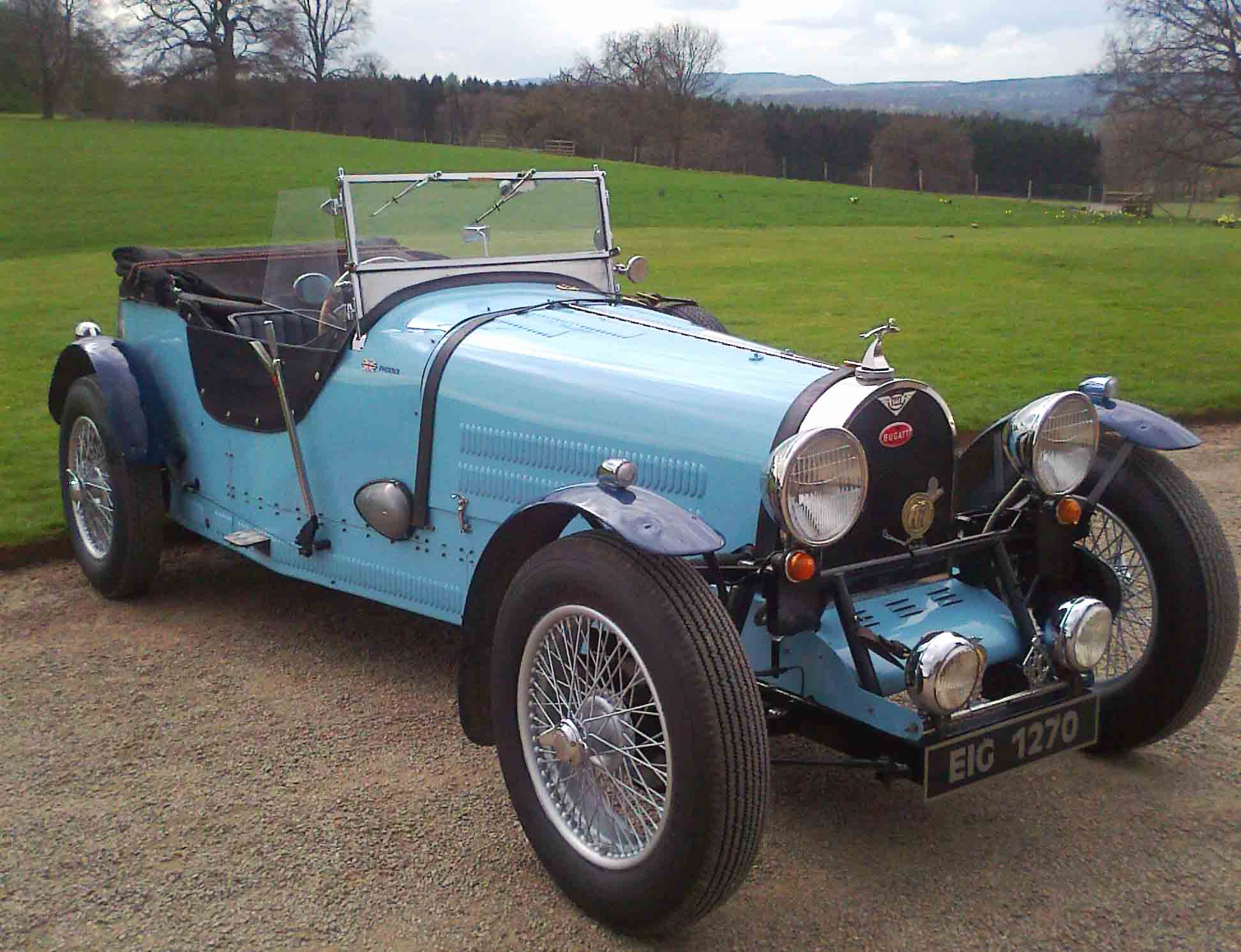 This handsome  four-seater  Teal is  'Phoenix', Neil Bridges'  third Teal sports and touring car.  Neil (also handsome)  is a respected member of the Teal Owners' Club, due to his considerable technical knowledge, his long experience of the differing characteristics of  a number of Teals, and his amusing company.   Neil greatly enjoys his motoring, and was  seen on Teal rallies all over this country and also in France.  Neil has also owned a  lovely dark-green Teal four-seater (below) and a pale-blue early two-seater Teal (also below), as well as a Mike King Bugatti replica, and is therefore well versed in engine tuning, cross country navigation (with Pam) and, only if strictly necessary, socialising on Teal evenings.  Neil and Pam are happy company, and leading  members of our  Teal Club,  and now drive a Mazda MX5.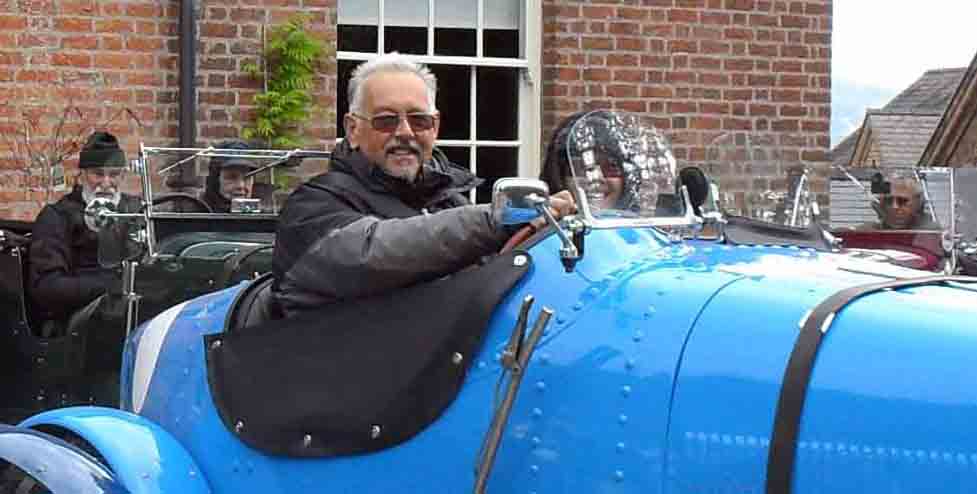 Neil and Pam, with Ron, Sheila and Bob beyond
***
TEAL OF THE WEEK – 13
Now sold (Feb 2018) to Germany 
for Sale Sep 18 in Germany – see below 
photo: Iain Ramsay
Ron and Sheila Stamp's glorious Teal four-seater at speed in  Scottish border country.
Ron and Sheila have been at the heart of the Tealing community for some 20 years,  are regular attendees at nearly all Teal events, and are held in high regard and with great affection by Tealers, not least because of their warm, kind and generous personalities, their consistent gentle good humour despite all obstacles   and their considerable seniority in years.  Ron and Sheila are a terrific example to Club members, and their lovely Teal 'Hirondelle' is always immaculately maintained and turned out – more photos below. 
Ron is greeted by Keith Lidgerwood while Phil embraces Sheila  in the immaculate Teal 'Hirondelle' at the Welshpool Teal  long weekend.
TEAL OF THE WEEK NO 13 – RE_REGISTERED AND FOR SALE IN GERMANY – SEP 2018
For Sale £37,500. Triumph 2.0 Engine. 21 Sep 18 German Registration.
https://www.carandclassic.co.uk/car/C1036959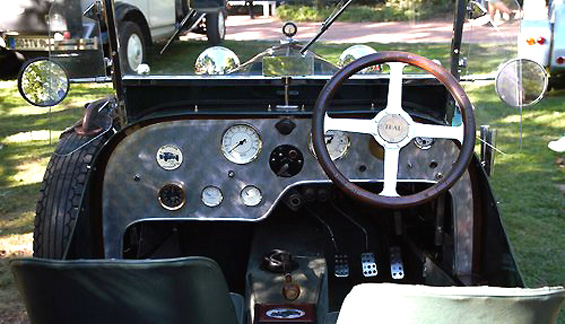 ***
TEALS OF THE WEEK – Number 14 and  Number 15
The Teals this week belong to two Tealers with long links to Bob Jones, owner of Teal Cars,the designer and builder of delightful aluminium  Teals from 1986-1998.
TEAL Number 14
Jeff and Mary Turner in their fine 6C/2500 Teal Type 35,  especially built for them by Bob Jones,  with special mudguards, raised cowlings and fittings of the highest quality  throughout. In this photo they are  ready to restart after the lunchbreak on the  first Teal Backbone run, with Mike Astill also ready for the off as he re-fits his helmet beyond (See Teal No 15 below).  Jeff and Bob Jones were teenage friends, then Jeff emigrated to South Africa and Australia, met Mary, they came back to UK, saw  Teal Type 35s at the Stoneleigh Show, fell in love with them , and Bob Jones, his old chum built this car for him.  Jeff is pictured below at the microphone singing in the  group The Principles (with Bob on the guitar, right) in Sale, Cheshire in 1965, and (further below) pulling up outside The Rovers Return in his Teal while working with  Granada TV…
Below:  Jeff and Mary take a left-hander  in  the Pennines in style   with their handsome  Teal Type 35
TEAL Number 15
Mike and Joyce Astill in action in their lovely Teal Type 35 boat tail.  Mike is one of the key figures in Teal history, an old friend of Bob Jones and long-standing Tealer; when things  became tight financially for Teal Cars in the recession of 1992-93, Mike generously  offered Bob Jones the use of the substantial stables/outbuildings at Grimsditch Hall to make Teal chassis and bodywork and assemble completed Type 35s and 59s (see below)
If it hadn't been for Mike Astill, many of the Teals created by Bob Jones  between 1994 and 1998  would

 

probably  n

ever  have been made – thanks, Mike and Bob.  Behind the Teal Type 59 there's a Type 35 in the garage – Mike Astill's.
Historic Teals of The Week No 14 (left, Jeff Turner) and No 15 (right, Mike Astill) in patriotic Pennine surroundings.
***
TEAL OF THE WEEK – Number 16
Cliff and Jan Sedman have been at the heart of Teal motoring for more than 20 years, leading expeditions all over Britain and also abroad to the Schlumpf Museum, to  the former Bugatti factory, to Angouleme and across the Pyrenees and  Picos  into Spain; also  solo to the Classic races at Pau, to La Rochelle and  Brittany and most recently to Norway, very much  a  Teal first…
Cliff and Jan have a great sense of fun and a magnificent range of fancy dress costumes, causing endless amusement to Tealers and spectators alike, in Britain and on the Continent;  and Jan can be guaranteed at each pit stop to produce masterly picnics with delicious cakes from the seemingly limitless supplies in the tail of their unique silver Teal…
Cliff is a skilled engineer and former Teal Owners' Club Chairman, always willing to help fellow Tealers out with sound advice or practical assistance, and Cliff and Jan's many kindnesses to other Tealers down more than twenty years are  widely appreciated…
TEAL OF THE WEEK – No 17
Ian and Lavinia from Cumbria have been Tealers for many moons, and have taken part in most of the   great Teal adventures of the past ten years, from  the Lands End to John'O Groats Spider Run to  the Triangle Run, The Backbone of England, to Angouleme and to Spain with their fine Teal, which sports an unique and practical luggage rack designed and built by Ian (below), and the handsome Bugatti Elephant on the radiator (above)…
Recently warm, kind, generous  and wise  Ian and Lavinia have concentrated their Tealing on local Cumberland, Northumberland and Lancashire shows and rallies, often meeting up wth other Tealers to recall good times and look forward to new adventures…
At Angouleme, on  a sunlit Tealer fancy dress evening….
***
1998 – Three Admirable Tealers
Colin, George Rainsford (see below) and Cliff  seated on a Basque fireplace  during the great Spanish push of 1998 – and all three are still happily driving their fine Teals to new  adventures fifteen  years later.
Teal of the Week – Number 18
George Rainsford's fine Teal was built by him  in Skegness twenty years ago in George's brother's garage,and has featured in many Teal adventures in France and
Spain…
Ellen and George,  a distinguished musician, lived (with their Teal) in Haute-Vienne, near Limoges in their beautiful mill house (below), and their Teal does not lack for company – they have a delightful little frog-eye Sprite as well….
See the special George Rainsford Teal Tours  page of this website for more photos of the construction by George of his Teal, Spanish Tealing adventures (including bullfighting), and more pictures of the man himself…
Happily George, Ellen and their Teal are now back home in Lincolnshire, and joining with other Tealers  with meets, rallies and runs around northern England – welcome home!  (2014)
***
TEAL OF THE WEEK – No. 19
Tealer Peter Haywood from the Isle of Wight is a dedicated classic car enthusiast; as well as his dark-blue Teal his stable includes a  Morgan Plus 4 and pre-war Riley Kestrel in restoration. Here he dismounts enthusiastically at the Teal meet at Laycock, Wiltshire.
Peter has suggested that the I.O.W. would be a suitable venue for a Teal summer rally, and the idea has been enthusiastically discussed at the Teal summer meets in Sussex and Hampshire.  What do you think?  Would you come?  Here at Laycock is Peter's  delightful Teal Type 35 two-seater boat-tail.
At Cliff and Jan's on St George's Drive It day, Peter with colleague Neil prepare to depart, and beyond Mike checks his rare Teal Type 44, while Cliff and Ian (in modest shirt) and other Tealers   see off the Type 35.
Tealer Peter Heywood, with magnificent hat which may be reversed for driving (see photo 1 above)….
Peter and Neil (1930s MG J2) depart with Andy Dutton's Teal beyond and Dot recording the event on her camera.  A happy drive-it day….
TEAL OF THE WEEK – No. 20
Dorset Tealer and sailor Ron Arnold owns one of the finest-looking Teals built, in my opinion.  I'm not sure whether it's the huge headlights (see below also), the black wire wheels, the very low profile of the  Brooklands screens, the pale leather seats against the black, the wooden tool box, the number 5 on the radiator grille or the total combination that makes this Teal so lovely… 
…but beautiful she is, don't you think?
(see Page 12 of this website for more photos of 'Black Beauty')
***
Lots  More To Come, week by week… Teals of the Week 21-40 are on the next page of this website – I hope you enjoy them…