I have transferred news of Teal activities, cars and Tealers to this Teal News page from Page 1 of the website to leave room there for new info. You will find lots of favourite Teal items here and on the three previous Teal News pages. I hope you may enjoy them….
 Teal News 4 To  July  2012
Transferred from Page 1 
A baker's dozen of Tealers (and Colin) one glorious summer at Moffat in  the Scottish Borders (2009 photo)
The March 2012  copy of Teal Spiel arrived happily, full of Teal news, articles, technical advice, stories, poems, cartoons, photos in b/w and colour, suggestions and details of future meetings and rallies over the summer and autumn.  Our first  get together  is this weekend (31 March/1 April) at Bewdley, Worcestershire, with a dozen Tealers at least.  Thank you Glen for organizing this, and to Suzi and Andy for the excellent Teal Spiel magazine,  available to all Teal Owners' Club (TOC) members.  To join the TOC see the Teal Owners' Club page of this website – the best £18-worth  you'll enjoy this year!
Teals on Tour
Teal Type 35 B – Ex Philip Searle/John Williams
Danilo Beltrami's Teal Type 35 four seater – ex Neil Bridges.
Teal Type 35B – David Williams (Ex Tony Williams)
Brian Crook's
Teal Type 35  (ex Henry Proctor)
" Teals have Soul "
Captain Sensible
The Hawker Cygnet at the Shuttleworth Collection is a replica.  So is the 'Boler Bugatti' of  TOC member Barry Thompson – and they make a fine picture together
. 
The Shuttleworth Collection of historic aircraft and cars  is known to many Tealers, just off the A1 near Biggleswade, and happily it is also close to Barry's home.
***
TEALERS RENDEZVOUS AT DAVID WARD'S GARAGE –
On Tuesday 28th February six Tealers with three Teals  joined up in Egham, Surrey at Tealer David Ward's  MOT and Service Centre.  Colin Andrews, Tony Davis, Andy Dutton, Angelo DeSouza and Brian Crook   joined David for work on their cars and/or a good chat about Teals. Colin  had a new cam belt fitted to his lovely  new   topless Astra (body by Bertone), Brian had his new Teal serviced from  bottom to top  by David,  and Tony had his MOT and a satnav charging socket fitted discretely to his fine  Teal four-seater. Angelo  'Brooklands' DeSouza dropped in from his busy work schedule – it was good to see him.  We were all made welcome in the garage by David and his team, who we rate  highly if you need work done on any car, very much including your Teal.  More photos below show the garage, just off the M25 at Egham near Windsor, some of the cars, and (above) David's local new number plate EGH4M…
David Ward brings the Tony Davis 4-seater Teal into the garage, while Colin and Tony exchange ideas
Colin's fine Bertone body feels a bit up in the air; Brian's Teal  awaits the full Monty
Tony departs  in his well-engineered  (4C-2000 overbored MGB  engine with twin 1 3/4 inch SUs) Teal Type 35 four-seater
Colin departs topless in his stylish convertible Astra
David Ward's own purposeful Teal Type 35  (6C-1600 blown) boattail
use  David's  contact   form.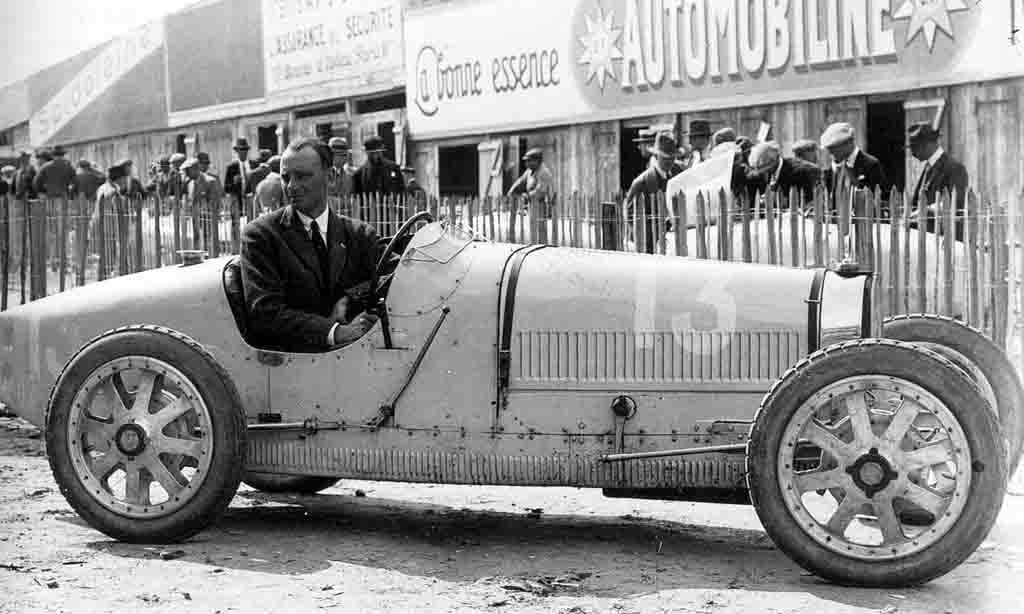 En Route to Angouleme:  the chateau at Saumur on the Loire –  and six fine Teals
See Teal Tours schedule below, Rupert and Jean's  message, and Page 26 of this website (Angouleme) for a flavour of the trip…..
At Angouleme….
More Tealers on Tour: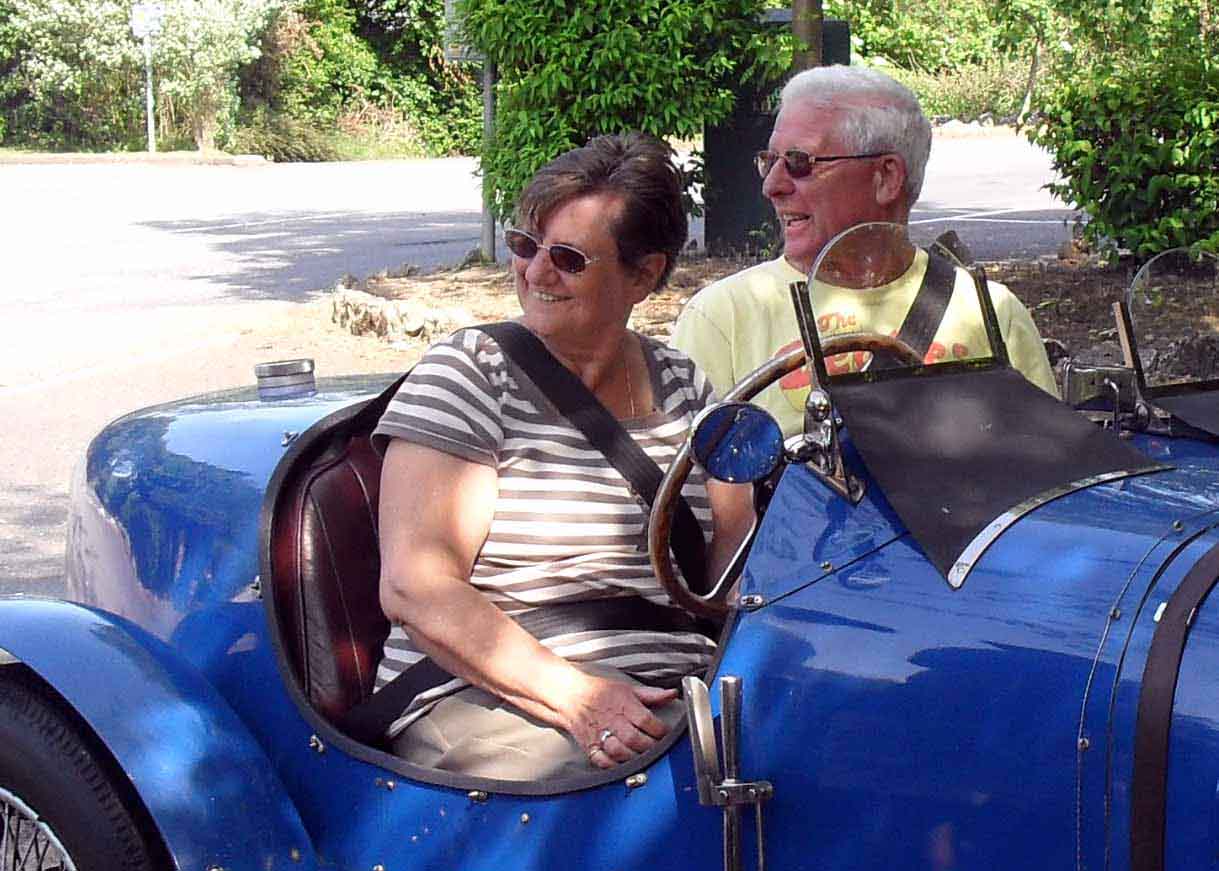 Dot and Phil on the Backbone Run 2010 – see below for dates of the new Backbone Run 2012
***
Teals in Scottish Border country… Neil Ramsay shows us the way 
***
TEALERS AT BROOKLANDS –  NEW YEAR'S DAY 2012
photo David Ward – thanks
!st January  2012 sees  distinguished (and determined)  Tealers at the New Year's Classic Car meet at the home of British motor sport, Brooklands – what a great way to start the year – fresh air and classic cars….
Cliff, Angelo, David and Andy show the Teal flag at Brooklands – 1 Jan 2012
On 1st January 2007 the
On 1st January 2008 there had been a total of   2000 hits
On 1st January 2009 there had been a total of   8000 hits
On 1st January 2010 there had been a total of  18,800  hits
On 1st January 2011 there had been a total of  29,600 hits
On 1st January 2012 there had been a total of  42,100 hits
The latest total is shown on the hits counter at Page 1; thank you for your interest and your loyalty to the only website dedicated to the remarkable Teal marque
Tealer David Ward is carrying out a major rebuild of  his  fine Teal Type 35, which he bought earlier this year and drove  on a number of Teal runs, including the Sussex Ramble; luckily David is the owner of Wards MOT and Service Centre in Egham, Surrey, so has all the facilities to hand…  This is Davi

d's second Teal, and he's carrying out a thorough engine and clutch out, chassis-up restoration.  His Teal has the unusual external gear linkage seen below, and a straight-six supercharged Triumph motor, also totally rebuilt this past month.
David takes on all Teal work;   next month he  will be casting his expert eye over Brian Crook's new Teal, and if you would like any work done on your Teal you can contact him on 01784 439 160 or log on to the website at www.wardsmotandservicecentre.com  or email davidward186@hotmail.com    It's good to know that we have our own garage where an expert knows, owns, loves  and understands Teals.
Below we see David's  own Teal Type 35 (left) and that of colleague Angelo de Souza  in David's garage before a  happy run to Brooklands for a classic car auction.
Another excerpt from the wise sayings of Captain Sensible,  Glen Ibbotson:   '…Old motorbikes are a bit like Teals.  People are much more interested in them than they are the latest,supa dupa, all singing all dancing, got everything vehicles.  I think it's because Teals have soul.  They remind us of a lost time when life was slower and simpler.   A time when pushbikes were never locked, when 12 policemen could control a crowd of 40,000 people at a football match, the union flag was not worn as a pair of shorts, and kids could play in the street until it was dark….. '
PHOENIX
A few years ago, Neil Bridges of Sheffield owned a lovely green four-seater Teal with white leather seats.  But that was sold, and Neil missed his Teal greatly.  Then early this year Neil spotted, bought and restored a sporty two-seater  Teal Type 35, which he brought on the Welshpool and Chester runs; now he and Pam have done it again, picking up a fine Teal four-seater  (Phoenix) painted  in Oxford and Cambridge blue, which he has been checking out with Keith and Bob in Cheshire.  Congratulations, Neil….
A Scots Beauty
Neil and Vicky Ramsey's lovely Teal Type 35 'Vital Spark' in the Lake District; recently Neil and Vicky led the way to Skye and Harris for Colin Andrews' jacket run, where  Tealers ranged  north and west onto the islands to enjoy Colin's search,  fitting, tailoring and purchase of a fine Harris Tweed jacket, a lifetime dream  for young Colin.  Luckily, there were these   couple of Tealing Scots, some sensible Yorkshire folk (Maggie and Glen), some Lancashire travellers ( Dot and Phil)  all under Irene's watching brief to ensure a happy outcome….  look out for a smart Tealer in a subtle shade of blue.
The Tealers Are Back From France…
Photo:  Neil Bridges – thanks Neil
Our  colleagues and friends  spent a busy week in the Dieppe area and touring, returning home at the weekend (17/18 September).  The full story will be in our Teal Club magazine Teal Spiel, but here's a glimpse of the elegant line up, with the crews tending to their fine machinery (Glen and Maggie (also top) , Neil and Pam, Rupert and Jean in a fine -looking Grasshopper,  Dot and Phil, and Chris and Yvonne in their stylish TR8.  One question: has Glen gone over the top  with the beret look?  Or is it sensible in Normandy? Below:  Jean and Rupert enjoying their lovely (and powerful) new Teal  'Grasshopper'  in Dieppe…
Photo:  Dot Massey – thanks Dot
Photo:  Maggi Ibbotson – thanks Maggi
Dot and Chris admire a fine 1925 Amilcar in Normandy on Belgian plates
Photo: Maggi Ibbotson – thanks, Maggi
Three each?  Phil and Neil survey La Manche in a tranquil frame of mind after a full  day's Teal touring in Normany – September 2011.
****
SAFETY MESSAGE
 FOR OWNERS OF TEALS
Recently Tealers who have taken their cars to Longstones, the classic car tyre specialists, to be fitted with new inner tubes or new tyres have been advised that the spokes of their wire wheels require urgent attention.  It seems that over the years of hard pounding, spokes can lose their tension, or come loose at the internal attachment point, or corrode badly, making them less than safe on the road.  The wheels have been sent away for re-spoking and returned in much improved condition – Glen praises the performance in France this month of his newly-reconditioned wheels.  Tealers may wish to consider a close look at each spoked wheel and possible remedial action.  Keith  Lidgerwood (TOC  Vehicle Information Forum/Technical Adviser)  and Glen  Ibbotson  would be pleased to advise.
***
(more photos on the TEALS FOR SALE page of this website)
***
TEAL RUNS – SPRING/ SUMMER 2011 
 Spring and Summer 2011 were  full of Teal events, rallies and get-togethers, official and unofficial,  at Welshpool, Blackpool and  Chester, on Skye, in Sussex, at Uxbridge and in Normandy to name a few.  Here are some more pictures of those Teal events…
We're back from three happy  days in Chester – 24 Tealers, a dozen cars at different times, glorious routes, splendid stopovers, cheerful social events, castles, canals  and car museums,  Thomas Telford and terrific Teals.  Details will all be in the next Teal Spiel, but thanks Glen and Maggie for researching, guiding, and  seemlessly (!)  integrating this happy Teal meet.  Above are   Teals at Chirk Castle on the sunny Sunday, and below  Neil Bridges beams with pleasure as he  and Pam  take off for the day's adventures in their recently-restored Teal..
***
TEALS AT  UXBRIDGE
A pleasant day was had by four Tealers at the Uxbridge Auto Show on Sunday 17th. Ernest Neil could not come after injuring his leg (get well soon) but his son came in his car. DavidWard and partner Sharon with daughter Leah, Angelo de Sousa and son Antonio and my good self. The Teals caused the usual stir, and if I had had a pound for every picture taken then I could have had cheap a evening down the pub!
Thanks to everyone for coming.
TEALERS AT BLACKPOOL,  JUNE  2011
Half a dozen fine Teals (and a lovely Lagonda) lined up at the annual Blackpool meet on Sunday  26 June  2011.  Among the Tealers were Jeff and Mary Turner, Ron and David Stamp, Bob Mills, Neil and Pam Bridges, Dot and Phil Massey, Mr and Mrs David Williams, Richard Frazer, and Stuart Whitworth with his Rolls Royce (at the end of the row of Teals, with boot open.  Stu's probably finding his sandwiches – or camera…
Neil Bridges fine 'new' Teal (foreground)  joins Dot and Phil's elegant dark blue Type 35 in their garage before Blackpool  2011.
Before Blackpool, Phil ensures that Neil Bridges' Teal is spick and span for the line up;   Phil would probably valet your Teal too, if asked nicely…  
Tealers  gathered in West Sussex on the weekend of 1st, 2nd and 3rd July for a happy tour of the South Downs based at Bramber.  The photo above of Andy, June,Dave, Sharon, Rupert, Jean, Brian and Francesca was taken at the Wiston Steam Fair on the Sunday, and earlier we had visited the delightful  Amberley Museum of country skills and technology, in the chalkpits beween Arundel and Storrington,   The Devil's Dyke on the high South Downs, and driven   happy miles through sunlit country lanes, with the Teals the centre of attraction wherever we stopped (and also when we didn't!).  Thanks to Rupert and Jean for reconnaissance, lovely routes and stops chosen,happy meals together and cheerful and efficient organization.  The full story for members will be in the September  issue of Teal Spiel…
Can't find your favourite photo that was on this page?  It may now have been transferred to the Teal News 3 page to make space for fresh info on Teals.  Worth a look!
We've all known Teals that need fixing now and then; and Bugattis are no less in need of TLC – in fact rather frequently; but they're worth it.
***
March/April 2012
THE  BEWDLEY  TEALERS'  MEET
31st March/1st April/2nd April  2012 saw up to 24 Tealers at Bewdley, Worcestershire for  an early season social meet.  Here Neil, Glen, Colin, Pam and Dot admire John King's Teal Type 35 (ex Neil Bridges) before boarding the Severn Valley Railway (Thomas the Tank Engine's own line) for  Bridgnorth.  They don't look too bad, considering the night before.
Keith and Colin enjoy the Spring sunshine on April 1st  – with a Teal to hand
Keith, Neil, Phil and Aaldert have a closer look at   John King's Teal  engine (MGB 4C – 1800)
All Aboard – Tealers board the Thomas 'express' for Bridgnorth. It is thought that this engine  is in fact one of Thomas's friends.   All info gratefully received.
 Varied  transport in the carpark of The George, Bewdley:  Brian's MG TF, Aaldert and Elselies's Morgan from the Netherlands and Neil Bridges' Teal Type 35 four-seater 'Phoenix'…
  On their way to Leominster, Neil and Pam visited Berrington Hall, where they were asked to park in front of the manor, and treated like royalty.  Looking at their magnificent Teal  Type 35 (Phoenix) you can see why: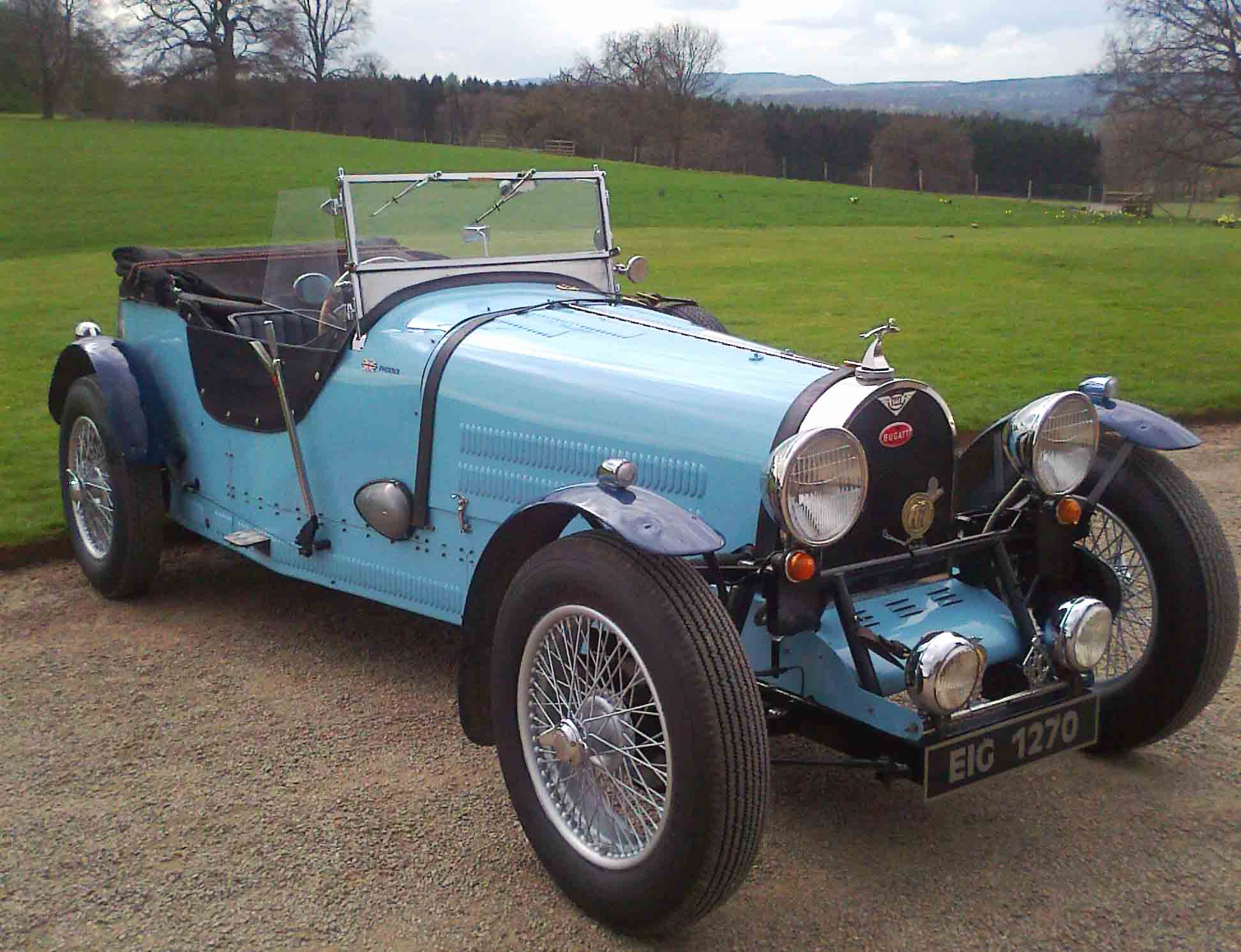 ***
Waiting for the Oban Ferry – Vicky and Neil Ramsey take shelter from the storm…
Vicky, Neil, Vital Spark (and Colin's Puddle Jumper) at John O' Groats, after the Spider Run, photographed by John Chalmers, Keith's co-pilot
Early May
 The skies cleared of rain for a few hours, and  shafts of sunlight lit up the Wiltshire countryside on Tuesday 8th May; in common with Tealers everywhere, I thought: here's a chance to take a spin, breathe the air, listen to the wind ….
I wound up at the Calne Motor Museum (Sporting Bentley, Alvis, Riley, etc), and then The George and Dragon at Rowde…
And I dreamed that Spring was really here, and summer close behind…….
Happy Tealing, colleagues, everywhere   
(PS: did you notice I took the big split-screen off, leaving just the little Brooklands screens?  It changes the look of the Teal considerably, doesn't it?   Reliable auntie to sexy cousin? )
***
Ian and Lavinia's chairs; Farne Islands, low tide
***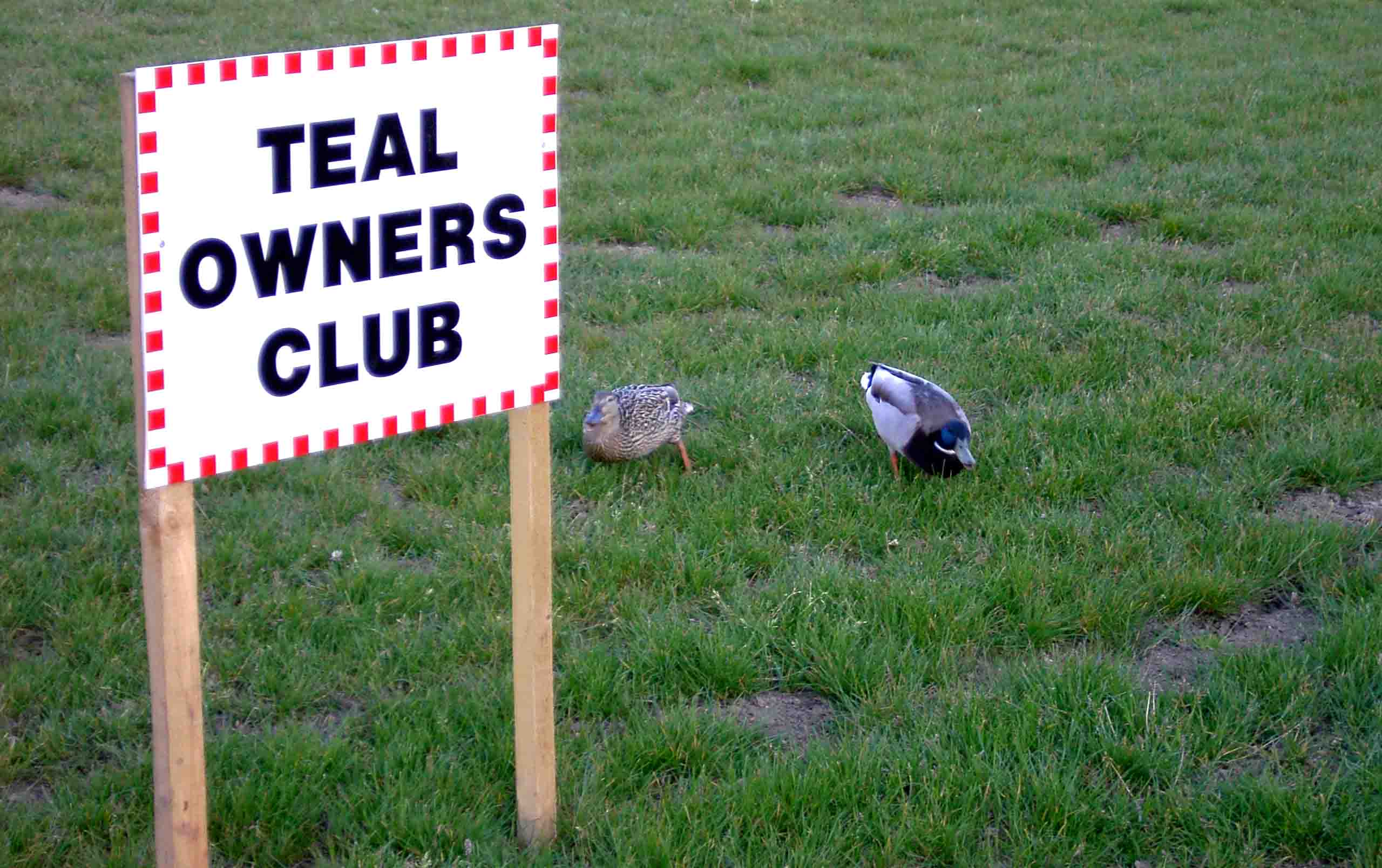 Have wheels 
Photo:  Glen Ibbotson -thank you
Keith's round the bend on the Backbone Teal Pennine Tour, driving Teal Number One (now christened Le Mistral), the very first Teal ever built (1984), originally owned by the founder of Teal Cars, Ian Foster, and now rebodied in aluminium, and fully restored.
Keith in the cockpit of Le Mistral on the Backbone Run, wearing one of his tasteful Aussie shirts.  Many Tealers will know that Keith is at the very heart of the Teal community, having built Teals, restored Teals and repaired Teals for other Club members.  His workshops are extensive and admirable; all Tealers receive a warm and courteous welcome at Teal Centre North, and generous hospitality – and a bit of Aussie banter too… good.
Jeff and Mary Turner (Sale-based Tealers of fine standing and great enthusiasm,  and good friends of Bob Jones) round the bend on the Teal Backbone route across the northern Pennines. 
***
Racer in the Making
  Johnny, David Ward's great nephew kitted out for Teal racing (see below)
Flat Out:  Teals driven by  Ian  Hutchinson ( foreground) and Ben Trumble neck and neck after two laps of the Old Reims Grand Prix Circuit… (Ben says that he would have won if his handbrake hadn't stuck on.  Hmm. )
***
Interesting Photos
Wimbledon Ladies' Tennis Champion Maria Bueno and….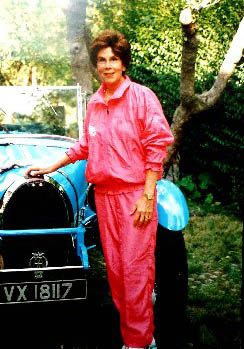 …  her (?) Teal Type 43 four-seater
(If anyone can cast light on  the origins of this photo, I'd be delighted to know – thanks b.c.)
The Teal Type 35 Boat Tail is quite a long car which  presents a rather sleek appearance;rather like our daughter Kirsten, behind the wheel…
You could not call this early Bugatti Type 13 sleek, but it's certainly impressive and beautiful – as is the Belgian pooch. Their lucky owner appears to be wearing my prep school cricket cap.
***
Many will know that our friend and fellow
Tealer Keith Lidgerwood  has not been well over recent months.  He wants us to know that his first session of chemo knocked him back considerably, resulting in a need for several urgent  blood transfusions, but that he hopes to be back on the chemo next week when his platelet levels have recovered sufficiently. 
Keith wants to thank  fellow Tealers for the terrific support he has received, and says ' the caring thoughts of members is very nourishing to my hopes and resolve – DEEP THANKS  from fellow Tealer fkl.'  Keith is also planning to attend the Teal Owners' Club Centennial events… 
We wish Keith a sound and sustained recovery, so we can rib him remorselessly once more about the faded glories of  Aussie cricket, his dodgy dietary advice and all things Antipodean.  The trouble is he responds rather too  well, and even gets in a sharp dig or two  at us – the Poms.  The annoying yet rather heartwarming
 thing is that
 it's all done with respect and  great  affection on both
sides.   Keith has been  at the very heart  of Tealing for very many years, owning several Teals, building a splendid Type 35B,  and  working on dozens of Teals and Bugatti replicas.  We look forward to having you in formation again soon,  Keith, and stop taking the damn lead (and the piss). 
Anyone for drinks at the chateau?
Next week (27 May) a Company of Tealers embark for Normandy under the redoubtable leadership and guidance of Captain Sensible and Maggie.  The  Normandy run has become something of a tradition, with   locations of  interest  to visit, fine foods and wine to enjoy, and a happy French hostess and hostlery  to return to,  with  covered parking for the Teals if required.  In previous years friends have been made with a wide range of Normans, Teals being admired by aristocracy and workers alike.  Teal – the people's car!  We wish the Tealers God Speed and a fair wind to  Normandy  (and back again).
Teals parked high and dry at happy accommodation
Prennez-vous un petit verre au terrasse?  Tealers relax amid French aristocratic hospitality …
Tealers on Tour
A Teal pause for refreshment  in the Pyrenees, en route from Angouleme to northern Spain, attracts the interest of passing local residents.
Tealers on Tour :  home comforts.  The Teal boat tail, supplemented here by a boot rack, provides useful storage space for tools, pot, kettle and clothes. 
and Baguette came too, as a warm companion to Stuart
***
The Pack Horse Inn at Affetside, Near Bury, Lancashire, where Ian Foster first drew up the  outlines of what became the Teal Type 35 project
Early  Teals (briefly in 1983 and early 1984  called and badged  Worsleys)
***
Many Tealers  were in Hampshire and Sussex last weekend on the South Eastern Ramble (see below) with Jean and Rupert Quested, and next weekend we're based in Tewksbury for a Welsh Borders Meander and visit to the Morgan factory at Malvern guided by Maggie and Glen Ibbotson, followed by points north.   Tealers never rest (well, hardly ever).
***
Stop Press:  The Teal South-Eastern Ramblers are back, after a happy three days based on Petersfield in the South Downs – and the Tealers  survived driving below sea level round Bosham Harbour in Sussex – fortunately the tide was out, but the seaweed completed a neat bidet job on the underside of the cars.
F
riday 22nd was a bit wet and windy as most Tealers met up in Surrey and headed down via the Devil's Punchbowl to Petersfield.  Jean and Rupert were leading in Grasshopper, there were Glen and Maggie from Yorkshire, Colin and Irene, David and Sharon, Brian and Francesca (who wimped out in all the Wiltshire rain, and came in a comfy MG), Harry and Carole in their Ruska, and Angelo and his son arrived on Sunday.
Saturday 23rd was a great hit, as Rupert had planned a winding route through  rural  lanes and woodland in the south downs with a happy pub coffee stop at The Three Horseshoes (don't forget the chickens!), and a visit to the lovely 11th century Cocking church (and intriguing deserted farmbuildings), to  Chichester for  lunch (Colin disgraced himself with cherry pie and ice cream, but he seemed happy, and I was able to nick a piece too) and the majestic cathedral of St Richard; and in the afternoon Itchenor and  the Bosham harbour estuary after tide tables had been closely consulted (I hope).  Then a glorious run back to the hotel through the downs for a jovial Tealers' supper. 
A Teal  would smell as sweet by any other name
David Ward's beautifully-detailed Teal Type 35 (Triumph 6C-1600) and (below)  'Grasshopper', the lovely Teal (Nissan 4C-1800) of Rupert and Jean Quested, our leaders and guides for this happy Teal Ramble.
Glen and Maggie Ibbotson's stylish and well-patinated Teal Type 35 four-seater (below), our leaders for the next ramble, the July Teal Tour starting at Tewkesbury and moving northwards…
Sunday dawned brighter than feared, and after a leisurely run eastwards through Midhurst and Petworth we arrived at the Hollycombe Steam Museum near Liphook, where the Teals enjoyed celebrity status, alongside a fine Triumph Club turnout of Stags, Spitfires, GT6s and Triumph 2.0/2.5 and TR4s/6s.  The steam engines were fun, we all went for a ride, and then enjoyed the fairground attractions before heading for home under a drying sun.  Thank you to Jean and Rupert for recce, guidance, happy company and admirable routes
.
Teal at Ashton Court, Bristol
This was the first Teal in which I ever rode; Tony Williams was kind enough some years ago to give me a spin round Ashton Court in his powerful Type 35B (6C/2500 Triumph), and from that moment I was hooked.  Tony's gone now, sadly, but Margaret has  passed on the Teal to Tony's brother David Williams, TOC member  in Cheshire.  Incidentally our website had an email this morning (20th June) from a chap wanting to get his Teal back on the road; it had been left to him by his father, who had received it from this chap's grandfather.  Heritage indeed!  Good.
***
***
Teal Type 43
Stop Press 21st June 2012:  Aaldert is going to paint his Teal Type 43 black with red accents; and the entry in the top of the boot is an aperture for loading tools and luggage into the boot tail.  Aaldert will send us photos once the paintwork and upholstery are finished…
Teal Owners' Club member Aaldert has just picked up his Teal Type 43 from the workshops of skilled craftsman and engineer Mike Hall.  She's a beauty, and ready for painting.  What do you think of the treatment of the rear end of the car ?  Does it have a genuine classic feel?  Here's another angle…
and the front end,  and the  doors…and Mike Hall
We look forward to seeing the final,  painted Teal Type 43 (possibly indigo blue) , and hope she can join us on our cross-country rallies.  Congratulations, Aaldert and Mike for bringing a lovely, unique classic Teal back onto the road.
***
Jubilee Teal
Angelo's Teal flies the flag on the Brooklands Jubilee  R
u
n
The best view in Britain?  David Ward steers his attractive and powerful Teal Type 35 boat tail to the Brooklands Jubilee Meeting.
Back From Normandy 
Ten adventurous Tealers have returned from Normandy, where they had a happy week cruising in the sun (mostly), eating well, and visiting Cap Blanc Nez and the Cupola V2 site.  There were a few unplanned mechanical events, but all returned safely, Neil and Pam Bridges directly to Sheffield, since further foreign trips were imminent, and Neil, Vicky, Glen, Maggie, Dot, Phil, Irene and Colin via the Seven Stars at Bottlesford, Wiltshire, where they met up with Fanny and Brian for a pub lunch,  and a five-Teal wander through the Pewsey Valley, up past the chalk White Horse, through Marlborough and onwards to Burford, while Fanny and Brian peeled off back to Devizes.
The full story (well, nearly)  of the Normandy Nomads will be in Teal Spiel for TOC Members
***
***
Angelo at  the Brooklands 1940s weekend
Angelo de Souza is a  regular at Brooklands,   and uses it very much as his private club, enjoying many events on the historic airfield, race track and museum in his fine Teal Type 35, often accompanied by  David Ward, Tealer and garage owner who many TOC members will know and will  have read about in TEAL SPIEL and often on  this website.  David's powerful restored Teal is shown here at Brooklands with an early prototype Harrier – two classics.
***
See Next Teal News Page