In June 2010, Phil and Dot Massey organised a terrific Teal Tour in Lancashire and The Yorkshire Dales.  This is the story of that happy Teal Rally.
BACKBONE  OF  ENGLAND TOUR
June 2010 
Dot and Phil Massey had arranged for us to meet at Ribchester in the Ribble Valley for the start of the Teal Backbone of England tour on Sunday 27th June, and as we rounded the corner there they were: eight splendid Teals – and a big surprise; we were joined by the Freckletons, rallying friends of the Masseys, in their bright-red, graceful 1952 Jowett Jupiter.
Dot and Phil had gathered together a happy band of Tealers: Ron and Sheila Stamp, Bob Mills, Jeff and Mary Turner, Keith Lidgerwood (in Ian and Maggie's Teal No 1, HKA940N, now beautifully restored by Keith and christened Le Mistral), Roger and Carola Frank, Mike and Joyce Astill, Ian and Lavinia Alecock, Brian and Francesca Crook (MG), and Rupert and Jean Quested (Golf, between two Teal rallies). Dot and Phil's daughter and son-in-law Debbie and Craig were with us to sweep up stragglers (and drive the Teal on the morrow), and friends Paul and Liz to photograph the Teals on route. More Tealers joined up as we went along. All cars had tulip maps of the Forest of Bowland and Yorkshire Dales route, and warm sunshine with blue skies promised a fine tour.
By 1030 the first car, our modern MG TF, led the way, and all followed at one-minute intervals, navigators (and sometimes pilots) closely following their tulip maps. There were a few early diversions, but together we soon entered wonderful forest lanes and climbed through open, windswept moorland, plunged down on deep, remote valleys, rose again onto rugged, rocky hillsides and swept through narrow, hedge-lined tracks where concentration was vital. We sometimes encountered wide and spiky farm vehicles, and much sucking of teeth and backing up ensued – but we all came out unscathed physically, if mentally needing a stiff drink!
The lanes of Waddington, Slaidburn (photo op. on long curving hill-climb left hander – see below), Stocks Reservoir, Keasden, and Austwick led to a happy al fresco lunch at the Hellwith Bridge Railway pub.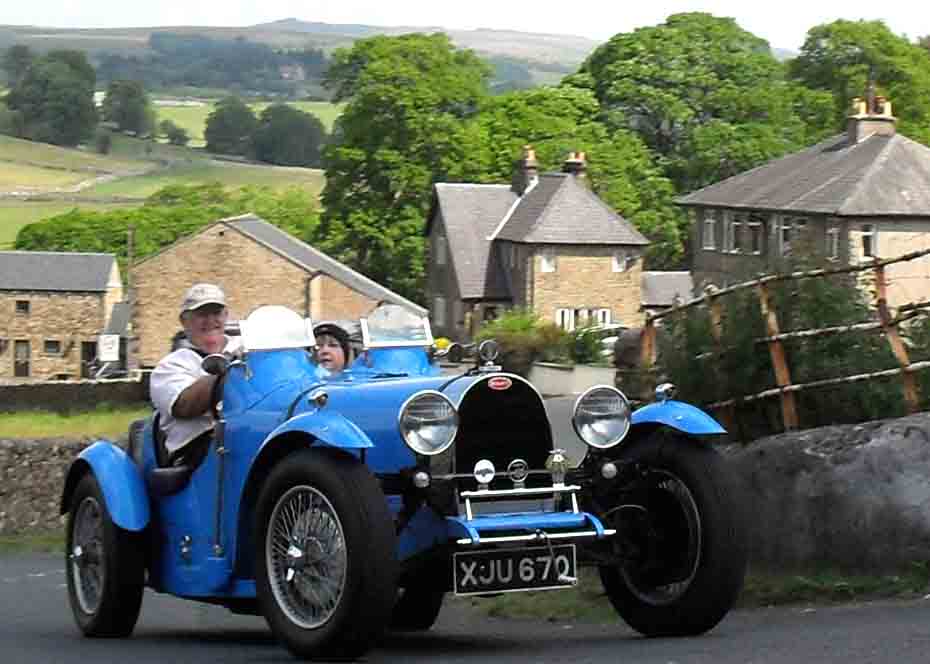 Jeff and Mary Turner
The Freckletons in their 1952 Jowett Jupiter
Mike and  Joyce  Astill
Roger and Carola Frank
Bob Mills
Dot and Phil Massey
Photo slightly blurred – sorry – it must have been Dot's speed – or my finger trouble….much  better photo of Dot and Phil below
Sheila and Ron Stamp
Keith Lidgerwood
Lavinia and Ian Alecock
Patriotic parking place for Jeff Turner's and Mike Astill's
 fine Teal Type 35s  at the Hellwith Bridge Station  lunch stop.
 After sandwiches, chat and repartee, we remounted our individual cars and set off to enjoy high-level views from Stainforth and Halton Gill, crossing the trans-Pennine way, then Wharfedale for Kettlewell and Buckden, heading for Hawes across the Yorkshire Dales.
The final high-speed run down Ribbledale for 17 miles ran straight and gently undulating into the afternoon sun , with Keith leading us at full snarl in the dark blue Teal No 1 HKA940N , followed by our silver MG  TF  and then Bob Mills in the impressive red Teal 4-seater The Red Baron, owned by Bob for 24 years, and driven with verve. Cresting a rise at some speed, there silhouetted in front of us across the horizon lay the impressive Ribblehead Viaduct, and we slowed to take in the view, and then enter the pretty hillside town of Ingleton, our destination being the accommodating Wheatsheaf Hotel.
Keith Lidgerwoo's updated Teal No1 'Le Mistral'   
with Bob Mills' Red Baron Teal four-seater beyond.
At Ingleton  we found that while we were driving cross country, England had been beaten by Germany 4-1 at football. A number of pints were drunk.
Supper had been arranged for about 25 of us, a good opportunity to exchange thoughts on an exciting Teal day. Phil made a short, amusing and stylish speech, passing out certificates, and Dot and Phil were thanked for their thorough preparation and imaginative routes. Some local Tealers departed for home, and the rest of us explored Ingleton, ready for a 1000 R/V next morning. At breakfast we were greeted by the arrival of Stuart Whitworth in his Roller to join the rally, with much Bugatti memorabilia to show us. Ian and Lavinia were departing for home, Keith took Brian for a cracking run in HKA, and Mark and Guy Foster, twin sons of Maggie and Ian Foster, founder of Teal cars in 1983, arrived in a terrific 1957 dark blue Morgan 4/4.
Keith with Guy and Mark Foster, their  Dad Ian Foster's original Teal and their Morgan Plus Four in Dent (see below)
We all set off following Debbie with Phil, her Dad, as nav, while Dot rode with Keith, down a deep, narrow dale, just about wide enough for a RR, past 2300 ft Whernside and numerous gates (thanks, Phil!) to arrive at the delightful cobbled village of Dent, where we were guided into the extensive drive of a private house, and greeted by the warm and generous Jackie and David Bellis, ardent Bugatti and Teal fans, with much memorabilia (example below) and a fine supply of coffee! Photos were taken of Keith with Guy and Mark Foster in front of the Teal their dad had built, holding Dave's 1984 copy of Kit Car Magazine featuring this very same Teal in full colour (above).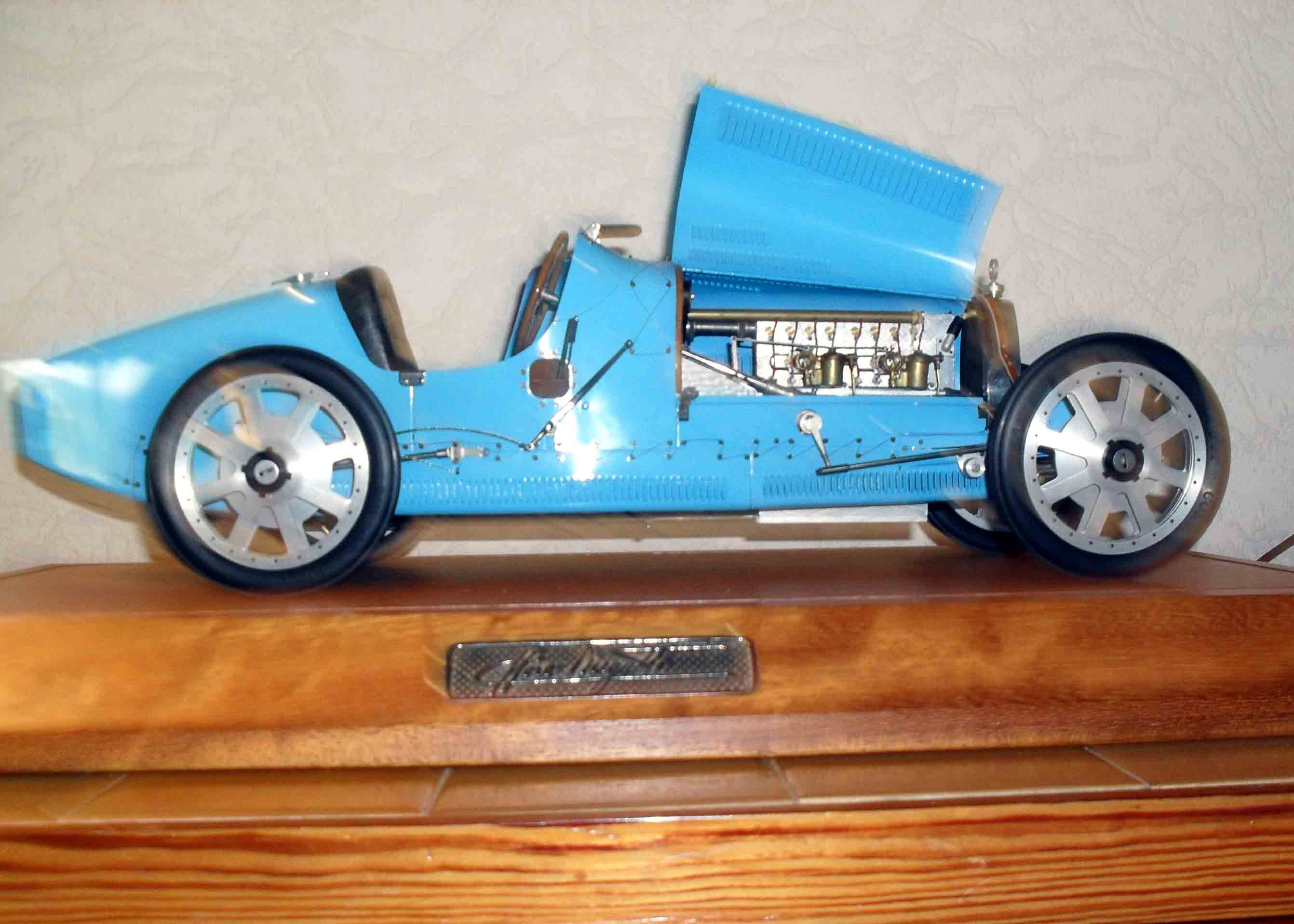 After Dent, we turned for home, but for most the rally ended at Hawes two hours later, with a brief stop at Wendsleydale Cheese, and a visit to Hawes Railway Station, the highest in England – a fitting end to an exhilarating few days. Thanks, Dot and Phil, for your thorough preparation, excellent Tulip Route and unfailing good humour in welcoming and shepherding so many happy Tealers through glorious Backbone of England Pennine countryside.
 Brian and Francesca Crook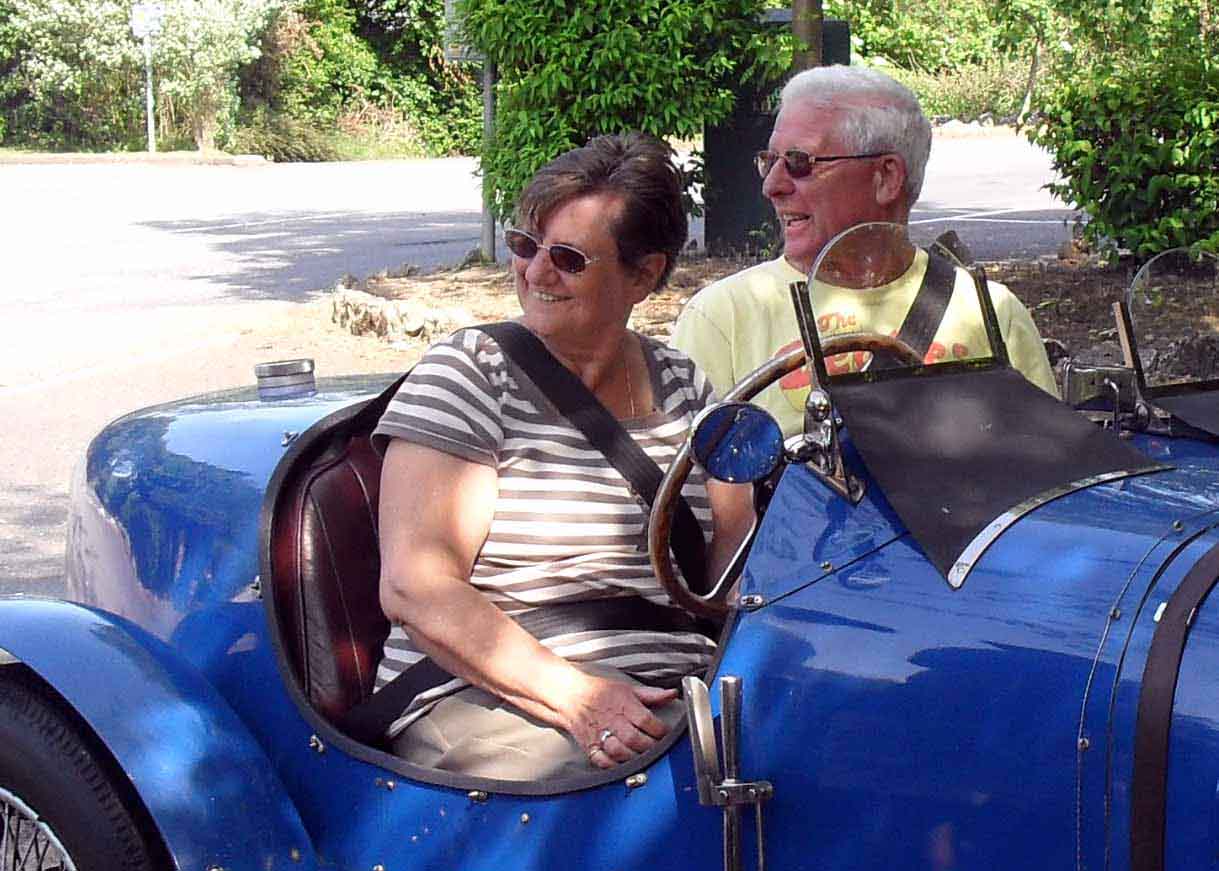 Dot and Phil
Until Next Time….
 ***