In 2006 Colin Andrews, Teal Owners' Club Secretary, thought of an original plan for the Club:   that there should be a Teal  Run from Land's End to John O'Groats in order  to involve the maximum number of Teal drivers possible, with Tealers   joining in locally where they wished,  and dropping out when they wanted, although it was hoped that some Tealers would go all the way….  About eight legs would be necessary to cover the 1200 or so miles (Tealers never drive directly), and   because of these eight legs, the rally planned for summer  2007 was naturally called The Spider Run…
Plans were developed, leg leaders 'volunteered',  possible  routes researched,  badges created,  and after eight months' preparation  on 5th June 2007  it  all came together under Colin's guidance with Cliff Sedman, Club Chairman, flagging  the Teals off from Land's End on Leg 1 to Glastonbury, 190 miles  via St Ives and Dartmoor, and  Don Jenkin leading the way…
Tealers may notice towards  the centre of the photo Teal Type 35 two-seater boat tail Triumph  6C/1600, supercharged DNA 88T, then  owned and driven by Tealer  Peter Jackson with sailing cap and camera in the photo  below, and also  driving off further below; this fine Teal is now owned by David Ward, who rebuilt the car in 2011/12, and brought it back to Cornwall with Sharon  on Spider Run 2 in June this year.   David's fine  sporting Teal is  now called Dolly  (the DNA link ….).  See the Spider Run 2 page of this website. 
Several Teals as well as Dolly  took part in both events (2007 and 2014) including Colin Andrews' Puddle Jumper, Andy Dutton's La Tecla, Neil Ramsay's Vital Spark, Rupert and Jean Quested's Grasshopper, Ron and Sheila Stamp's Hirondelle  and the Teals of  Jeff Turner, Dot/Debbie and Phil Massey, Peter Colley, Mike Astill – and Harry and Carol Howard's  Replicar,  and Chris and Yvonne Kemp's  TR8….  Tealers all.
 St Ives
*** 
Spider Run 1 – Leg 2 – Glastonbury to Llandovery  – 150 miles – Wednesday 6th June 2007
 Day 2 saw all 12 of us  lined up at Glastonbury, with two groups setting off for Cheddar Gorge (photo op) a few minutes apart, and Tony Williams and Margaret  leading us in Bristol from the Clifton Suspension Bridge, across the Bristol Channel to Wales, lunch in the shadow of Chepstow Castle,   and then a happy run up the Wye  valley to Monmouth before heading west for Brecon and the Castle Hotel,  Llandovery…
Glastonbury –  ready to go  – Colin on pole
 Andy Dutton and June at Cheddar Gorge
Tony and Margaret Williams, Leaders  Leg 2
Teals, Clifton Suspension Bridge, Bristol (Brunel)
 Into Wales under summer skies
SPIDER RUN 1 – LEG 3: LLANDOVERY TO PORTHMADOG ( 150 Miles ) – Thursday 7th June 2007 
Llandovery Line up for Day 3 with Andy and June slotting in –  and  fine ruined castle .
 Brigitte poses at Llandovery
 Pat Burns'  fine (and well-lit) Welsh  Teal Type 35 – a green beauty
Stuart Whitworth's splendid Teal – more like a Bugatti than most Bugattis…
Leg 3 from Llandovery with Des Jones leading and Tony Hamilton-Grey sweeping up the stragglers  took us to Lampeter and then the Welsh  coast at Aberaeron, turning right  beside the sea up to our lunch stop at Aberystwyth, where there was a fine line-up of Teals ,the press and the Lady Mayor being there to greet us.  Some Tealers  took advantage of this (don't mention Pat, Colin and Stu here) to show this attractive long-legged lady their cockpits…
 Aberystwyth – Rupert and Jean foreground next to Ron's 4-seater
 Des Jones, Cliff with Welsh Dragon flag with which he waved us off (often – much appreciated locally ) in Wales, Colin in front of Neil Ramsay's Vital Spark.
Welsh Tony took the lead now, taking us north for Corris Craft Centre,  (T&P) then climbing up the side of Cader Idris and into our overnight stop at Portmadog – where we met up for dinner at the hotel… and watched the falling Welsh rain, hoping it would be over by morning. Happily,  it was.
SPIDER RUN 1 – LEG 4 – PORTHMADOG TO SETTLE –  180 Miles – Fri 8th/Sat9th June 2007 (including day off)
Leg 4 from Porthmadog was popular, with 20 Teals doing all or part of the leg, lead by Dot and Debbie, as Phil was acquiring a new body part. Don't ask.  After breakfast a few of us were interviewed by the local press, with Stu spending some time comparing cameras; this was fortunate , as many of the Teals had been blocked in the undercover hotel car park by late-arriving golfers.  And entertainingly Glen and Neil (the Yorkshire Ramblers) had joined us in an impressive camper van.   Leaving Porthmadog involved a fair amount of hooting of horns as Cliff waved us off (hooligans!),  up the Llanmberis pass a bit, then down and on to Betwys y Coed for coffee at the railway station buffet car.
 Dot and Phil's Daughter, Tealer Debbie
En Route – Ron peeled off to pick up Sheila; they rejoined and continued  to John O' Groats 
Teal Traffic Jam: Brian, Rupert, Peter, Frank Jones (?) Chris (TR8), Dot….
The route then ran to Cerrigydrudion (really), Ruffin and  the Anderton Boat Lift and lunch, where it all became a bit much for Colin,  who took a  little snooze at the side of his car.
After the boat lift it was time for the Tealers to suffer a bit on the M6  to Preston (Teals and motorways don't go well together ), then off for coffee and cake at The Tickled Trout, the A59 to Clitheroe, and onto minor roads again through the pretty villages of Slaidburn, Newton, Tosside and Wigglesworth before Giggleswick and Settle, where many others  had arrived/caught up; a drink, a chat, put the cars to bed, greet Pat, Suzi, Mike Astill,  Frank Jones and Ian and Lavinia who are leading leg 5, and look forward to the options for tomorrow's day off  from driving… 
 The consensus was to take the scenic steam railway from Settle to Appleby to see the famous Horse Fair . The weather was hot, the crowds were out , thousands of gypsies and hundreds of horses thronged Appleby – there were herds of horses, horses pulling traps, horses on their own, horses being ridden bare back, horses in the river being washed or swimming, horses racing.  There were scores of lovely young women often in strange, lurid costumes parading the town.  There was noise, smell, tension – a highly charged atmosphere.
(thanks, Glen, for this description)  
Other Tealers had seen Appleby the week before, and took the Settle steam train to  enjoy the calmer atmosphere of Carlisle ….and its carousel.
Reunited that night speeches were made (by Colin), prizes were awarded, particularly to Shelia Stamp as most supportive partner, Teal umbrellas were handed out to leg 4 and 5 organisers, and the next day's run from Settle to Jedburgh anticipated.
Leg 5 – Settle  To Jedburgh 180 Miles – Scotland at Last! Sunday 10th June 2007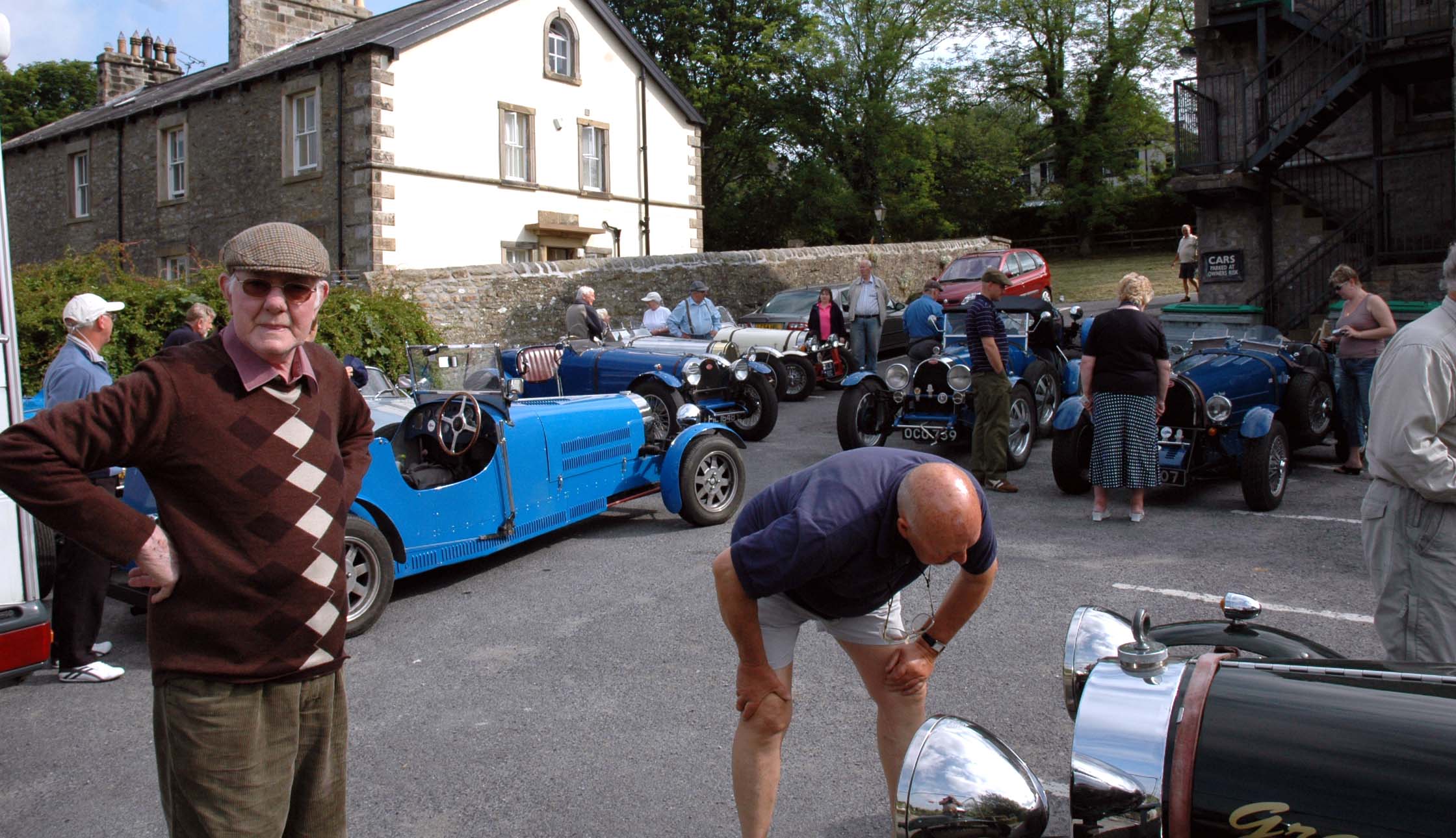 Ready to roll – Tealers  Frank, Keith, Rupert, Chris, The Searles, Keith and his cream Replicar in the background ,   Mary, Jeff, Pat and other Tealers.
Ian and Lavinia Alecock led Leg 5 (Sunday 10th June 2007) from the Hart's Head at 0930 
Ian and Lavinia Alecock
The Alecocks led off the Teal convoy in their (then) 23-year-old very early Ian Foster Teal  Type 35, winding the way past Hawes, passing the famous Ribblehead Viaduct (24 arches), which Tealers had crossed on the previous day on the Settle-Carlisle steam railway, then on to Kirby Steven, a convenient and attractive TandP stop with cafes, bistros and antiques, not all of them Tealers.  All aboard and across  fine open moorland to Middleton-in-Teesdale and over Alston Moor to Alston Station – where Hazel ran the cafe, and catered for the Tealers.
After lunch the objective was Hadrian's Wall via Brampton and Lanercost Priory, founded by Robert de Vaux in 1166, Birdoswald Fort where a large section of  Hadrian's Wall is exposed next to the road.  The road took the Tealers onward to Kielder Water, thought by many to be the miost tranquil place in England.    Cliff Sedman had already donned his ginger beard and Tam O'Shanter somewhat prematurely as the Scottish Border had not yet been crossed!
 Keith 
 Keith and his Replicar,  heading North
Cliff, Teal Owners Club Chairman, 2007 
 Colin and Puddle Jumper, Neil and Vicki and Vital Spark
 Six-Teal Fill up – Neil's paying
After the official  'Crossing', the Tealers entered the beautiful, rugged countryside of the Scottish  Borders, famous for its feuding, in which the Picts and Scots may have been involved.    Unfortunately the Teals arrived at Jedburgh Abbey four minutes later than the planned schedule, which may have been Colin's fault as he was stuck behind a railway barrier for exactly that time back at  Alston that morning…and so to B and Bs, a freshen up, and a meal together at the Carter's Rest with a few after dinner speeches following a splendid Tealing day.
Tomorrow: Leg 6    Jedburgh – Fort William  200 miles – (Mon 11th June 2007) 
This was the longest leg of the  run, 200 miles with 14 cars in two groups, one  led off by Scots Neil at 0930 and t'other soon after by Vicki.  From Jedburgh the road ran north, by-passing Edinburgh (always a sad omission – rectified on Spider Run 2 in 2014) and across the Forth Road Bridge for coffee and porridge at Kathellen Farm Park.
The road wound past Knockhill racing circuit of Teal fame in the 80s, then on to Gleneagles and Crief, where the Tealers stopped for lunch in the Famous Restaurant (below) at Scotland's oldest working distillery, Glenturret of Famous Grouse fame.
 Not much  time for  a whiskey tour (perhaps on the way back), as the need was to press on to Glencoe, one of the most awesome landscapes in Britain. Tealers enjoyed the rare priviledge of a dry run through the pass with its towering mountains either side, steeped with history, legend and tales of treachery. Tea was taken in Glencoe, then  Loch Leven provided some spectacular views as the Teals descended from the hills en route for Fort William, at the foot of Ben Nevis,  reached at 5.30pm.
SPIDER LEG 7 – FORT WILLIAM TO ULLAPOOL -140 miles
(Tuesday 12th June 2007) 
The Tealers gathered in the shade of the great mountain in the car park of the Ben Nevis Distillery, where the kind manager Colin Ross regaled them with coffee, shortbread and free drams of the famous 'Dew of Ben Nevis'.  They then set off a few hours late and tried to find the road north, with varying degrees of success. The aim was to head up the Great Glen by way of Drumnadrochit and the Caledonian Canal…luckily David Swinfen and his wife Ann, natives of  Scotland, knew the way.
 David Swinfen (silver 4-seater)and Ann  lead Neil, Colin, Frank,   Jeff and Mary north – photo John Chalmers
John Chalmers, Keith Lidgerwood's co-driver (and heart surgeon) with the Replicar they drove  – John took many of the pictures  in this photo-essay, for which many thanks .  B.C.
Keith  snug in his survival suit – a great proponent of the rear-engine Replicar, Keith owned at least two – and at least five Teals at various times… Harry Howard is also a great Replicar man, joining with Carol  this and many other Teal runs, including Spider Run 2 this year, 2014.
Keen and well-loved Tealer Frank Jones in his green Grasshopper heading north ; this year (2014) Grasshopper completed Spider Run 2 in the opposite direction proceeding south  with owners Rupert and Jean Quested – and new wheels, which Frank had designed and fitted before his sad loss.  See the  Spider Run 2 page of this website.
David and Ann  Swinfen's  self-built  silver four-seater (right) next day in Caithness, alongside Andy, Cliff and Chris's machines.
After a couple of stops to let boats pass on the Caledonian Canal, which provided interesting local colour, the Tealers pressed on in finer weather than is usual in this part of the world to Ullapool, completing the 140-mile run in good time, to seek out their B and Bs (multiple in Ullapool) and meet up for supper at The Caledonian Hotel, anticipating the final official day of the run on the morrow …
SPIDER RUN LEG 8  –  ULLAPOOL TO JOHN O'GROATS -140 miles  (Wednesday 13th June 2007 )
David Swinfen and Ann were once more in the lead through spectacular  countryside en route to Durness, a small cluster of houses, a SPAR, and (thank God) a petrol pump.  Stuart Whitworth glorious two-seater  and Ron and Sheila's handsome four-seater  both gave a little cause for concern mechanically on the leg, but generous Scots engineers dismantled, welded, remantled and sent them on their way free of charge, thereby warming many cockles.
The rest of the journey was by way of single track roads and seductive scenery.  At one stageby good luck David discovered a large car park on one side of the very minor road, and on the other a panoramic view of a great expanse of water backed by majestic hills. Andy Dutton told David that this one view made the whole Run worthwhile.
Then onwards to Thurso and beyond to John O'Groats, which proved to be less tacky than anticipated, but with rain threatening close at hand.  The cars were lined up, congratulations were exchanged, photos were taken (mainly by Stuart) and a sense of achievement – "we've done it!"  ensued.   Back to Thurso for the Grand Spider Run Dinner and speeches.
Stuart and Cliff arrive… 
 …dressed appropriately.
This splendid trip was a first for the Teal Owner's Club:  34 cars took part, with 49 Tealers. For some the total distance travelled (including getting home) was 2500 miles.  Some cars broke down, but were fixed and continued.  Ten cars went the complete distance of all eight legs.  Above all the concept was a triumph for the leg organisers,  and  particularly for the man who conceived it all in his bath, where much of his best thinking is done, then persuaded, cajoled, created, wrote, phoned and emailed until it all came together that glorious June – Teal Club Sec and Tealer par excellence:
 Colin Andrews 
Colin's fine Puddle Jumper went the distance (and beyond,  to Orkney) on Spider Run 1 in 2007, and this year  he and Irene were touring Scotland and joining Spider Run 2 coming south in June . Colin has been a Tealer for some 20 years, and  once drove to Harris in the Outer Hebrides  in his Teal –  to buy a beautiful soft  tweed jacket…
*** 
 Notes:
1. Since our 2007 Spider Run we have lost three distinguished Tealers:  Tony Williams, Frank Jones and Keith Lidgerwood.  They all thoroughly enjoyed this run, and were spared long enough to relish further Tealing fun.  We remember them all with affection.
2.  I have plagiarised shamelessly  the official Spider Run Souvenir Edition of Teal Spiel to bring this page to the web; I thank each original author and   the Editor, Suzi Rigby, who brought the magazine beautifully together finally at 5.18pm on Wednesday 5th August 2007.   That was a happy record of the trip, and I hope this page of the website has also triggered cheerful   memories.  
B.C.                                                                             12th August 2014