Over an 18-month period in 1992 and 1993, Dot and Phil Massey had their Teal Type 35 two-seater built by Bob Jones under the arches west of Greater Manchester, at Viaduct Road, Broadheath, Altrincham, Cheshire. These photos record the different stages of the Teal construction, and finally Dot and Phil enjoying the glorious machine that resulted….
The strong steel spaceframe chassis that is the basis of all Teals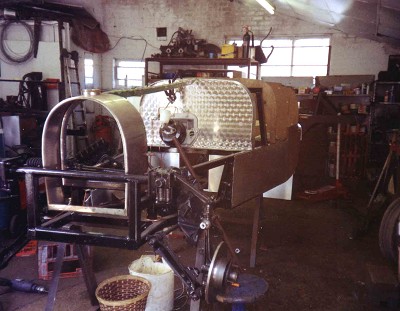 The bodywork takes shape, including radiator frame, scuttle and instrument panel
A pile of parts – these are the elements that go to make up a Teal, ready to be assembled when the funds are available…and is that a Bugatti wheel at the back?
The aluminium skin is fitted to Dot and Phil's Teal. That Bugatti wheel's still there too.
Dot and Phil did not want to fit a second hand/reconditioned engine, so Bob Jones suggested they instal one of the four powerful brand-new Nissan 2.0 Litre engines he had acquired…
Body skin nearly complete…
… and painted
Under the arches at Viaduct Road, Broadheath, Altrincham, with lovely new Teal four-seater on trade plates…
The triumphant end result: Dot and Phil Massey enjoying their good-looking and powerful Teal Type 35 during the Teal Owners' Club Lakes and Scottish Borders Rally in 2009 (See Teals in Action 2009 page of this website for lots more photos) – and Dot and Phil have taken this Teal to Angouleme in France, to Spain, on the Land's End to John O'Groats run, Triangle Rallies and a dozen other events. Thank you for the historic photos, Dot and Phil Massey.