TEALS ON TOUR – ANGOULEME –
CIRCUIT DES REMPARTS SEP 2008
Each September the narrow streets of the hilltop town of Angouleme in the Charente Département of western central France near Bordeaux resonate to the sound of dozens of high-powered, mostly pre-war, sports and racing cars taking part in the annual road races around the ancient walls. Colourful throngs of classic car enthusiasts, many of them British, crowd the lanes and secure viewpoints on the walls to view the practice sessions and the several races of the Circuit des Remparts, where oily, noisy and delightful pre-war Bugattis in great numbers ( Type 23, Type 35, Type 37, Type 51) vie with Alpha Romeos, Rileys, Fraser Nash, Mercedes, MGs, Talbots and many others in the dusty heat.
Amid this happy Continental social scene of chaos, noise and smells which are a heady mix of garlic, coffee, charcoal-grilled steak and frites, burnt fuel and hot oil, a sophisticated group of British experts may be picked out by the keen-eyed observer : elegantly dressed and coiffured, gracious in manner, observant and knowledgeable about high performance cars, these cognoscenti are, of course, members of the Teal Owners' Club, who under the patrician guidance of Cliff Sedman make their way south year by year in the autumn sunlight to delight in the cullinary and motoring pleasures of Angouleme, and then thrust boldly onwards into the Pyrenees mountains and beyond to Spain.
'…elegantly dressed and coiffured……… under the patrician guidance of Cliff Sedman'
The story of Angouleme 08 has been vividly told in the November 08 pages of Teal Spiel by Cliff and Janet, Andy and June Dutton and Dot and Phil Massey, with supporting comments from the Laird of Lancashire himself, Stuart Whitworth. Rupert and Jean Quested and Ian and Lavinia Alecock made up the heroic group, who having assembled at Brooklands for photographs with Ernest Neil and others, then pushed on for Portsmouth and the night ferry to Le Havre. The photos below by Dot and Phil Massey, by Andy and June Dutton and by Ian and Lavinia Alecock help to bring their story to life for we armchair thrill seekers…..
Dot photographs their handsome Teal (and handsome Phil ) prior to leaving for Brooklands and the Ferry to Le Havre
The adventure begins – the ferry arrives at Le Havre, and Jean loads up their elegant Teal Type 35 Tourer for Rupert and her to start their journey south….
Le Havre – ready to roll; next stop Honfleur for coffee, then Le Mans for a (picnic) lunch
Bugattis were spotted en route. Their drivers were of varying degrees of friendliness…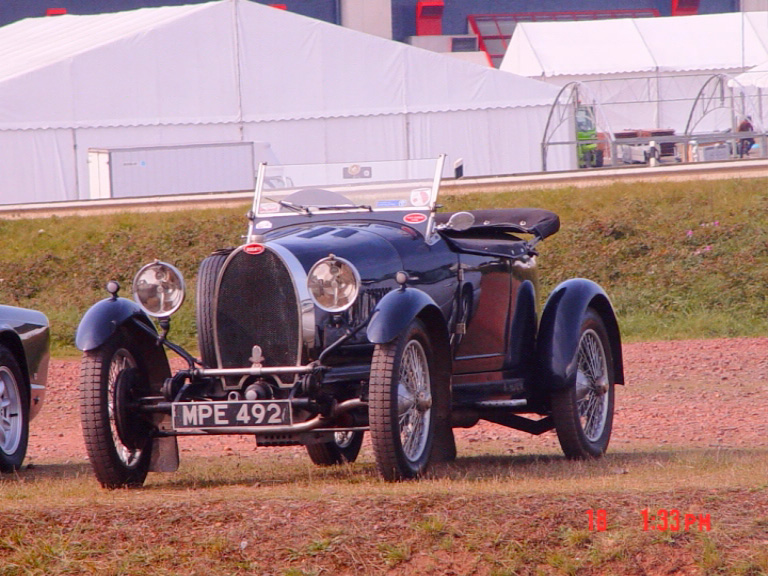 ….but their cars were delightful
Saumur on the River Loire with its beautiful chateau made a happy overnight location
This is a lovely photo of Saumur and the six Teals, despite Stuart hogging the limelight
Pit stop in immaculate formation on the road south to Angouleme
Elegant burgundy leather seats (and helmet) and a fine period steering wheel – Andy and June's stylish cockpit
At such pit stops, Jan the master map reader tops up with fluids from her drinks cabinet
At times it was pretty warm, and Phil decided to cool off in a passing river; Dot was on hand to capture the delightful moment – and the french impressionist colours….
It was hot in Angouleme as well, with some splendid machinery under the awnings
Rare Bugatti Type 57G Tank with well-worn Type 35 at Angouleme
Phil selects his seat
Andy Dutton was pleased to see a familiar name at Angouleme (the famous UK Bugatti restorer is, apparently, no relative – sadly)
Preparing for the start
John Murray and his wife had driven his 1927 Type 35B , complete with bootrack and weekend bag, from Ireland via Roscoff to Angouleme, planned to race it, then motor back to Ireland – who says Bugatti owners don't drive far?! (Info and photo, Andy Dutton, as with many others – thanks, Andy and June).
They're off!
The throaty noise of numerous powerful engines tuned to racing pitch echoed and reverberated from the crumbling walls of the medieval city…. the sharp-eyed viewer will notice a wisp of steam coming from the radiator cap. Rupert noticed that the volume of steam became greater lap by lap, but the determined (MG?) driver pressed on regardless….
…while the unique rasp of eight-cylinder Bugattis at high revs startled the pigeons with 'the splendid sound of tearing calico…..'
She's a beauty – but what is she?
(Later: apparently she's a 1921 GN Fraser Nash Ford Special called 'Piglet' – GN standing for the cyclecar founders Godfrey and Nash. I only found this out from the wonderful website www.gtdreams.com/anciennes.php which has dozens of delightful photos of Angouleme and many other classic car meetings and auctions. Thanks sincerely to them – highly recommended)
Part of the Ramparts course – the city of Angouleme above
the courageous drivers (les pilotes) were the heroes of the hour on the track….
…and discussed tactics with the pit crew.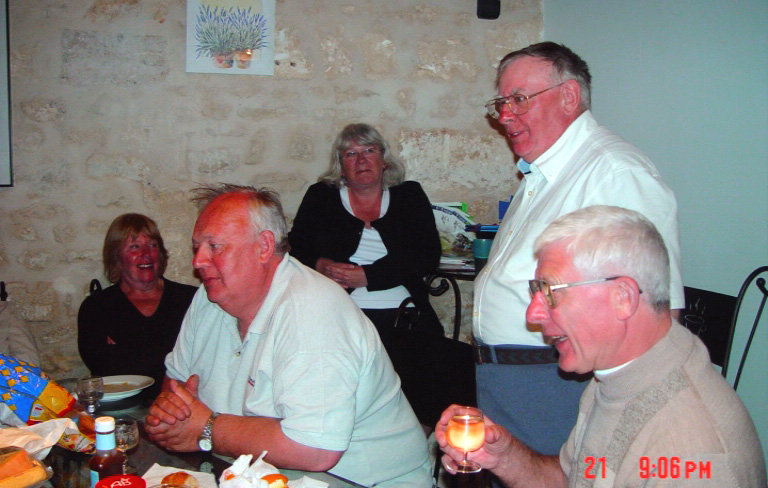 ……florid complexions were, apparently, caused mostly by the sun and wind
The proprietor of the BandB near Angouleme, M. Parlant was keen on a trip round the block in the Teal with Andy (a cosy fit), and several members of his family had a ride too – including his mother-in-law…. M. Parlant works for Remy Martin Cognac, and arranged an enjoyable free visit for the intrepid Tealers.
The racing over, Rupert and Jean were now returning home through France, while the others went on to Pau, the Pyrenees,Spain and the Bilbao ferry. This promised to be quite a long journey, so the thoughtful Tealers provided Stu with the necessary comforts; her name is Baguette.
Beyond Lourdes and Pau and into the Pyrenees the roads can be rather agricultural
Teal evenings were given over to glamour, chivalry and romance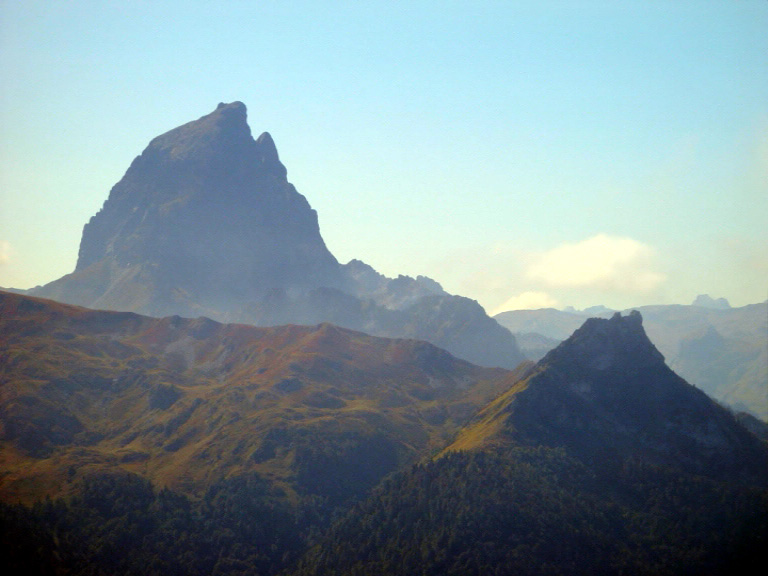 The Pyrenees from an open cockpit threw up some memorable views – Cliff tells us Tealers were dive-bombed by giant vultures and eagles near here, and that he was looking through goggles and windscreen splattered with cow and mountain goat droppings…..
Over the border into Spain, San Sebastian and Deba – a coastal pit stop.
In Spain there was a tendency to go native
Bullfighter Fashion is always stylish in the Basque country – apparently they are fond of the red hats – as are Lavinia and Ian Alecock
Happily the great Stuart, Laird of Borrolan, retained his dignity most of the time
Spot the Teal. Keen-eyed viewers will observe June and Andy's 'La Tecla' right of centre in this view of Lekeitio, Northern Spain. But did you notice Cliff's silver chariot in front of Andy's, half hidden behind the green tarpaulin? Neither did I.
……………………………………………….
And so the team of smartly-dressed Tealers headed for the docks at Bilbao, and the overnight trip to Portsmouth, after two weeks of adventures, Bugattis, Teals, motor racing and comradeship.
Thank you for sharing these photos and your happy memories with us Rupert and Jean Quested, Ian and Lavinia Alecock, Phil and Dot Massey, Stuart Whitworth, Andy and June Dutton and Cliff and Jan Sedman – knights of the road.
**************
Circuit des Remparts, Angouleme
The route is dark blue, starting outside the cathedral (top leftish red dot)
****************
Fin
*****