skyblueteal.co.uk
visitors to date

  WELCOME TO SKY BLUE TEAL
 The story of Teal Classic Sporting Cars
DNA88T
Teal Type 35 Two-Seat Boat-Tails
This website tells the story of Teal Cars from their inception in 1983 up to the summer of 2020. The index on the left hand side indicates the inspiration for Teal Cars and their history, how and where Teals were constructed, in what numbers, and by whom they were built; the different styles of two-seat and four-seat Teal are covered, as is our Teal Owners' Club, the personalities involved, and the numerous Teal rallies and meetings which we have enjoyed and photographed at home and abroad. We hope that you will enjoy this website, a celebration of a rather special sporting Marque – The Teal.
By June 2020, we have enjoyed 37 years of our delightful sporting Teals; on this website there are descriptive narratives and photos of 160 Teal cars engaged in numerous rallies at home and abroad, and individual trips which have brought, and continue to bring, great joy to each Tealer. Time well spent indeed.
XJU670
SPIDER RUN 2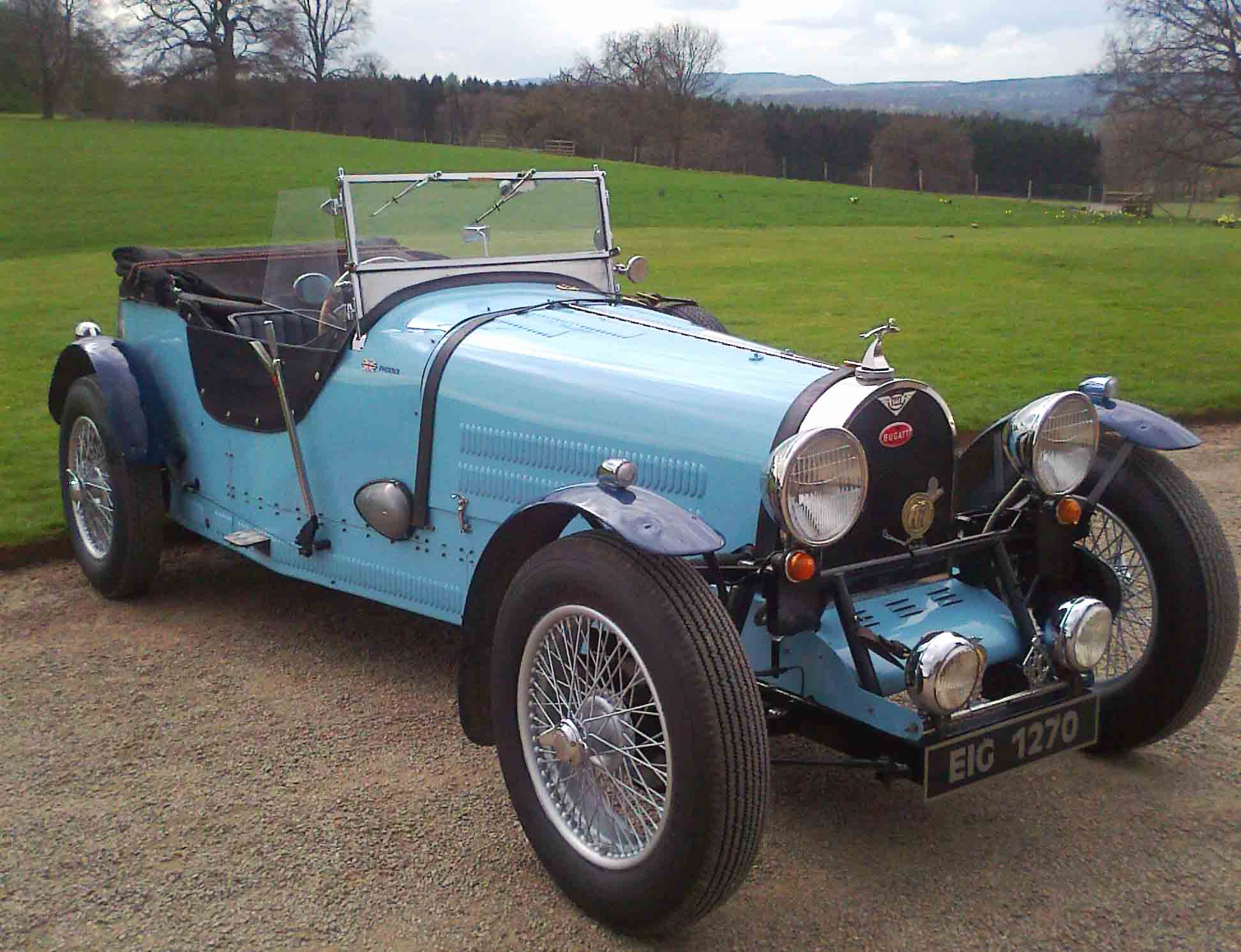 EIG1270
Teal Type 35 Four-Seater (Phoenix)
Tealers
On this site please read and enjoy the history of Teal Cars, and the exploits of hundreds of Tealers over the past decades of fun, companionship and adventure…
B.C. June 2020
We know not where we're going
It's the road that will decide;
It's not the destination,
But the glory of the ride.
Captain Sensible
*****************************************
*******
OXFORDSHIRE IDYLL
A few years ago Colin and Irené welcomed a happy band of Tealers to their lovely home in leafy Oxfordshire, prior to several exploratory Teal runs out, and a visit to the classic Bicester Retro Car Show… here Colin welcomes Rupert's arrival in Grasshopper – three veterans of the Teal scene from John O'Groats to Spain and Portugal via Angouleme, and most places in between. Followed soon afterwards by:
David and Janice in their splendid Cream Cracker Teal….
Andy's La Tecla was there, of course, opposite Colin's Puddle Jumper, also seen below:
Colin guided us through wooded countryside to a lovely village called Swinbrook where coffee and delightful cream cakes were consumed under the watchful eyes of the famous (notorious?) 1930s Mitford sisters, whose home village this was – well, watched by their attractive photos anyway.
Chris had brought his classic TR8 along, and Brian had his MG, so we represented a fair cross section of British sporting machinery. The TOC banner was raised, and who was waiting there but our own TOC Chairman, Bob, down to Bicester from The Wirral that morning – in Red Baron, of course:
We were in good company at the FLYWHEEL…
Alfa 6C/1750 (I think)
Type 37
Type37 Tail and Cockpit
Type 30
What with the parade of Classic Cars (and motorbikes), the flypast of 1920s aircraft, the Automobilia and car book stalls and open air driving clothes, we had a lovely day out in the sun. And we were fed right-royally Chez Irené and Colin, and also enjoyed a lovely Thames-side restaurant Tealers' Dinner – altogether a splendid long weekend…
Tealers' natural habitat – at table! Thanks Irené and Colin – we all enjoyed it muchly. Lets hope the second half of 2020 will bring similar pleasures.
*****
ONE TEAL FOR SALE AND TWO 'NEW' TEALS DISCOVERED :
TEAL FOR SALE – MAY 2020 – SILVERSTONE AUCTIONS
TEAL OF THE WEEK No.45
( Ex Dr Hamish McLeod )
BIG2193
For Sale at Silverstone Auctions – MGB Engine. Part of a collection, not used for some time. Some brake problems, Estimate £12,000-£15,000. See details on their website with lots more photos. Needs re-commissioning. Nice-looking car. SOLD FOR £20,900
( Thanks, Andy, David and Tony )
*****
NEW TEAL OF THE WEEK No.161
A new uncompleted Teal has been passed to David Ward by his friend Dave who luckily has 'semi-inherited' the lovely car, which requires some work before being roadworthy – but what a beauty! New TOW161: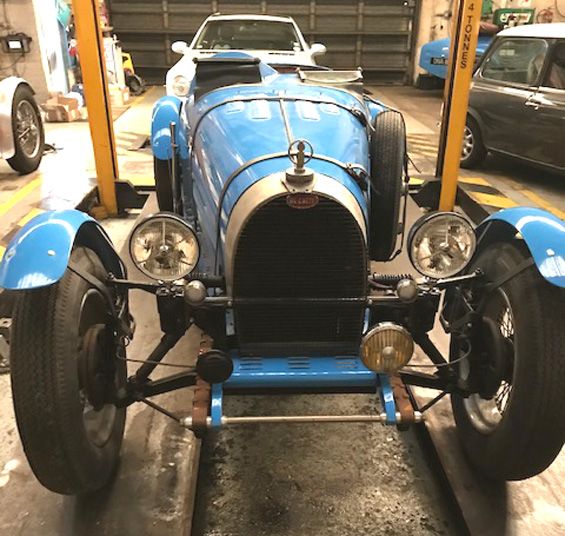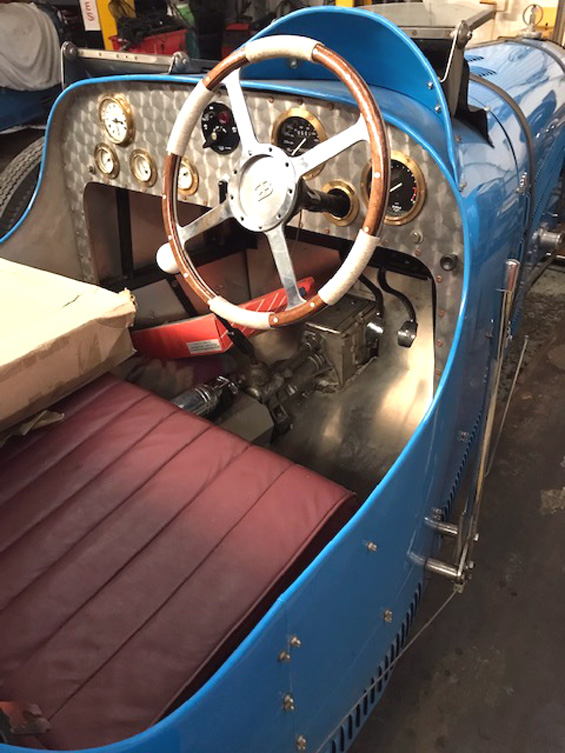 This will be new Teal of the Week No 161
*****
NEW TEAL OF THE WEEK No.162
Purchased from a garage owner in Kent by Graham, this rather neglected Teal (outside under a tarpaulin, with plants growing through it) is a major new discovery which will need considerable work to put it back on the road, but new owner Graham is determined that this will be done. Bravo, Graham.
New TEAL OF THE WEEK No 162.
Comment: If two 'new' Teals can be found in April/May 2020, 30 or 40 years after they were built, how many others may be out there, in Britain and the Continent? An exciting prospect.
*********
At David Ward's amazing Teal hospital
Dr David Ward
Pure Style – Sharon and David in Kent with DNA
XJU670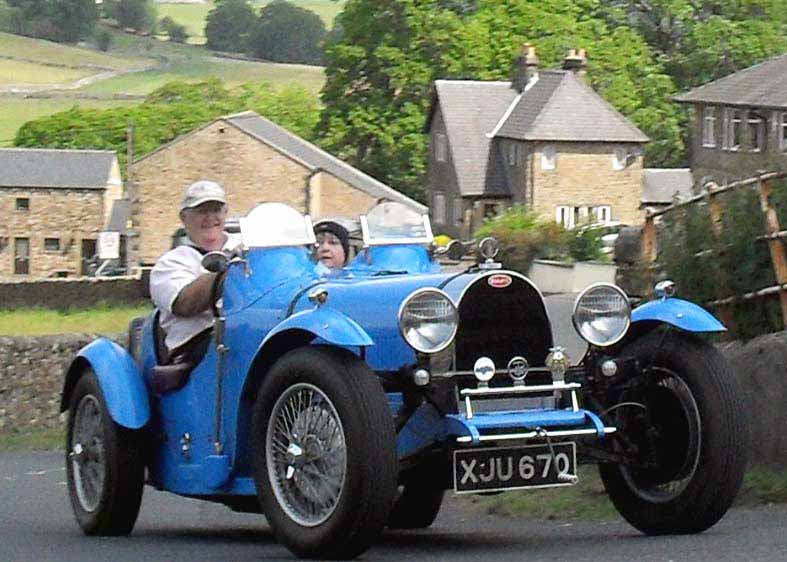 *****
Jeff and Mary Turner enjoying the freedom of the Pennines on an earlier trip in their powerful Teal Type 35 [6C/2500]
The HTML gremlins obviously ate this picture. Thanks to BC for spotting it!
Mike and Joyce Astill rounded the same bend…
As did Roger and Carola Frank … and
Chairman of the Teal Owners Club, Bob Mills, in The Red Baron
We all enjoyed that Pennines run on The Backbone of England, led by the inimitable…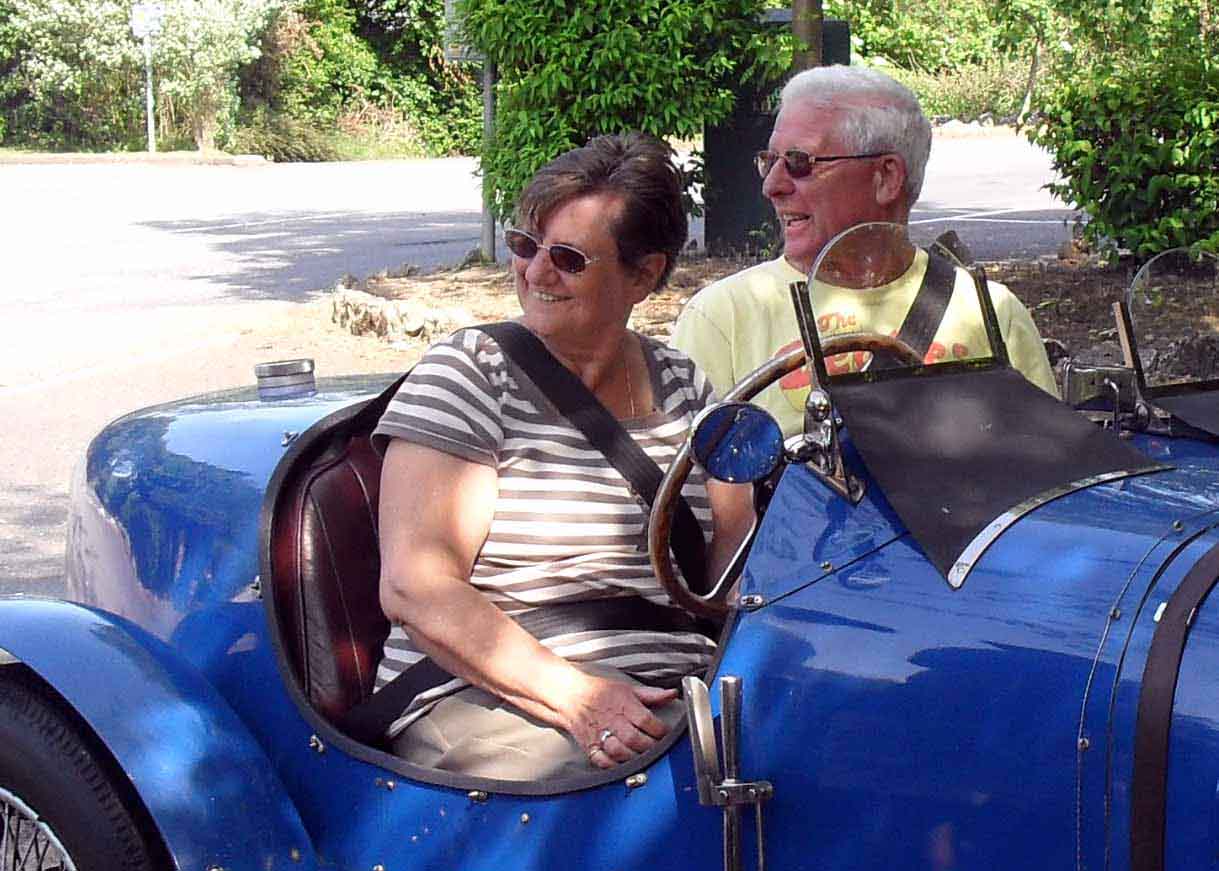 Dot and Phil Massey, who provided Tulip Route Maps for the runs, and Personal Certificates at the final dinner – wunderbar! Thanks Dot and Phil
********
During this time of lockdown, when Teals cannot be driven enjoyably through gentle, green British countryside, I wondered whether Tealers would enjoy this short poem, which sums up much of what we love:
ADLESTROP by Edward Thomas
Yes, I remember Adlestrop –
The name, because one afternoon
Of heat the express train drew up there
Unwontedly. It was late June.
The steam hissed. Someone cleared his throat.
No one left and no one came
On the bare platform. What I saw
Was Adlestrop – only the name
And willows, willow-herb, and grass,
And meadowsweet, and haycocks dry,
No whit less still and lonely fair
Than the high cloudlets in the sky.
And for that minute a blackbird sang
Close by, and round him, mistier,
Farther and farther, all the birds
Of Oxfordshire and Gloucestershire.
*********
Dot and Phil demonstate the impressive turning circle of their Teal Type 35. One of the many joys of Teal motoring is how easy the car is to drive (and turn round when the leader takes the wrong fork. Laughter and ribald comments may, on occasion, be heard)
Ulrike pauses beside a fine wayside cross in Bavaria in her fine (ex Lidgerwood) Teal Type 35.
To The Manor Born: Teal accommodation comes in various shapes and sizes on cross-country rallies. This Chateau provides a suitable backdrop for these classy Teals…
*******
Colin Andrews has challenged us to suggest the most unlikely place you have kept your Teal; a number of overfull garages have come to mind, and some under covers and tarpaulins, but how about this, a dining room:
On a mid-90s trip to Spain, the Tealers were concerned about the security of their beloved Teals; so the landlady of their accommodation suggested that George Rainsford, Cliff Sedman, Colin Andrews, Glen Ibbotson and others park in their dining room…safe and secure…it would probably be unwise to try this at home.
Hard to top this? Further into Spain the Tealers were interested to spot a bullring; and what more secure location could there be to park their Teals?
Especialy when the Teals are guarded by that fearsome matador El Inglís – AndrewsColine, El Magnificó…
Have you kept your Teal in some odd places – if so, please email brncrook@aol.com with photo…thanks And many thanks to GEORGE RAINSFORD, who was there, for these photos above.
*****
RE: TEAL OWNERS' CLUB MOTTO
A Sensible Latin motto has been suggested for the TEAL OWNERS' CLUB which encompasses some of our feelings of togetherness as well as the spirit of idiosyncrasy
The Motto is shown below, complete with translation; what do you think?
" Hic sumus omnium, sed non omnium est "
( 'we are all here, but not all there' )
'NEW' TEAL TYPE 43
Further down this page are photos of Bob Jones creating the first Teal Type 43, and the lovely finished car. In recent years respected Tealer AALDERT POSTMA from the Netherlands commissioned a new Type 43 Teal, built in UK and finished near Amsterdam. The result is a delicious beauty, redolent of the 1930s…
Willy, Aaldert and new Teal Type 43.
The pretty rear end of Aaldert's Type 43 – the design, hood and spare harmonise elegantly, one of the best features of this fine car IMHO (!). Note the access hatch/boot. Useful.
The elegance and style of the interior matches that of the outside, and confirms Aaldert's skill and good taste – any Tealer would be proud t own this beauty, a fine addition to the Teal marque.
Thank you Aaldert for the car and photos. Keep well in the Netherlands – and happy Easter 2020.
**********************************
In the current lockdown circumstances of April 2020, our own Bard of Yorkshire, Len Ibbotsong, has composed a topical poem, which I enjoyed greatly:
They've had to take the swings away,

It's not safe for the kids to play,

or have some fun in childrens games,

to swing or hang from climbing frames,

our local park is strangely quiet,

without the children running riot,

enjoying life and having fun,

young mums chatting in the sun,

picnic blanket on the grass,

now it seems a distant past,

for all these things we'll have to wait,

because we have to isolate,

but it won't last we'll make it through,

and then the first thing that we'll do,

is put the swings back in the park,

bring the light out from the dark,

bring the rainbow from the rain,

when we hear the kids again.

Thank you Glen – a most moving delight – your ear for music, rhythm and composition is so clearly demonstrated for us all in this emotional poem; we look forward with you to the day the children are playing noisily in the parks again…

*******
LLANGOLLEN
Tealers have a natural affinity for wild and lovely spaces. This means they are often found in rural Wales – and September 2016 was no exception with the push to wild Wales near Llangollen… here is Captain Sensible, with sporting lines, spacious accommodation, and most important of all in Wales – dry!
Tealers celebrate their arrival at the lunch stop – with Andy on pole …
TEAL Club Chairman Bob practices his quick getaway
PJY343K
Bob's Red Baron and John and Wendy's pretty Boat Tail
Dot and Phil's well-travelled classic Type 35
Neil and Pam's splendid Phoenix was in attendance, also with useful hood should it rain in Wales…
BUI434 EIB811
TEAL trio in Llangollen – Rupert, George, Glen
Vince's delicious little Onyx was there – a real jewel:
10UGX
We went boating on the canal, with Colin proving himself a fine sea captain – unlike Brian, who happily rammed every boat we passed…
TEALERS Multi-Tasking nr Llangollen
(John and Phil with Wendy Navigating…)
See 'Teal News 14 from May 2016' page on this website for more on this story.
******
DUTCH TREATS
Valued Tealer Aaldert has sent photos of Teal trips to the Netherlands as a cheefrul counter to our current lock-down situations on both sides of the Channel…
KPC341
Many will recognise the splendid Dutch Ford Museum, and familiar faces in the second line up; the third is at Aaldert's own home town of Assendeft, but I particularly like the fourth line-up at the motor racing track of Zandfort, with Aaldert in pole position front left…
Thank you Aaldert – and let's wish things are soon back to normal in the Netherlands and in the UK, so we can once again enjoy our sporting cars…
*****
LIW1927
Ian Alecock with deerstalker and Elephant mascot in Scotland on the Lakes and Borders tour – and then he brewed up and offered me a cuppa beside Loch Marie – splendid fellow! See also below:
Ian Alecock's hand-built Teal boot rack/boat-tail capacity extender. Proved on extensive operational trials in UK, France and Spain:
Ian Alecock's Teal boot rack well loaded in the high Pyrenees, matching Ian in yellow nicely; and is that Andy's La Tecla in the pit stop (snack stop)…? (photo Lavinia – thanks)
*******
CHASSIS
Teal Type 35 chassis by Bob Jones in 1986
Teal Type 35 B note 35B chassis by Bob Jones 1995
Teal Type 35 Four-Seater chassis – Bob Jones 1980s
Late Summer, 1994: Andy Dutton picks up his chassis from Bob Jones at the Teal 'factory' in Altrincham.
Now see Page 14 of this website – where Andy through alchemy creates his beautiful and powerful Teal Type 35 boat-tail 'La Tecla' …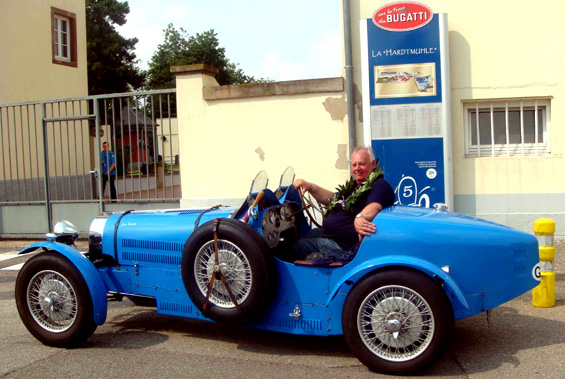 Andy has enjoyed many Continental and UK adventures with La Tecla (6C/2500) – including taking her to the home of Bugatti at Molsheim (closely watched by the admiring gate guardian)
*****
*****
THE TEAL TYPE 43 FOUR-SEATER
TVR252K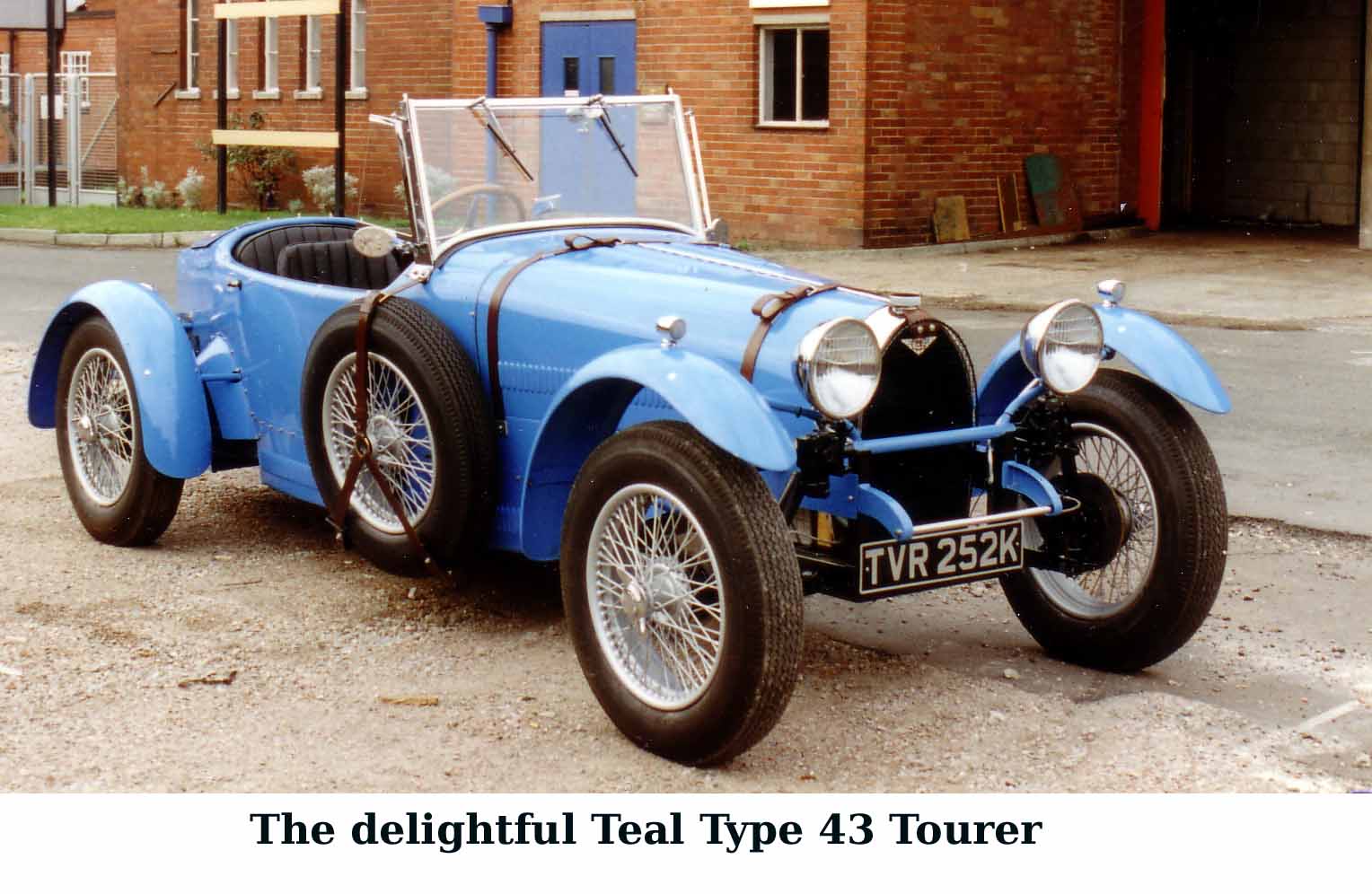 Designed and built by Bob Jones
Bob Jones (R) and Tony Melia creating the Teal Type 43
***
HAVE YOU EVER WISHED THAT YOUR TEAL WAS
YELLOW?
and had a bit more room?
now read on:
TVM485S
Chassis x 2 by Bob Jones; bodywork x 2 by Dickie Dawes. Going camping? Shopping at Sainsbury's? Moving House? This is the Teal for you…
But where is TVM485S now, and is she still yellow? If you spot her (or own her) , please let us know. As a fine French Post-impressionist painter (Pierre Bonnard) said on the last day of his life: 'There's no such thing as too much yellow …' Do you agree?
*****
A glorious squadron of Teals together in deepest Gloucestershire on a delightful day at the home of the Bugatti Owners' Club, Prescott.
*****
This fine and unique TEAL TYPE 44 aluminium-bodied Grand Tourer built by Bob Jones is powered by a two litre Ford Pinto engine; she now lives in the west country with two distinguished Tealers and their Type 35, and has recently been visited (again) by friends Neil and Pam Bridges, who have keen eyes for a fine machine, having owned three Teals themselves.
(Photo Bob Jones – thanks)
*****
TEAL FOR SALE – 28 YEARS AGO
TEAL FOR SALE – 2007
*****
Shadow Driver
Spirit of Tealing
***
ORIENTEALS
Actualy this Teal Type 35 is neither in Japan nor China; it is in Seend, Wiltshire, where some wealthy Victorian built a pagoda in his garden…it makes a good photo, though. But there IS a real Teal Type 59 in Tokyo: a Japanese journalist (Mr Tominari) in the UK loved the look of the Teal Type 59 so much that he took one of the only thirteen Teal Type 59s built back to Japan with him. A wise judgement.
Mr Tominari's Teal Type 59 outside a Tokyo restaurant.
*****
THE PAST?
THE FUTURE?
Surely not – this feels all wrong, both technically and emotionally. Or am I wrong? bc
*****
A CORNISH BEAUTY
(not Demelza)
GJT15V
Peter Colley's lovely Teal Type 35 four-seater
at Charleston, Cornwall
On the eighth leg of Spider Run 2 we stopped at Charleston port, where several episodes of Cornish Poldark and pretty (and Cornish) Demelza were filmed, with the wooden tall ships in the harbour; here in the photo Peter chats in front of his delightful Teal, perhaps the snuggest in the Club?
But back at Photo 1 – is she really super-charged?
*****
WHERE IS SHE NOW?
Del Schouten's Teal Type 35 Boat-tail (6C/2500)
Del's beautiful Teal (ex Richard Songer) used to reside in Lightwater, Surrey; but where is WLE985S now?
*****
NEW TEALS OF THE WEEK – 159 and 160
Please see the page of this website'Teals of the Week Nos 141-160′
Two new Teals of the week have been added (Nos 159 and 160); if you know more about these lovely cars, please do let me know on brncrook@aol.com. Thank you.
*****
HEADING SOUTH – TEAL SPIDER RUN 2
(Selected Highlights)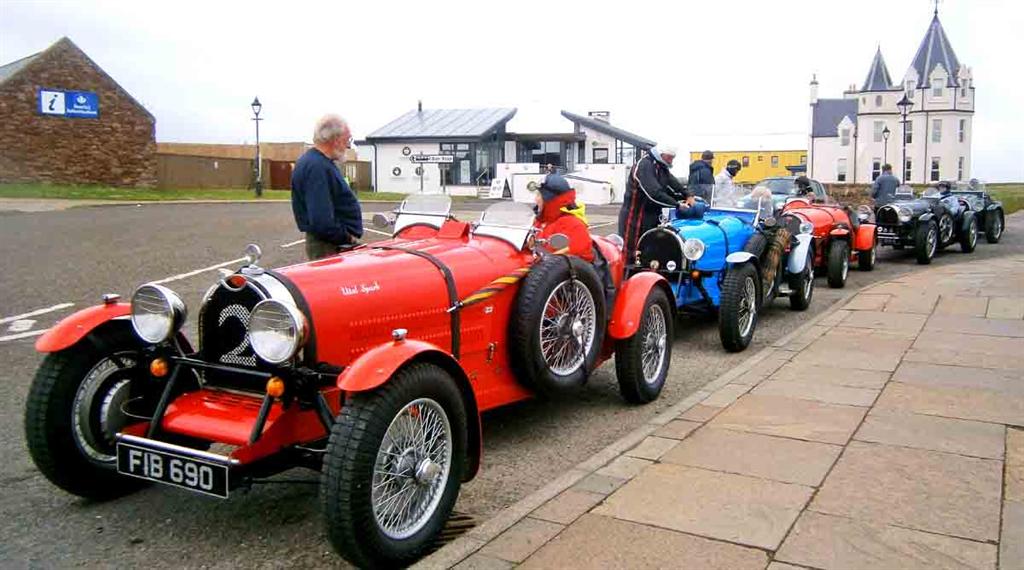 Tealers Ready to Leave J O'G
En Route – a little damp
(Jeff and Mary, Neil and Pam, Dot and Phil)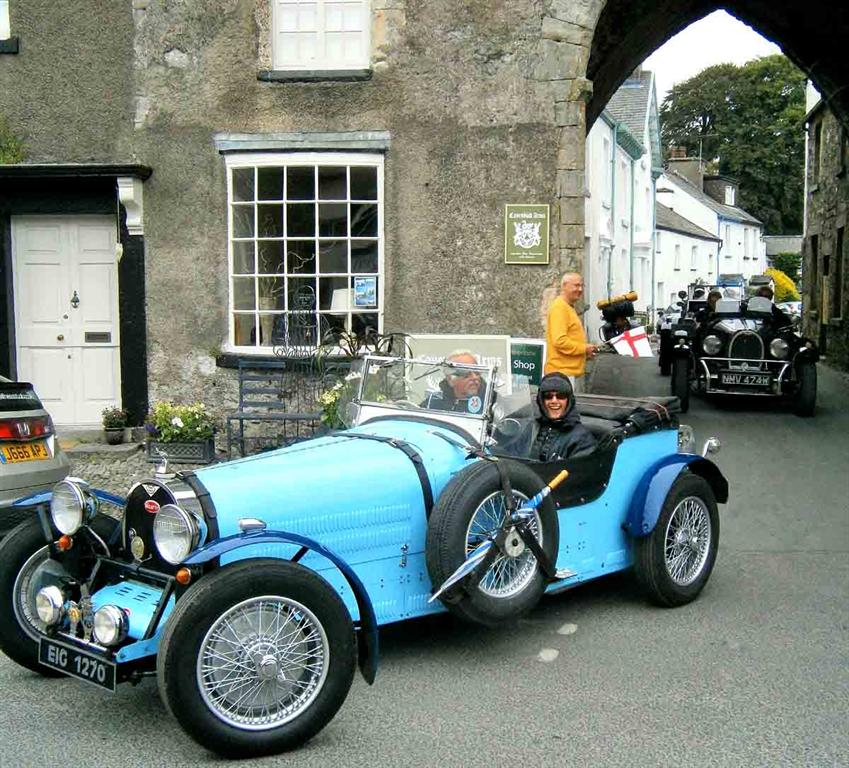 CARTMEL EXIT
(John King waves off Neil and Pam)
ROUND THE BEND
(Glen and Maggie Hillclimbing)
JEFF, NEIL, DOT, BOB ENJOY THE SUNSHINE
RUPERT, JEAN and GRASSHOPPER ENJOY THE PIT STOP
INTO THE WOODS – JOHN KING AND WENDY IN THE SILVER STREAK
(These photos were all taken by Wendy, for which many thanks)
DAVID, SHARON AND DNA/DOLLY ARE PLEASED WITH THE DAY'S RUN
(Tealers joined up and dropped out over all eight legs of Spider Run 2 as it suited them, thereby ensuring a maximum involvement of Teals/Tealers, as in the successful 2007 Spider Run 1)
MUSEUM PIECES? TEAL RESERVED PARKING AREA AT THE WONDERFUL HAYNES CLASSIC MOTOR MUSEUM JUST OFF THE A303 IN SOMERSET
SPLENDID, DEDICATED TEALERS DOT AND PHIL A LONG WAY SOUTH OF THEIR NORMAL LANCASHIRE STAMPING GROUND…
…as are Shropshire John and Wendy in their lovely Teal Type 35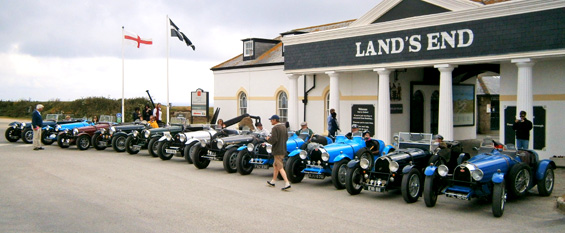 JOURNEY'S END IN CORNWALL
*****
Many Teals are painted sky blue, though the shades of blue vary considerably and include Bugatti blue, French blue and Cambridge blue, as we can see from many of the photos on this website; The driver of the Teal above, en route Wiltshire to Yorkshire, sought shade from the mid-day sun while he ate his chicken sandwich on a country by-road, map near to hand to check the next leg, where he would rendez-vous with Teals of many shades:
The welcoming owners of this Yorkshire café were enjoying a publicity shoot that day, and happily incorporated the Teals in their new brochure. It would be wrong to give the impression that Tealers think solely of the next food stop; they get thirsty as well.
*****
ISADORA
Bob Lewis is one of the early pioneers of Teal cars, designer, builder, engineer, handbrake manufacturer, classic 30's delivery van designer and creator, firework show innovator – and the lucky owner of ISADORA, his beautiful old English White Teal Type 35. Bob has owned Isadora for more than 30 years, but hit with financial pressures more than two decades ago, he had briefly to sell her, then happily bought her back a few years later… Here they are at the Bugatti Inn close to the Bugatti Owners' Club Hill Climb at Prescott nr Cheltenham.
MTD456T
ISADORA – period motoring head-on; note the lovely swan radiator cap – and again below on a cold morning:
(Photos: Bob Lewis – thank you)
*****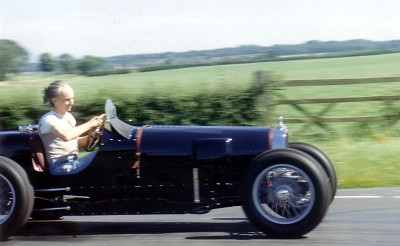 Bob Jones road testing the first Jaguar-engined Teal Type 59
This amazing car was designed and built by Bob Jones; it went like the wind. Some additional work was needed on the brakes to stop it! Thirteen Teal Type 59s were built.
One is in Japan, one is in Australia, one is in South Africa. Possibly two are in France.
*****
SEPTEMBER AT ANGOULEME
COMPETITOR 1:
Charmante…
COMPETITOR 2:
Relaxed?
COMPETITOR 3:
aggressive?
COMPETITOR 4:
Quiet Determination?
COMPETITOR 5:
Last-Minute Briefing?
***
PORTABLE GARAGE:
Convenient and practical…
*****
AALDERT'S FIRST TEAL
***
AALDERT'S TEAL TRANSFORMED
Several years and many thousands of pounds/euros later, Aaldert transformed his first Teal into this Type 35 beauty.
AALDERT'S TEAL TYPE 43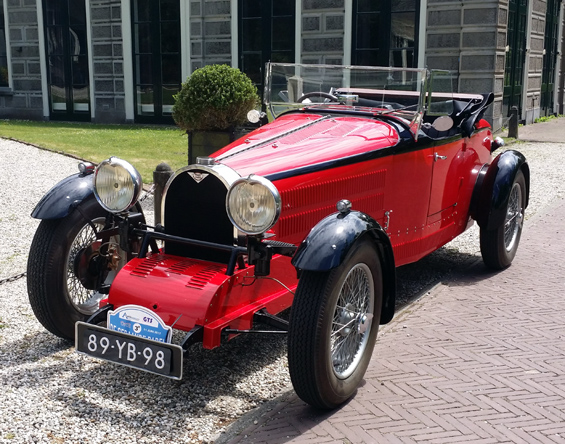 Too much beauty for one man! Lucky Devil.
*****
Our Second Teal – " Violet "
You're right – I should never have sold her….
***
TEALS IN CHESTER
*****
SPLENDID TEAL TYPE 59 – NEW TO THIS WEBSITE?
David Brown, pilot of a fine Teal Type 59, is in contact with Erol, owner of this other lovely Teal Type 59, resident in Gloucestershire. I am not sure I have ever seen this car before – have you?
It's registered EIL519. Do you know any details of its history? One of only thirteen Teal Type 59s built, with 4.2 litre Jaguar engine, it is an important part of Teal history. Please email brncrook@aol.com if you know more. Thanks.
******
SUZI and THE BLUE BEAST…
YYC407
Welshpool: Suzi, our valued Teal Spiel Editor (in stylish headwear) and Dave at the wheel of the famous Teal Blue Beast, originally the mount of TOC joint-founder John Elwell, Suzi's dad.
*****
" IF WINTER COMES……
…..CAN SPRING BE FAR BEHIND? "
'Ode to the West Wind' – Percy Bysshe Shelley
********
On 5th January 2020 the Sky Blue Teal website had received a total of 128,003 hits. Thank you.
*****
WWW.SKYBLUETEAL.CO.UK
*****
Chairman Bob on the Job
Chairman Bob in the Pit
In the Garage (Winter Service)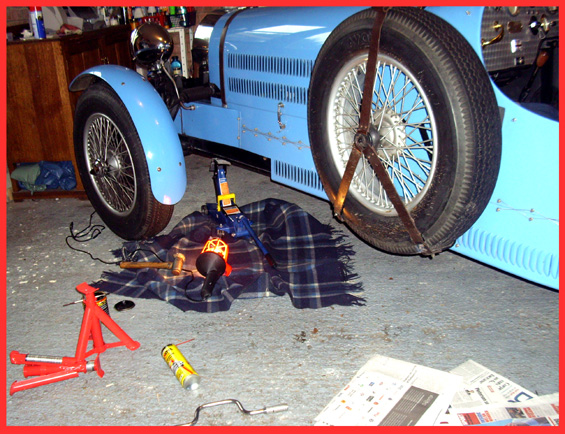 ****
Happily lined up for us in echelon starboard are top: Bugatti Type 35B, centre: Bugatti Type 51 and nearest the camera Bugatti Type 59, spanning from 1927 to 1935. As the 1920s shaded into the 30s, Ettore Bugatti's all-conquering competition racing Type 35s had to fend off increasing pressure from, for instance, the German Silver Arrows such as Mercedes and Auto Union, and Italian Alfa Romeos; so he produced more powerful, faster and larger sporting Bugatti competition racing cars, with mixed success. All beauties, don't you think?
*****
Springtime Surrey Tealer Surprise: Antonio snaps David W in powerful DNA-Dolly from dad Angelo's fine Teal – two classic Sky Blue Teals…
*****
OOPS
ROOM FOR TWO?
German Bugatti on Swiss Rally – with lots of storage in the back, and an impressive pennant; but what type of Bugatti has a boat-tail in that format – do you know?(I don't)
Without Comment
Wolfgang's Beautiful 35 – Southern Germany
Dot and Phil's backside in the Pennines
*****
COUSINS?
Bugatti Type 51 and Teal Type 35 in The Netherlands – Do they look like cousins? Note the Bugatti Type 51 is much larger than the earlier Type 35; this 51 appears to have very similar dimensions to the lovely black Teal. Cousins? Well, maybe second cousins, once removed. But two very fine cars, each the giver of much pleasure to the discerning sporting motorist. Congratulations if you own one like this…
*****
Teal Banner in the sky over Upavon
*****
TEALS TOGETHER
Teals and Tealers gather together in the Lake District, Cumbria, in a tribute on Teal founder Ian Foster's birthday…
*****
TEAL TYPE 57 ATLANTIC ?
BYL35H ?
This unusual Teal was built up on a Bob Jones Teal chassis with Dicky Dawes bodywork, and was commissioned by Ted Riley. The engine is a Triumph 6C/2500 . In many ways this Grand Tourer bears hallmarks of the wonderful Bugatti Type 57 series. Have a look at the rear view:
and here's the other side:
This is Teal of the Week No 60, and on that page of this website you can find more details of this unusual Teal. Two questions: Should we call it a Teal Type 57 Atlantic? and Do you know where it is now?
**********************
SAD NEWS: Sheila Stamp, lovely wife of Ron and mother of David has passed away in Lancashire. We remember Sheila with great affection, brave, warm, cheerful, musical, talented and welcoming, our much-loved happy companion in HIRONDELLE on dozens of Teal runs. We send our sad condolences to Ron and David. A full tribute will be included in the next issue of Teal Spiel, our Teal Owners' Club magazine. A dozen distinguished Tealers attended Sheila's funeral on Monday 4th November, representing us all in our sadness and remembering also happy times together…

Further note : Ron and Sheila's lovely car turned up for sale in Germany, at vastly inflated price – see Teal of the Week number 13.

******
NEW TEALERS – EN FRANCE
We welcome new Teal owners Damien & Madame Savatier of Normandy to the Teal Owners' Club, and congratulate them on choosing not just one but two Teals, a two-seater Type 35 and a fine four-seater Grand Tourer (below)
Some Tealers know from a happy 2016 visit that the Savatiers own a lovely chateau in Normandy which offers accommodation, and would provide a splendid base for Teal Touring… some more details :
Chateau de Briquedalles, 76540 Sassetot-Le-Mauconduit, France
Damien.Savatier@sejourdalbatre.com
Damien reminds me:
Everything started when your group rented our manoir du Moucel in Sassetot le mauconduit in june 2016, they came to our château to have a drink and spend à Nice moment with us (photos enclosed with my mother, mother in law, Two daughters, dogs and so and so… For this Time i watched the cars for sale and now WE do have two. Of course the members of the association are welcome in our château (free but not very comfortable family house, or in our Rentals houses, up to 24 peoples, we can make a good price) WE are located between Le Havre and Dieppe, linked with UK by Brittany ferries or DFDS, best wishes, Damien.
See the 'Teal News from May 2016′ page of this website (index to the left) for more happy photos of Teals at The Chateau with Damien's family (and dogs!).
(Tealers might reflect that this website in its new guise was now supposed to reflect the past 35 years 1983-2018 of glorious Teal motoring, not new info – but it would seem churlish not to welcome such significant new Tealers. Please forgive me… b.c.)
*****
TEAL QUINTET
Moors Farm, Welshpool – light showers – no problem
*****
TEALS – BOYS' TOYS?
Well, not exactly….
Sue fettles Toad (Teal of the Week No 46)
Dot (with Phil) motoring in the Scottish Borders
(Teal of the Week No 1)
Maggie Foster in her Ian Foster-designed Teal four seater
(Teal of the Week No 32)
Ulrika in her fine Type 35 near Munich
(Teal of the Week No 30)
Tealer Jane delivers the goodies in her Type 35 (after which this website was named) – Teal of the Week No 43
Er, yes it is a Teal Type 35 (Teal of the Week No 28),
masquerading as a Bugatti, on location in Spain filming ' The Garden of Eden' …
******
TEAL TYPE 43
In a garage in the Netherlands this beautiful Teal Type 43 was completed (motor, drive, suspension, wiring, paintwork, hood) by a really laid-back Tealer:
Thank you, Aaldert for helping to design, fund, create and finish this unique Teal to such a fine standard – she's lovely.
ALSO: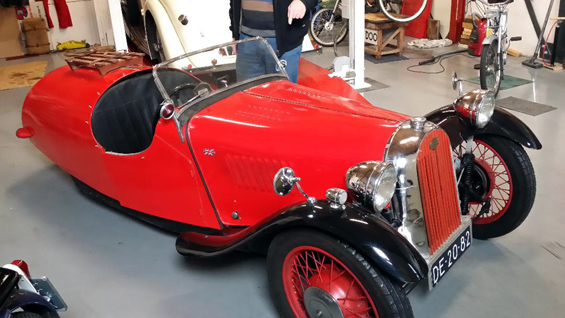 Aaldert is working on his splendid 1949 Morgan three-wheeler, which is now back on the road, and only requires some minor adjustments to the clutch to be fully operational – what a beauty – congratulations Aaldert…
*****
We know not where we're going/It's the road that will decide/It's not the destination/But the glory of the ride.
A Sensible Stanza
*****
TEAL DAWN – AUTUMN MIST
*****
TEAL TUNNEL OF LIGHT
ANGELO AND ANTONIO photograph SHARON AND DAVID in DEEPEST LEAFY SURREY
Two fine Teals and four outstanding Tealers, showing the flag at rallies and car shows across southern England
*****
LONG-TERM TEALERS – RON and SHEILA
Below: Sheila and Ron at speed in Hirondelle in Scottish Border country… (photo Ian Ramsey – thanks)
Ron and Sheila from Lancashire have been possibly the longest-serving and certainly the most loyal Tealers, involved over the last 25 years in Teal tours and celebrations in their immaculate four-seater Type 35 'Hirondelle' from Land's End to John O'Groats and most places in between, including Wales, the Triangle Run, Yorkshire/Robin Hood's Bay, The Backbone of England Penines Run, The Lakes, Scottish Borders and the Isle of Mull. Always cheerful and welcoming, especially to new Tealers, and happy in their company, notably at the great party for Sheila's big birthday in Chester (See Triangle Run page for details) and the great surprise Teal celebration in Southport for their anniversary…
We salute you, Sheila and Ron, splendid Tealers, much loved and good friends to all.
A SAD UPDATE: Our lovely Sheila has passed away in Lancashire on 22 October 2019. A full tribute to her and to Ron will be included in Teal Spiel, our Teal Owners' Club magazine.
*****
*****
AT DAVID WARDS MOT AND SERVICE GARAGE (25-09-19)
MOT time, and inside David's splendid garage I spot three MGs, a proper Mini and a Teal Type 35…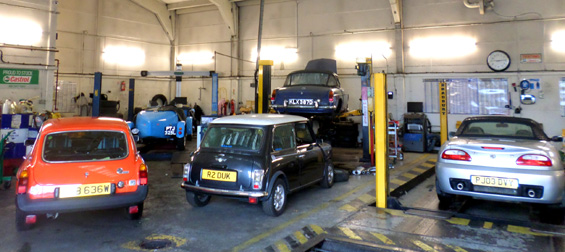 and outside…
…the lovely Dizzy and Dolly. At David's one finds unsurpassed technical knowledge, skilled service at a fair price, a cup of tea and informed Teal chat. All this and Karen too. Highly recommended.
*****
What a fine Bugatti at Speed...
Hang on a minute…isn't that a Teal Front Suspension?
Yes, it's the fine Van Dijk Teal Type 35 from the Netherlands – thanks for a great photo…
*****
AGRICULTURAL TEAL (1)
Teal in the Flax, Upavon, Wiltshire
AGRICULTURAL TEAL (2)
A bit earlier in the Season – Teal in Oil Seed Rape, Pewsey Valley, Marlborough
*****
LOVELY TEAL FOUR-SEATER RETURNS
This fine 1800cc Teal Type 35 four-seater (TIL 1930) was once owned by a distinguished Teal Owners' Club Chairman (Cliff), then disappeared from our Tealing world for more than 10 years, but has recently been rediscovered.
She has been purchased by Richard C. who is exploring its previous history and greatly enjoying an immaculate, stylish Teal Grand Tourer, beautifully appointed and with clear echoes of 1930s elegance. You are most welcome, Richard. ( More photos at Teal of the Week No.154 – see index left side)
12 Sept 2019
********
Take three Teals: La Tecla (Andy), DNA/Dolly (David) and Grasshopper (Rupert) at Manston Airfield, Kent.
*******
TEAL TYPE 35 FOR SALE
27August2019
Seller's Statement:
"This fine example of the TEAL Type 35 is fitted with the more desirable later aluminium coachwork, not to be confused with the earlier GRP production models. The TEAL is powered by an uprated "B" series engine, featuring a 12H2709 head with hardened valve seats, Kent springs and upgraded camshaft, chrome-moly push rods, high lift roller rockers, twin HS4 SU carburettors, a fuel pressure regulator and electronic ignition. Finished in French racing blue with a navy interior and wire wheels, and with a fresh MoT certificate (expires 13/6/2020), this is an authentic-looking Type 35. £19,975 not including the personal number plate which I would part with for £3000. Berkshire. 0797 229 5443."
ECV100
*******************************************************************
SKY VIEW OF SKY BLUE TEAL TYPE 35
('Puddle Jumper')
This is the plan view of Colin's famous 'Puddle Jumper' Teal Type 35 seen in Oxfordshire and painted in Cambridge (or Bugatti ) blue. Distinguished Tealer Colin has been both Secretary and Chairman of the Teal Owners' Club and has led over the past 30 years many Teal runs at home and abroad, as well as devising Spider Run 1 and the Triangle Run (see separate pages of this website – index to the left).
Below: Colin, and Irene arrive in Puddle Jumper at Lake Bala, Wales…
*****
CLASSIC NIGHTMARE
How many makes and models of classic cars can you identify? Is there one especially close to your heart?
Photo thanks to Tealer Ron Arnold of Black Beauty fame (See Page 17 of this website)
*****
TEAL TYPE 59
Superb and powerful Teal Type 59 (6C/3800 Jaguar-engined) piloted by David Brown with Janice as nav on their way to the Teal meet at the Shuttleworth Trust of vintage aircraft at Old Warden.
*****
DUTCH TREAT
RARE LHD TEAL TYPE 35 (6C/2500) REBUILT BY PILOT AALDERT ('Best In Show' – the Teal, not Aaldert ) WITH NAV LOVELY WILLY IN THE NETHERLANDS' OLD TIMERS CLASSIC CAR PARADE
*****
THREE CLASSICS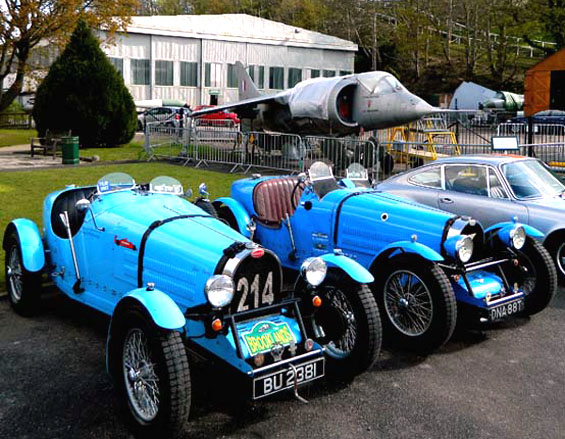 Three classics at Brooklands: Angelo and David Ward are regular attendees with their fine Teal Type 35s at this wonderful home of classic cars and aircraft – the Harrier behind reminds us also of other innovative British engineering...
*****
*****
AMO29 belonged to roy Laurence at one time.
We have a new Teal of the Week (TOC158), for sale at Total Head Turners for Approx £37,500 in June 2019; do you know this fine-looking Teal registered AMO29?
*****
Teal Type 35 Boat-tails
***
This website tells the inspiring story of TEAL CARS over the 35 years from inception in 1983 up to December 2018. It details the imaginative personalities who created Teal cars, the many diverse marks of Teal, the adventures of Tealers in Britain, Europe and all over the world, and the happy comradeship that these cars generate. I hope you enjoy the website – please forage freely in the 50-plus pages listed down the left hand side – you will find more than a thousand photos of Bugattis (our inspiration) and delicious Teals, including many classic gems.
*********
The Sky Blue Teal website tells the stories of dozens of Teal trips/rallies/get-togethers over the past 35 years both at home and abroad. And right now in 2019 many more TEAL gatherings are planned such as the Teal Owners' Club tour of Dorset; Drive It day at Bicester; the Ludlow/Shropshire Tour; Prescott/ Gloucestershire at the Bugatti Club; the July tour of the New Forest from Winchester; The Uxbridge Classics Show; and The KOP Hill Climb all planned, with more to come… we hope you will enjoy them.
***
Two Teal Type 35 four-seat Grand Tourers plus three Type 35 Boat-tails
(hood, tonneau, umbrella – showers expected...)
******
There's more Teal info on line at www.facebook.com then search Teal Owners Club and/or Bugatti Imitations. Also there are many delightful videos of Teals in action on www.youtube.com ; then type into the search box Teal Bugatti. Type in Teals The Grand Depart for a short video of eleven Teals on Spider Run 2 in 2014…
*****
Five years after the first Teal was built, early Tealers got together to found the Teal Owners' Club, which celebrated its 30th anniversary in 2018.
***
NOTICEABLE NOTICE
Much Teal info has recently been transferred from this page to the Teal News 18 page (see index left).
****
THIS WEBSITE HAS CHANGED
Skyblueteal was started on 1 Jan 2007 and updated weekly; After twelve years it has now changed from 1 Jan 2019 to an historic reference source for Teal cars for the 35 years from the first Teal in 1983 to December 2018, and will now be updated occasionally.
********
Now here's a fine old vintage classic….
CAPTAIN SENSIBLE

: See his terrific Teal tales one page from the end of this website
***
Here at last is a little bit about this website and its contents….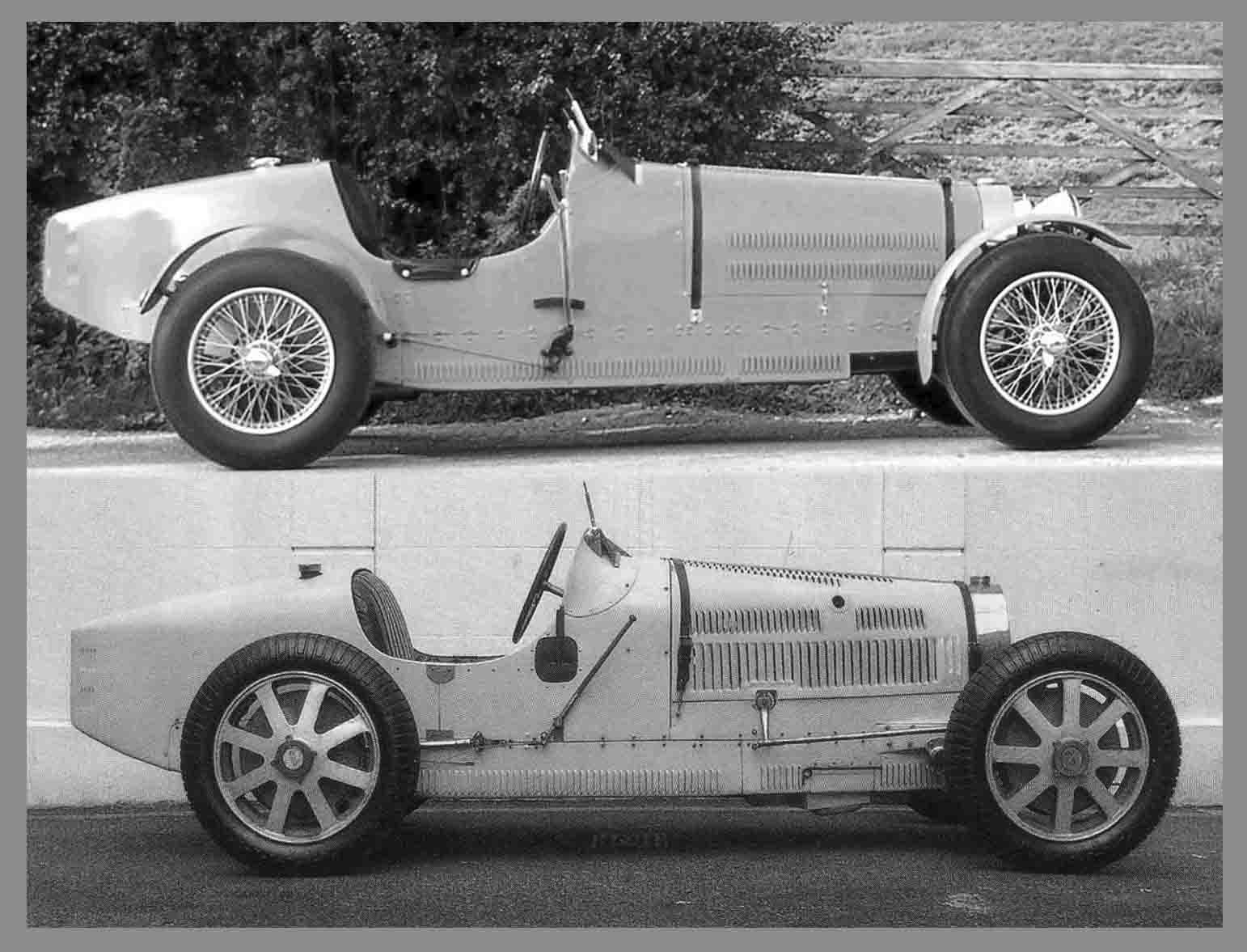 Welcome to SKYBLUETEAL, the website for lovers of Teal cars, fine British sports cars full of character, lovely to look at and a delight to drive.
There are many photos of owners' cars on the website as we build up a visual record of every Teal we can find in Teal of The Week (TOW). We explain a little of the history of Ettore Bugatti, the legendary designer and manufacturer whose delightful and highly successful racing and touring cars of the 1920s and 1930s inspired Teal cars. The history of Teal cars is detailed with many historic photos, and there are pages showing the building of Teal T35, T43, T44 and T59 cars in the 'factory' .
Just for fun, there is a tour of a fine Continental Teal T35 (Dutch Treat) and of a lovely Teal from Dorset (Black Beauty). Features include a page of Tealing in the pioneer years of the 1980s, photos of Teals and Tealers in Wales and Yorkshire on the 2008 Triangle Run, the Lake District and Scottish Borders on the June 2009 Rally, and illustrations of the building of Teal cars at home. There's a special page on the Teal Owners' Club (TOC), detailing how to join the Club, and the many Club benefits. The exciting annual Circuit des Remparts at Angouleme is covered, and Teals in Action 2009 shows our Teal cars where they are meant to be: on the road; there's full coverage of The Teal 2010 Backbone of England Rally, and there are stirring Teal Tales of Captain Sensible campaigning in Britain, France, Spain, Germany Switzerland and the Netherlands, and also new Teal News pages 1,2,3,4,5,6,7,8,9,10,11,12,13,14,15,16,17 and 18 with dozens of snippets of the latest information about Teals and Tealers, and reports of our Teal adventures and rallies in 2007,2008, 2009, 2010, 2011, 2012, 2013, 2014, 2015 ,2016, 2017, 2018 and 2019 in Sussex and Hampshire, Kent, East Anglia, Lancashire, Yorkshire, The Lakes, Northumberland, The Borders and Isle of Mull, The Peak District, Shropshire and Herefordshire, Oxfordshire and Warwickshire, and Wales. In addition there are descriptions of two glorious 'Spider' runs, in 2007 from Land's End to John O' Groats, and vice-versa in 2014 with numerous Teals taking part. Also unusual adventures in the Scottish Highlands and Islands, as well as overseas trips to much of Europe including France, The Netherlands, Germany, Spain and Portugal. We hope you enjoy these tales which are an excuse to celebrate lovely Teals, and each-others' company… Do join The Teal Owners' Club (you don't have to own a Teal) – email our Club Membership Secretary at dot.massey@btinternet.com
– you'll be most welcome.
Perhaps you already own a Teal, or maybe you might be considering buying and driving a Teal one day; either way, it's a rewarding and exciting experience ….. welcome to the vivid world of Teal cars.
***
TEAL CARS – HOME PAGE
WHAT IS A TEAL?
To purchase an original vintage 1920s Bugatti such as the legendary Types 35 or 37 would cost at least £500,000; with an authentic racing pedigree, the price of such a car would be well above a million pounds. Bugatti cars of the 1920s and 1930s command such a high premium because of their rarity, the engineering skill of their designer, Ettore Bugatti (see page 3), the beauty of their lines and their outstandingly successful record as racing cars over the two decades before World War 2.
The Teal Type 35 was designed in 1983, and much refined in the late 80s and 90s, to provide a car with the Bugatti's beauty and performance at an affordable price. To drive a Teal behind the twin racing aero screens is an exhilarating (and windy!) experience, since suspension, steering, handling and exhaust note are all successfully optimised to replicate as far as possible the exciting sensations of 1920s open-air motoring. More details of Teal history, design, construction, engines, suspension, and some estimated prices are given at page 2.
********************
Original Teal – 1984 – Ian and Maggie Foster's Type 35
(Photo Maggie Foster – thank you)
Early Teal. Kit Car Magazine, July 1984
Outside the Hatchet Inn, Lower Chute, Near Andover, Hampshire;
This excellent pub is still there 35 years later, looking much the same.
See Teal origins (page two) for the story behind the launch of the first Teals.
( Thanks to Andy and Kit Car Magazine for photo )
**********************************************
Oxford and Cambridge? These aluminium Teal Type 35 two-seaters with 18″ wire wheels are photographed at Laycock: Peter Haywood's dark blue beauty was driven by him and Neil from their Isle of Wight homes, where Peter is restoring a Riley Kestrel when he's not motoring in his Morgan Plus Four or Teal, and Neil fettles and drives his pre-war MG J2 – for more see Teal News page one, Item 31. The pretty sky blue Teal is now owned by Andrew Smith from Buckinghamshire ( see Teal News page one, Items 2 and 17).
Teal Type 35 Four – Seater Tourer
Glen and Maggie Ibbotson's fine dark blue four-seater at the Knowsley show; for more about Glen and Maggie and their Teal [Captain Sensible] see the Teal News page one, Item 13, and Captain Sensible's amazing and delightful Teal Tales, earlier above.
A very pretty Teal Type 43 Four Seat Tourer, designed and built by Bob Jones
(photo – Bob Jones – thank you)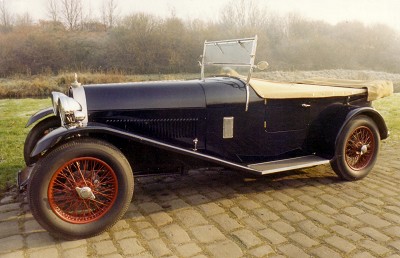 the handsome Teal Type 44 Four Seater grand tourer, designed and built by Bob Jones
(photo – Bob Jones – thank you)
the delightful Teal Type 52s ('Bugattini')
(photo – Bob Jones – thank you)
Teal Type 59 – high performance sports car (with admirers)
(photo – Bob Jones – thank you)
Below: Teal Type 59 at Speed
********************************************************
Teal Owners' Club Lakes and Borders Run, Scotland
"The sun on your back, the wind in your hair, the winding road ahead, and good company at the long day's end – all's well with the world."
********************************************************************************
Footnote
This is not the official website of Teal Cars, or of Bugatti, or of any organisation or club whatsoever; the Skyblueteal.co.uk website has simply been created to share information and images with fellow Teal and Bugatti classic car enthusiasts. It will remain so under the current direction. We hope that you enjoy the website in the spirit of fun in which it has been created. Happy Tealing…..
VITAL STATISTICS
THE SKY BLUE TEAL WEBSITE
On 1st January 2007 the skyblueteal website was launched
On 1st January 2008 there had been a total of 2000 hits
On 1st January 2009 there had been a total of 8000 hits
On 1st January 2010 there had been a total of 18,800 hits
On 1st January 2011 there had been a total of 29,600 hits
On 1st January 2012 there had been a total of 42,400 hits
On 1st January 2013 there had been a total of 56,160 hits
On 1st January 2014 there had been a total of 69,467 hits
On 1st January 2015 there had been a total of 83,031 hits
On 1st January 2016 there had been a total of 95,810 hits

On 1st January 2017 there had been a total of 107,929 hits
On 1st January 2018 there had been a total of 117,112 hits
On 1st January 2019 there have been a total of 124,250 hits
On 5th January 2020 there have been a total of 128,003 hits
On 1st January 2021 there had been a total of 132500 hits
On 28th January 2022 there had been a total of 139017 hits.
On 22 August 2022 there had been 141308
On 25 November 2022 there have been 142781 hits –
where do they all come from ? And why aren't they all Members?
Keeps trundling on!
The latest total is shown on the hits counter at Page 1…
Thank you for your interest and your loyalty to this website, dedicated to the remarkable Teal marque.
And well done BrianC for this amazing everlasting site.
Last Updated on 2 months by David Brown